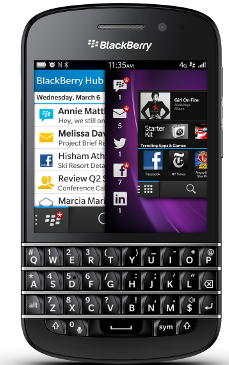 The lovely people at Phones 4u have promised us a villa in the Caribbean* if we mention the fact that their BlackBerry Q10 offer includes a free 64GB PlayBook tablet to the first 300 customers who decide to pre-order the Q10 through them.
It's available in black or white and you can either buy it out-right for £549.95 SIM-free or £36 per month on contract.
The phone, like the BlackBerry Z10, has a new Hub and totally refreshed OS. The Q10 includes a physical keyboard though along with a fully touch-able screen. BBM is included, as it BlackBerry Balance – a system which lets you switch between a personal and professional profile to keep your work and home life separate.
* – No, not really..