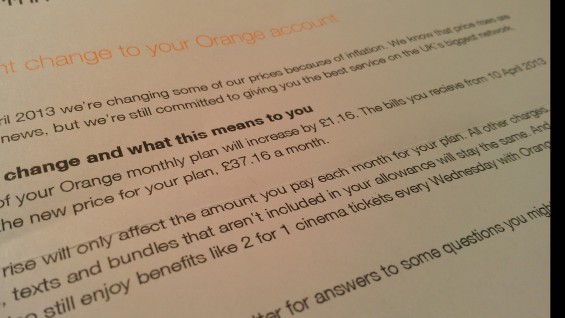 Today I received my price increases letter from Orange.  It informed me that my tariff will be increasing by 3.3% in the near future.  I have been a customer of Orange for over 5 years and one of my contracts is due an upgrade.
Bearing this in mind I had a look at the Orange shop website and took the screenshot below……


This was taken at 8.05am on 6th March 2013.
It quite clearly seems to be offering a Panther price plan on Orange for new customers priced at the princely sum of £36 per month.
Now it is not the best deal on the market and it is probably not the worst but it is definitely on the Orange website.
Next up are screenshots taken from Carphone Warehouse and Phones 4 U websites respectively, again clearly showing £36pm tariffs on offer for new customers.




So, we have three differing outlets offering a £36 per month Panther tariff for 24 months.
Last week we brought the news that price rises are in the offing for both Orange and T-Mobile contract customers, the second set of price rises in two years.  Both sets were claimed to be due to the rising inflation (incidentally, the inflation figure for the 2012 rises was above 5% whereas 2013's was just above 3%!)
Neither company are offering customers a way out of their contract due to these rises as they have been judged to be totally legally if somewhat questionable from a moral standpoint.
All pretty standard stuff so far until you start to look at the 2012 price rises.
For someone that took out a £36 per month contact late in 2011 a price increase was put in place meaning that they now pay £37.72 per month.  If you add another 3.3% (this years price rise) you end up paying £38.85 per month – for a contract that was quite clearly agreed to be £36 per month!
The question I have is why are new customers being offered new contracts at £36 per month whilst those (sometimes long suffering) loyal customers still mid way through a contract are paying more?
Why are Orange clearly offering a deal on their website that isn't really the deal for the length of the contract?
Many time commenter Just Me made exactly the point on our price rises post saying
How come when I look at new tariffs they are cheaper than my current one with the price rises incorporated? I started in 2011 on Orange on a Panther £36, I am currently paying £37:72.

They are going up again so I reckon I'll be paying the best part of £39, yet the Panther contract I am on is still £36 for new customers? How can this be right? If inflation is calling for price rises, surely this should affect all contracts, old, new and not even taken out yet?

It is a sharp practice to stitch up people tied into a 24 month contract. Yet people who sign up to the exact same contract as a new customer still only pay the previous price, till the next round of price increases of course!
We asked EE and O2 (who raised their prices on 28th February) for a statement or response and whilst EE  have yet to comment an O2 spokesperson said:
We have launched some new tariffs with different options and inclusive bundles for customers.  Tariffs in our current portfolio, that are comparative to those before the increase on 28 February, have had the price changed to reflect the new monthly subscription charges for new customers.
In conclusion, the mobile phone world is a dog eat dog business with networks fighting each other for custom, 4G is about to launch in a big way in the UK across all the major networks and those under the EE umbrella are conspiring to alienate their currently loyal customers whilst almost misleading customers into believing that they will be charged one price then inflicting annual price rises on them.
As I've said, I personally have been with Orange for some 5 years but as my contract finishes in the middle of April I have already given them the required notice and will be switching to a network that offers better speeds and better data rates all for a cheaper cost.
I would suggest that I am probably not the first and certainly won't be the last particularly if the sharp practice of raising prices midway through a contract continues for loyalty is a two way street.