Big shiny yellow diggers. Trucks. Excavators. Say the name "Cat" or "Caterpillar" and you instantly think of their large machinery, but you may also think of their boots, shirts and now – phones.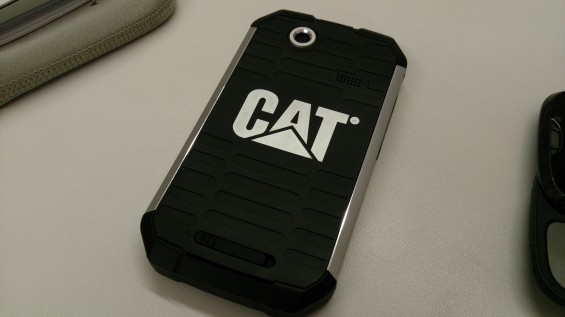 The new Cat B15 smartphone is here at Mobile World Congress and we were lucky enough to get a meeting with the guys about the new venture. Dave Floyd, Director of Technology and Colin Batt, Director of Strategy, also worked on the JCB smartphones. You may remember them doing some pretty innovative tests showing how tough it really was.
However, if you suggest a "tough phone" to most people they'll probably still buy an expensive and very breakable iPhone or Galaxy SIII instead. Then, despite the fact that they bought the phone partly for the look and design, they'll swap a chunky cover to go over it.
Worse still, if you head to any busy store or train station you'll probably see people struggling to use a phone with a broken screen. Just last week in London I saw someone with an iPhone that had a crack in the screen, but they were still using it. Insurance costs and long contracts stop people replacing broken phones. A massive 77% of all accidents are caused after the user dropped a phone, so the Cat B15 can be dropped from a height of 1.8 metres onto concrete and survive perfectly well. They've made sure that, although the phone has obvious toughness and a rugged design, it still has a style about it.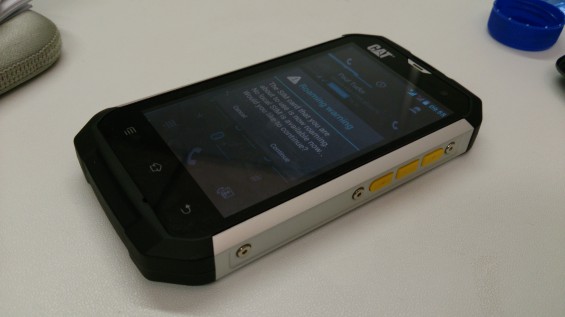 The B15, which will sell for £299 and runs Android 4.1 Jelly Bean, has a really good screen too. In the past I've seen these "tough smartphones" skimp on specs, but his is actually pretty respectable with a 480×800 pixel 4″ WVGA display. It's powered by a dual-core 1GHz CPU and has 4GB of storage plus 512MB of RAM and a microSD card slot. There's also a 5 megapixel camera around the back and a VGA shooter up front. GPS, WiFi, gorilla glass and a very decent 2000 mAh battery powers the device.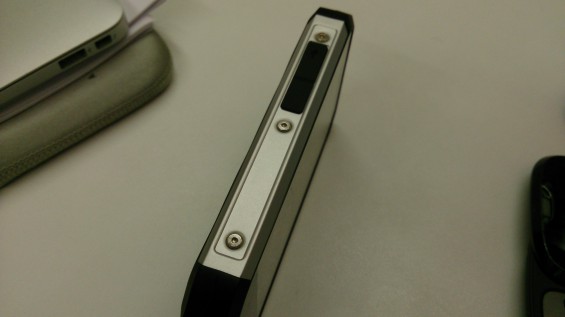 There's a lot of thought in this – the guys have obviously made this waterproof (IP67) and they've dunked it in the bath for 30 minutes with no problems, plus it's impervious to dust. All this means the dreaded "flaps" of course, but they're not the same sort of flaps you'll see on the likes of the Xperia Z. These are screwed in, and the rubber attaching the flap to the handset is both thicker and wider than you'd normally find, so there's not much chance of pulling them off. If you do, don't worry, Cat supply a screwdriver kit (special screws hold the rubbers on) and extra rubber flaps. These are man phones grrr… 🙂
The most interesting part is that this phone will be coming to contract too. You'll soon be able to pick one up for around £20 per month and, although Colin wouldn't reveal who, a major UK operator will be offering this on their network. You can expect this in stores from March too.
Click on for the announcement or enjoy our shots..