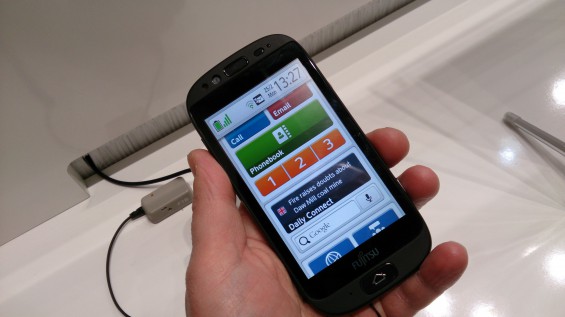 Last year we chatted with Fujitsu and they showed us some of their waterproof tablets and Andrdoid phones. This year, it's a slightly different approach for Europe. They've launched the Stylistic S01 with Orange. It's a phone aimed at the "more mature" end of the market and it's definitely more than "just big buttons".
Fujitsu have already conquered Japan with this handset and the technology inside of it, and now they look set to do it again here in Europe. A lot has gone into this, and you actually have to press the screen harder than normal to activate and confirm your selections. This, along with a central portal for monitoring movement, exercise and fitness levels, means that the phone effectively becomes your aid and protector… plus you can play Angry Birds on it. Yes, this runs a heavily skinned version of Android which allows all the usual apps from Google Play. However, when I asked if you'd have to press harder on the screen whilst playing Angry Birds the rep wasn't so sure.
Around back there's an emergency switch which calls a selection of numbers constantly until someone picks up and the handset actually felt very good in the hand.. oh, and it's waterproof too. The S01, like the Doro phones around the corner, do feel bulky when compared to the slim and shapely smartphones we're all used to, but they're designed this way so that they're easy to grab and handle. Specs include an 8.1 megapixel rear cam and another and VGA cam for video calls up front.