A few days ago details about the upcoming budget L Series Optimus range from LG appeared online which we covered here. The Optimus L3 II, L5 II and L7 II all looked to be solid budget devices for those looking for a cheaper phone.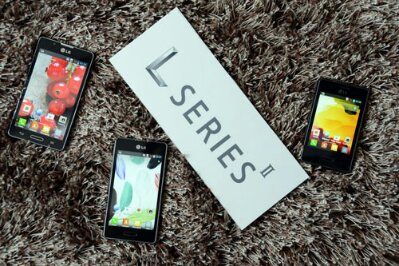 LG have now officially announced details of them. With the LG Optimus L7 II coming first to Russia.
The L7 II has quite a nice spec if it comes in under £150. The mention of Dual SIM as well is interesting.
Optimus L7II Key Specifications:
• Chipset: 1GHz Dual-Core (Qualcomm MSM8225)
• Memory: Up to 4GB eMMC / 768MB RAM / Micro SD
• Display: 4.3-inch WVGA IPS
• Camera: Rear 8.0MP with LED Flash / Front VGA
• OS: Android 4.1 Jelly Bean
• Battery: 2,460mAh
• Size: 121.5 x 66.6 x 9.7 mm/ 122.2 x 66.6 x 9.7 mm (Dual-SIM)
These latest models in the L Series will be on show at MWC later in the month. So we'll be on hand to be bring you details as they appear. Leigh got some time with the previous range of L Series here for the L3, here for the L5 and here for the L7.
Here is the press release from LG:
SEOUL, Feb. 12, 2013 -– LG is staying true to its rich design heritage at this year's Mobile World Congress (MWC) with the introduction of the Optimus L SeriesII. The widely successful L Series has evolved to include contemporary design aesthetics and innovations that improve on the original. With more than 10 million Optimus L Series phones sold in the first 10 months, L SeriesII looks to continue this momentum with its sophisticated style and differentiated features.

Optimus L SeriesII embodies the beauty of the first L Series but with a more refined touch. The design philosophy of L SeriesII has been enhanced to include four new design elements: Seamless Layout, Laser Cut Contour, Radiant Rear Design and Smart LED Lighting on the home button.

L SeriesII also offers an expanded set of user-convenient features including those unique to LG smartphones such as QuickMemo, Quick Button and Safety Care. QuickMemo allows users to capture and share handwritten ideas with others using just a fingertip. Quick Button enables customers to personalize a hotkey to launch any app such as the camera, browser, music player or even QuickMemo. Safety Care offers three options – Emergency Call Forwarding, Phone Non-Usage Notice' and My Location Notice – which can be programmed to contact a loved one in case of an emergency.

User experience is enhanced with the high-resolution IPS display and extended capacity battery in the Optimus L SeriesII. What's more, Dual SIM versions of the Optimus L SeriesII smartphone will enable customers to use one device for both business and personal calls.

"LG has a history of pushing the envelope when it comes to style and Optimus L SeriesII builds on this heritage of design innovation," said Dr. Jong-seok Park, president and CEO of LG Electronics Mobile Communications Company. "By evolving the sophisticated style and premium features of the original Optimus L Series, its sequel is expected to continue the popularity of the L Series around the world."

The Dual SIM version of the Optimus L7II will be the first of the new series to launch, making its debut in Russia this week. The Optimus L7II will include LG's unique UX features such as QSlide and QuickTranslator. Availability of the Optimus L3II with 3.2-inch QVGA IPS display and 1,540mAh battery and the Optimus L5II with a larger 4.0-inch WVGA display and 1,700mAh battery will be announced at a later date.

Optimus L7II Key Specifications:
• Chipset: 1GHz Dual-Core (Qualcomm MSM8225)
• Memory: Up to 4GB eMMC / 768MB RAM / Micro SD
• Display: 4.3-inch WVGA IPS
• Camera: Rear 8.0MP with LED Flash / Front VGA
• OS: Android 4.1 Jelly Bean
• Battery: 2,460mAh
• Size: 121.5 x 66.6 x 9.7 mm/ 122.2 x 66.6 x 9.7 mm (Dual-SIM)