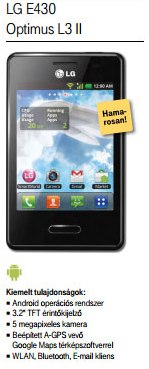 Don't you love a leaky Korean? Err… That didn't come out right. Don't you love it when a Korean website leaks a series of new LG handsets ahead of their planned announcement? There, that makes more sense.
LG's L3, L5 and L7 are quirky little square(-sh) phones. This makes them a little unappealing to the letterbox buying masses. Well, that hasn't stopped them racking up sales of 10 million units, which makes them well worth upgrading.
Stand out upgrades from the three are the L7 II's extra core in its new 1GHz Snapdragon MSM8225 processor, three more Mega pixels bumping its camera to 8MP and a whopping great battery that boosts from 1700mAh to 2,460mAh! Whilst it is an upgrade, we're slightly disappointed to see that the RAM is only 768MB; would it have broken the bank to put a Gig in there, LG?
The L5 II's 1GHz Cortex-A9 CPU is a massive improvement over its predecessor's weedy 800MHz A5, and GPU performance is also given a kick up the ass.
The L3 II gets a new 3.2-inch TFT display, a CPU upgrade to 1GHz, and point and shooter up from 3.2MP to 5MP.
The full spec leak is shown below:
Optimus L7 II

Qualcomm Snapdragon MSM8225 1GHz dual core CPU
Adreno 203
4.3-inch WVGA (800 × 480)
768MB of RAM
8 Mega pixel camera
Battery 2460mAh
Android 4.1.2
Optimus L5 II

4-inch display 800 × 480
Single-core processor 1 GHz Cortex A9
PowerVR SGX531 GPU
Android 4.1.2
Optimus L3 II

Updated 3.2 inch TFT
5 Mega pixel camera
Single-core processor 1 GHz
Android 4.1.2
There is also mention of dual SIM versions of the L5 II and L7 II; this is a nice selling point for low-end devices, that will cause interest for travellers.
Considering that you can pick up a SIM free L3 for around about £100, an L5 for £130 or an L7 for £150 (even cheaper on pay as you go), and we can't see that there's going to be a price hike, these little phones have got to be worth considering.
Unusually there is no mention of the Optimus L9 getting a second generation update. However, it was a fairly recent introduction to the range, so may get passed over this time. Or maybe the Korean had his leak plugged before he got to that bit.
Source – naver.com