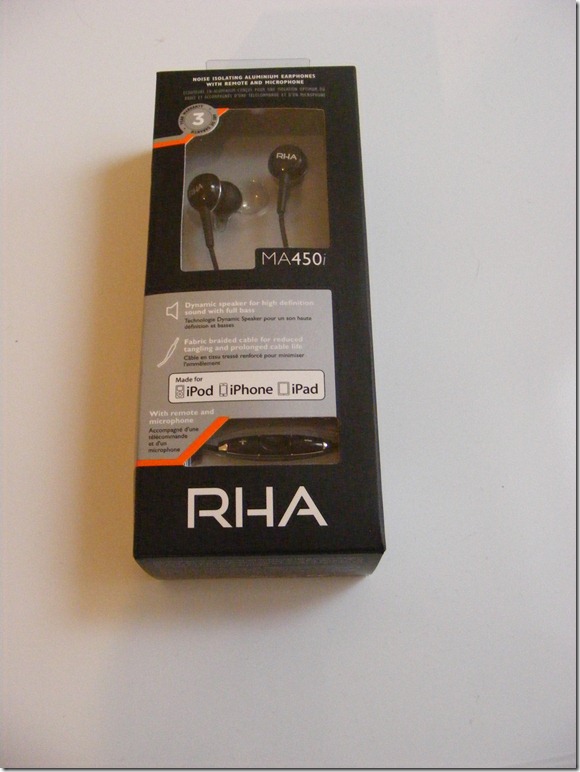 This is the third in the RHA series that we here at Coolsmartphone have reviewed following on from the MA350's and the CA-200 headphones.
Both the 350's and the CA200's were impressive with the RHA-MA350's being particularly good.
So, how do the current top of the range MA450i's compare?
The RHA MA450's are made for iPhone and iPod.  They feature the same design styling as the MA350's with the braided cable and the aircraft grade trumpet bell shaped aluminium earpieces.
The cable is some 1.5m long and features the standard iPhone remote control complete with volume controls.  These controls are made from plastic and thus add very little weight to the overall package.  Despite the plastic there is no evidence of flimsy construction which is reassuring.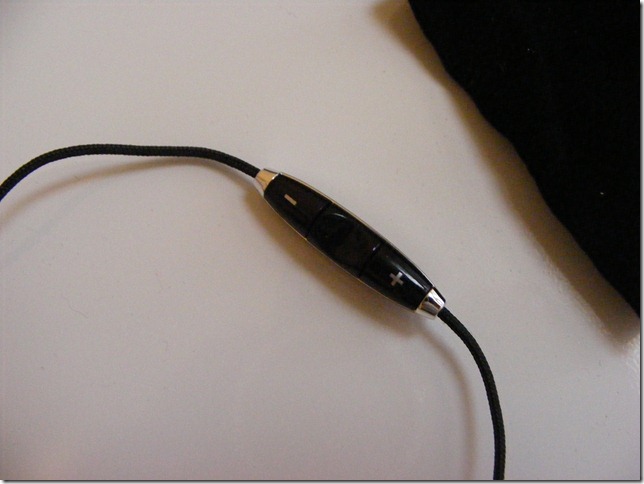 As well as the actual earphones, the box contains 7 different size pairs of tips which is more than enough to cater for any size of ears and a carry case to keep them safe when you are not using them.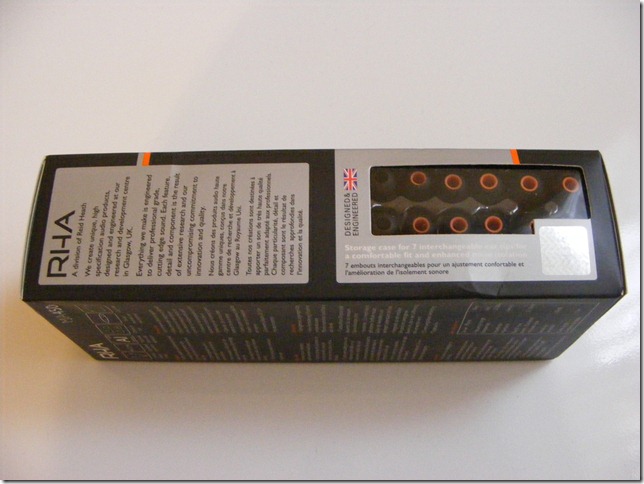 The earphones still maintain their distinctive trumpet's bell shape but rather than the matt appearance, the 450i's have a nice glossy finish.  With the seven supplied sets of buds there is never a problem finding a good fit in ones ears and as such leakage of sound is kept to a minimum.  There will certainly be no complaints from other bus faring passengers.
The same 10mm mylar drivers as featured on the MA350's can be found here on the 450i's but there are some small changes.
The bass is essentially the same, punchy but not overbearing while the mid-range has been slightly tweaked to be slightly less harsh although it can sound a little to bright depending on the track.  This leads to an easy listen, tracks such as MJ Cole's Crazy Love sound crystal clear with Elizabeth Troy's voice sounding smooth and silky.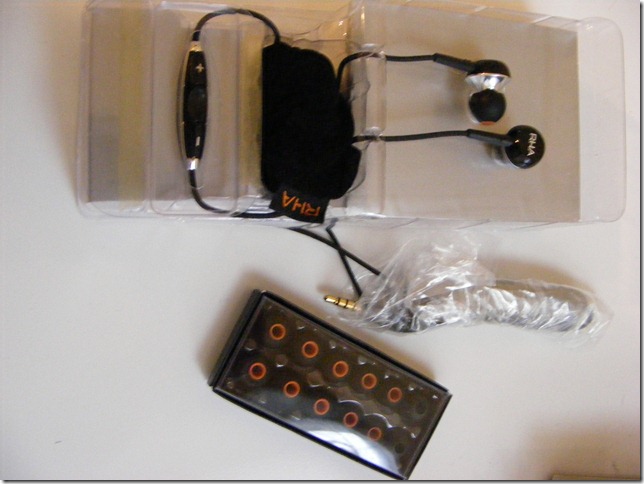 The sound stage created is nothing short of wonderful, the depth conveyed on the soundtrack to The Phantom of the Opera is simply superb and listening to the Bladerunner OST is an absolute pleasure.
Now whilst the iOS controls work perfectly with well, iOS devices, they are not so co-operative with Android handsets.  The volume controls have no effect and all that you have control over is play/pause and call answer/end – this is something that I'm sure RHA will look at in the future.
Overall the RHA-450i's are a great set of earphones particularly at the £39.95 price point. Whilst the treble may sound a little bright to some,  others simply find it crisp and crystal clear.  It really is a matter of personal taste.
As with the other RHA products I have had the pleasure to review, I would have no issues in recommending the 450i's to anyone wanting to experience quality audio at a more than reasonable price.
The RHA MA450i's can be purchased in black or white directly from RHA Audio for £39.95