After listening to and reviewing the rather good RHA MA350 earphones and knowing that not everybody likes in ear buds, I thought I would take a look at another RHA product but this time a pair of headphones – the RHA CA-200s.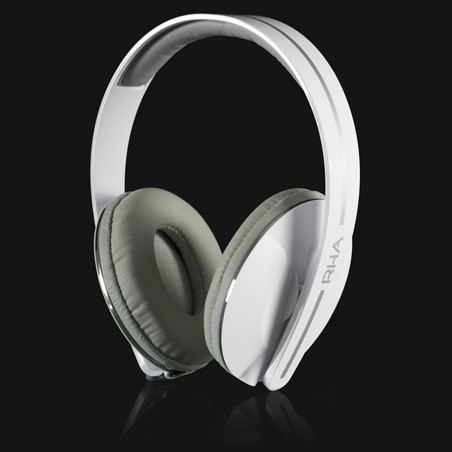 The RHA CA200's are a bit of an enigma.  Retailing at the surprisingly reasonable sum of £29.95 one could reasonably expect something that is not too great in quality however this is simply not the case.
RHA have opted to build the CA200's from plastic and whilst this may not be to everyone's taste it actually looks rather good.  The set I had are all white with a silver stripe around the headband broken only by the RHA logo on either side.
The earpads are attached using RHA's ErgoFit system which "allows the ear cup to pivot on multiple axes for a comfortable fit & better noise isolation."
From a comfort perspective, the system works.  The sliding ball and joint system means that the headphones achieve a snug fit whilst not seeming as if they are trying to squeeze ones brain out of your ears!
The pads themselves are around the ear versions that cover the ear completely.  With the whole unit weighing in at only 166g after a while you can barely feel them on your head.
Another stand out feature of the CA200's is the cord.  Completely detachable, it features gold plated connections and is made from braided fabric to help prevent tangling.

So, on to the sound.  The RHA CA200's have 40mm mylar drivers, neodymium magnets and CCAW voice coils.
The bass is exceptional.  On tracks such as Insomnia by Faithless it is powerful without being overbearing whilst Soul II Soul's Back to Life sounds simply awesome.
Emeli Sande is currently in vogue and when playing her track Suitcase the raw emotion contained within her vocals is transmitted superbly.
A change of tack bought about a listen to The Verve's Bittersweet Symphony.  The movement of the music was handled with ease, the violins sounded like violins and not some dogs squeaky toy whilst the mid range was an easy listen and not harsh on the ears like some of the lesser similarly priced headsets.
Overall, the sonic experience is a good one and certainly wouldn't be out of place on a set of headphones costing twice the price.

As with the MA350 earphones,  RHA have excelled themselves with the CA200's.  This small company from Glasgow deserves recognition for a job well done and if they continue to produce earphones and headphones of this quality then they will certainly be around for a long while yet.