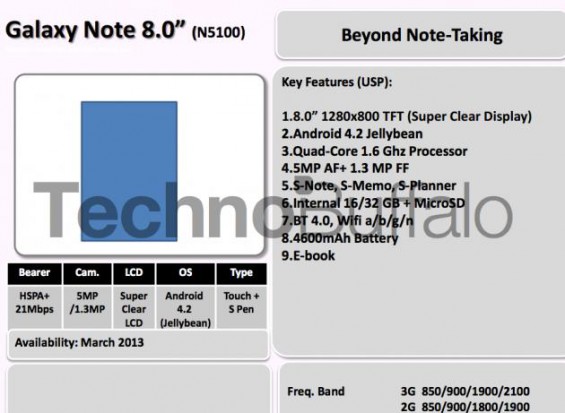 We've covered the Galaxy Note 8 and Galaxy X Cover 2 but now there's more evidence emerging of their existence. TechnoBuffalo have leaked slides which firm up the specs and confirm that the Note 8 will be available in March while the Galaxy X Cover 2 will be out in February.
Here's the deets…
Samsung Galaxy Note 8.0 (N5100)
– 8.0 1280×800 TFT Super Clear LCD
– 5 megapixel rear camera, 1.3 megapixel front
– Android 4.2
– Quad-core 1.6GHz CPU
– Internal 16/32GB storage + MicroSD expansion
– Bluetooth 4.0
– WiFi a/b/g/n
Samsung Galaxy X Cover 2 (GT-S7710) "Endurable Smartphone"
– 4.0 WVGA TFT Display
– 5 megapixl rear camera, VGA front
– Dual 1GHz CPU
– Android 4.1
– Dustproof, waterproof (IP67)
– 4GB Internal storage + MicroSD expansion
– 1700mAh battery
– Bluetooth 4.0
– WiFi 802.11 b/g/n
More as we get it, but these will no doubt appear at Mobile World Congress. The various tech websites around the web are now screaming about the lack of Samsung Galaxy SIV… but hey, that's not how Samsung works. They did the same thing last year with the SIII and we had to wait for a seperate event in London where Samsung did it in their own style and time.
Source – TechnoBuffalo