The Galaxy Note and the Galaxy Note II are both great devices. High specifications and decent quality materials was the order of the day.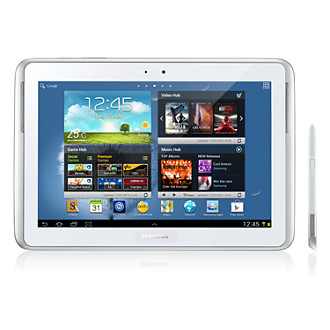 These days the "Note" brand stands more for just a big Samsung device with an S-Pen. Like the Note 10.1 or that rumoured lower spec Note.
According to SamMobiles they've been tipped off about a new device that's coming soon. It's the GT-N5100 or Galaxy Note 8.0. All that they've been tipped off about is the spec and a rough price. No images have leaked yet (the one above is the Note 10.1).
Spec wise it is going to be fairly middle of the range, it seems to be designed to target a price point. Which I'm assuming is going to be slightly lower than the iPad Mini. There will be two versions, a 3G version and a WiFi only version.
Here is the rumoured spec:
8.0" 1280×800 TFT (Super Clear LCD) display
5 megapixel back camera
1.3 megapixel front camera
2 GB RAM
16/32 internal + Micro SD slot
Dimensions 211.3×136.3×7.95 mm
Weight 330g
Battery 4600 mAh
Personally I think this is a good move for Samsung. As the smaller tablet market is quite a price sensitive arena. Whether or not it will be more successful than the upcoming budget 7″ tablets from Asus and Acer is another matter.
This Note 8.0 should be announced at MWC in Barcelona in a few weeks time. Which as is traditional we will be there to get the scoop first hand.
Source – SamMobiles