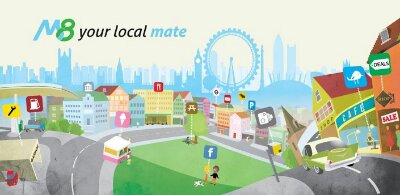 Last summer we got ourselves involved in the release event for M8 in London (details here, review here). M8 is a free mapping, Sat Nav and local places app that really helps you see what is around you and lets you interact as well, through either Facebook or Twitter.
Maps, satnav, traffic, speed camera and comprehensive local info for FREE. Explore, navigate, connect with people and places around you with your new M8. It's everything you expect from great satnav and maps, except the cost – this one's free.
The latest update has added some more features.
What's in this version:
New in your M8 App!
– 3D landmarks while navigation
– Locate and get info on all the best pubs in Britain with the Good Pub Guide
– Look for MyVoucherCodes deals around you
– Search for Michelin guide restaurants and get reviews
– Book a hotel with HRS
– Purchase new navigation voices
– Be part of the M8 community and share tips
It is a pretty useful app at times, as it combines many elements of other mapping apps and mixes them in with some social media stuff. The Twitter section is amusing to see what people nearby are tweeting about. Especially on a Saturday night. Best of all it's free, so head over to the links at the bottom and give it a try.
They have created a promo video for M8 as well.
Play Store Link – M8
iTunes Link – M8
BlackBerry AppWorld Link – M8