On Thursday night we were invited to attend an event in London, not your usual press event though. This was a press event on the streets of London clutching a phone and using the app to explore the town.
Telmap are an Intel owned company who specialise in mapping and they have a new app out. It is called "M8 Your Local Mate" and it is available on Android and iOS, we are going to have a look at the Android version as that is what we tried out on Thursday.
Telmap make some bold claims as to what their app can do, talk of offering superior European coverage to Waze, more relevant UK content than Google Maps and most topical of all is the claim to work more effectively than Apple Maps. As to decide whether any of this was true I went to the event with my own iPhone and my Galaxy Note, both with M8 installed I was planning to see if what were offering was comparable across platforms and comparable to Google Maps on Android.
The app itself looks nicer on the iPhone for some reason, they just seem to have added a little extra sparkle to the iOS verison, although using it on the huge screen of the Galaxy Note was a lot easier.
M8 once loaded up confronts you with a screen full of shortcuts to various searches or functions you can use, covering Navigate (the Sat Nav part), Shopping, Fuel and Parking, Eat and Drink, Community, Car Service, Going Out, Share, Transport, ATM and More, Emergency, Accomodation and Kids. Each shortcut offering further specific searches you can make, for instance tap the Accommodation one and you are offered Trip Advisor or Lonely Planet shortcuts, these will then search in your vicinity for your search results or just point of interest that feature on Trip Advisor. It is nice having all of these links available when the app opens.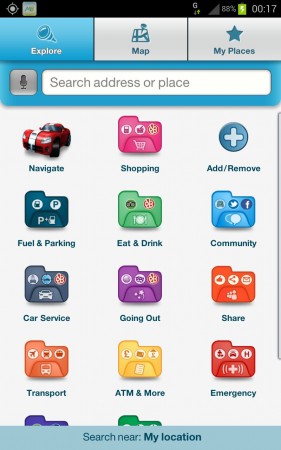 Also in the app you have access to the core mapping app which whilst it doesn't look as glossy as Google Maps for Android is certainly a usable app. The mapping part will instantly search for your location and display it on the map for you. Then at the bottom of the screen is a carousel of shortcuts offering shortcuts to Restaurants, Hotels, ATM, Post Office, Parking, Barclays Cycle, Police, Hospital, Pharmacy, Airport and Weather. Tapping any of these will search you current location for matches to these categories and display the results, if some of these results include results from Trip Advisor or Yelp then those will appear in your results.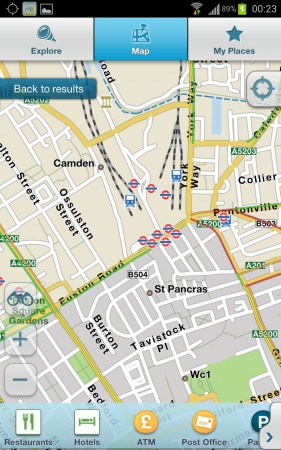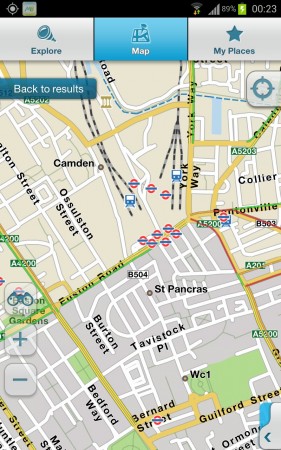 The navigation part of the app functions exactly as you would expect, except it has a few fun twists if you tap on something you don't really need to. The navigation offers either driving or walking directions and as you'd expect there are options to mute the voice directions and there is a night mode. You can also search for POIs along the route with the slide out carousel.
The list of features that Telmap has is as follows:
NAVIGATION AND MAPS
• Live traffic updates.
• Speed camera alerts.
• Turn-by-turn navigation (automatically reroutes you and announces street names).
• Professional maps with auto updates.
• Dedicated pedestrian navigation with clear directions.
LOCAL INFO
• Easy access to categories – restaurants, bars, shops, cinemas, parks etc.
• Find the nearest cash machine, supermarket or post office.
• Access the Yelp directory for shopping centres and coffee shops.
• TripAdvisor and Lonely Planet's favourite restaurants and hotels with helpful reviews and pictures.
• Barclays Cycles station with the number of bikes available.
The premise behind the app is that if you arrive in a new city everything you could ever want to find out quickly will be available in the app (as long as you have a web connection). As we mentioned earlier today the M8 event held in London certainly showcased what the app could do, especially on iOS where third party solutions are all racing to fill a gap left by Google. I feel the app is great and has massive potential, yes Android users are going to prefer to use a mix of Google Maps and Google Places, but M8 uses a whole host of other services to boost the core mapping app.
Both the iOS and Android apps are free and the guys from Telmap  say it will always remain so. So it won't harm you to go and download it and give it a try, you never know you may be pleasantly surprised. I was.
Android Play Store Link – M8 Your Local Mate
Apple Appstore Link – M8 Your Local Mate