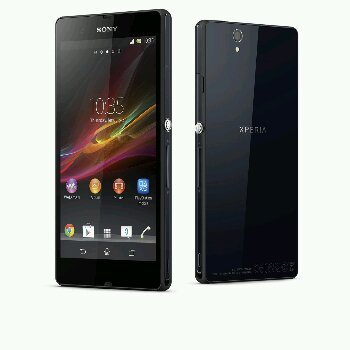 More CES announcements, this time from Sony.  There have been many leaked photos of both devices already but now they are 100% official as Sony has just announced the Xperia Z and ZL to the world.
The Xperia Z is the new Sony "hero" phone and, according to the company, has "the best of Sony in a smartphone". Inside there's a 5" Full HD 1080p (1080×1920) Reality Display and a 13 megapixel camera. It's quickly becoming apparent that a 13 megapixel camera is the new standard in 2013.
It's just 7.9mm thich and powered by a quad-core Snapdragon S4 Pro processor and has 4G LTE connectivity. Not only that, but the phone is both water and dust resistant. It can, according to Sony, be dumped into water up to a depth of one metre for up to half an hour and survice. Pretty neat, and something we saw at Mobile World Congress last year (albeit from Panasonic, who withdrew from Europe shortly after). Expect little covers on all the ports.
Even better news, it'll be available in the UK in Q1 2013 and we already know that Three will be ranging it.
But just what is the "ZL"? Well, Sony tell us that this is "a design variant of Xperia Z" which will be available in "selected markets" it offers "the same immersive entertainment experiences as Xperia Z but in a smaller form factor".
Both the Xperia Z and Xperia ZL will launch on Android 4.1 (Jelly Bean) and will be upgraded to 4.2 shortly after launch.
We have images and the full press releases below….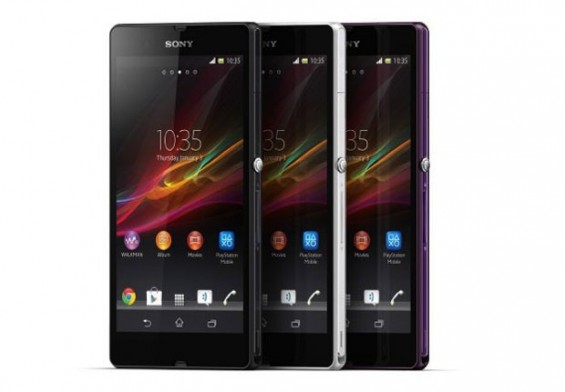 Introducing Xperia™ Z –the best of Sony in a premium smartphone
Full HD 5″ Reality Display with Mobile BRAVIA Engine 2 for super brightness and clarity Sony's media applications deliver rich user experiences and instant access to entertainment services
Easy and fast One-touch functions to wirelessly share music, photos and videos across devices
New stand-out Sony design with water and dust resistance
January 7th 2013, Las Vegas, USA – Sony Mobile Communications ("Sony Mobile") today introduces its new flagship Android smartphone, Xperia Z. With a 5″ Full HD 1080p Reality Display, Snapdragon™ S4 Pro quad-core processor, 13 megapixel fast-capture camera and 4G LTE, Xperia Z has all the specifications expected from a premium smartphone. On top of this, it brings the best of Sony's unique technology, content, design and connectivity to deliver rich user experiences. Xperia Z will launch globally in Q1 2013.
"With Xperia Z, we are bringing over half a century of innovation in TV, imaging, music, film and gaming to create a superphone experience that truly stands out," said Kuni Suzuki, President and CEO, at Sony Mobile Communications. "With great specifications, Sony's media applications and One-touch functions,
Xperia Z is well positioned for leadership in the smartphone market. By putting smartphones at the heart of our strategy, Sony is enabling people to create, enjoy and share content and experiences like never before."
Intelligent Sony Technology
Xperia Z's razor sharp Reality Display, powered by Mobile BRAVIA® Engine 2, brings Sony's long-standing TV expertise to the smartphone and delivers an immersive viewing experience with super brightness and clarity. The smartphone shares capabilities with Sony digital cameras and features Exmor RS for mobile, the world's first image sensor with HDR (High Dynamic Range) video for smartphones. HDR technology gives clear images against strong backlight, so users can capture razor sharp pictures and videos whatever the conditions.
Xperia Z also includes Battery STAMINA Mode that can improve the standby time by four times or more*by automatically shutting down battery-draining apps whenever the screen is off and starting them up again when the screen is back on.
Discover, enjoy and share entertainment with Sony's media applications and One-touch functions
Sony media applications offer a consistent entertainment experience across a range of Sony devices. Pre-loaded on Xperia Z, the "WALKMAN", Album and Movies apps, enable discovery of on-line and off-line content through a single access point with new ways to enjoy and share that content. The "WALKMAN" application provides access to all your downloaded music, a library of 18 million songs to explore from Music Unlimited and Facebook social integration. The Movies application gives consumers access to over 100,000 movies and TV series from Video Unlimited while the Album application enables easy access to Facebook friends' photos as well as browsing photos by location.**
One-touch functions enable consumers to easily share music, photos and videos from their smartphone to an array of NFC-enabled Sony devices, including speakers, headphones and now TVs. With the new BRAVIA TV, also announced today, simply touch Xperia Z to the remote control of the TV to instantly enjoy your photos and videos on the big screen.
Two additions to Sony's range of NFC-enabled headsets were also introduced today, the Stereo Bluetooth™ Headset SBH20 and the Wireless Headset DR-BTN200M. Touch Xperia Z to either headset and begin listening to tracks instantly.
Stand-out design and durability
Precision engineered with premium materials, Xperia Z introduces a unique OmniBalance design with subtly rounded edges and smooth reflective surfaces on all sides. Despite its slim 7.9mm body, Xperia Z is highly durable with tempered glass and anti-shatter film on the front and back, as well as the highest levels of dust and water resistance*** (IP55 and IP57) found in a premium smartphone.
In selected markets, a design variant of Xperia Z – Xperia ZL – will also be released in Q1 2013. Xperia ZL delivers the same immersive entertainment experiences as Xperia Z but in a smaller form factor.
Xperia Z and Xperia ZL will launch on Android 4.1 (Jelly Bean) and will be upgraded to 4.2 shortly after launch for the latest Android user experience.
Key features for Xperia Z
· 5″ 1080 x 1920p full HD Reality Display with Mobile BRAVIA® Engine 2
· 13MP Fast Capture camera with Exmor RS for mobile, HDR video, Superior Auto and Noise Reduction to effortlessly capture razor sharp pictures and videos in any conditions
· Dust and water resistant (IP55 & IP57) with a durable glass display
· 1.5 GHz asynchronous quad-core Snapdragon S4 processor with 2GB RAM
· Battery STAMINA mode improves standby time by at least 4 times