Three have confirmed they will be stocking the just-announced Sony Xperia Z here in the UK. They have released a hands-on video preview of the device for everyone to see.
Whilst there is no information yet on a price or release date, the fact this high end device will be coming to the network many customers prefer due to their data focus and their highly impressive DC-HSDPA network is certainly good news.
The Xperia Z has some highly impressive specifications and packs a 5 inch display with 1080p resolution. This makes it the highest resolution screen on a phone available in the UK currently. It also features a 13 megapixel camera, 16GB storage and 2GB. It's powered by Android 4.1 Jelly Bean
Where as we expect all major UK networks to announce the Xperia Z coming to their network, Three often have a video ready to see after announcement, and this phone is no different.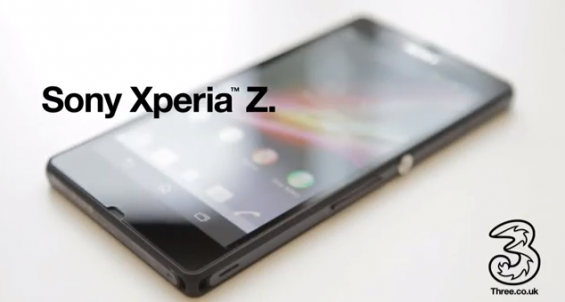 [yframe url='http://www.youtube.com/watch?v=W5m0VVxeJxQ']
Paired with the One Plan which allows tethering, and speeds in testing of up to 30Mbps, the Xperia Z is the ideal partner for anyone who wants superior specs and a network to back it up.
Check back soon for more information on the new Sony Xperia Z on Three when we have dates and pricing available.
Update – We now have the full press release below. It confirms that the handset supports the ultra-fast DC-HSDPA protocol..
Link – Three Blog
Coming soon to Three – Sony Xperia™ Z.

Today Three announces that the new premium smartphone, Sony Xperia™ Z will be coming soon to the network.

Despite its slim 7.9 mm body, it's incredibly durable with a tempered glass and anti-shatter film on the front and back making it robust enough to handle most conditions. It's crafted to be dust and water resistant – perfectly suited to use outdoors, in wet or dusty conditions – bringing you peace of mind if you're a little accident prone or if it slips out of your back pocket!

Xperia™ Z also features a superb Battery STAMINA mode and it'll truly go the distance by improving standby time, automatically shutting down battery draining apps when the screen is off and starting them up again when the screen is back on.

With a fully HD 5" screen, Xperia™ Z has one of the sharpest and boldest displays for crystal clear images and great readability even in sunlight conditions. Sure to delight keen Instagrammers, the smartphone has a 13 megapixel Fast Capture camera so photographers need never miss that special shot again.

Sylvia Chind, Head of Devices at Three said, "Without compromising on its sleek and beautiful design, the Sony Xperia™ Z has the added benefit of being dust and water resistant so it's tough enough to handle most conditions. Combine this with Three's Ultrafast network and you'll get the best experience".

Key features:

• 5" full HD display for the best viewing experience
• 13MP Fast Capture camera so you never miss a shot
• Dust & Water resistant to protect you from any accidents
• 1.5Ghz quad-core processor for fast multi-tasking
• Long battery life with STAMINA mode to last even longer
• Ultrafast (DC–HSDPA) enabled