Telmap are an Intel owned mapping company and they have a rather decent free mapping and Sat Nav app for iOS and Android. You may remember this as I went to the launch event in London and we also reviewed their app as well.
Well Telmap have released an update for M8 which now adds MyVcoucherCodes into the app and they have also added a festive twist as well.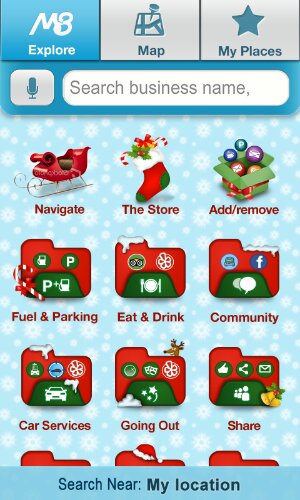 M8 is a free mapping and Sat Nav app for Android and iOS (click the links to give it a try). It is a really useful app that lets you find out a whole host of information about your surroundings and then navigate to them or just have a look on a map. Best of all it's all free so you can try it out for yourself.
Here is the press release:
M8, your local mate in the UK mobile app has today announced the launch of an updated version that enables users to gain access to deals that are active on leading discount code website Myvouchercodes.co.uk, further enhancing the location-based experience for smartphone users.

Trailblazing the delivery of hyperlocal content aggregated from various sources alongside advanced navigation services, M8 is set to offer iPhone and Android device users in the UK an even richer experience with the recent introduction of up to date vouchers featured by popular discount code website, MyVoucherCodes.co.uk.

"We're thrilled to be able to announce the integration of MyVoucherCodes.co.uk deals into M8. It's always been our aim to give people in the UK access to local, relevant content from reliable sources, while offering a fun and social experience, and we believe that this most recent version ticks all of those boxes.

"Our M8 community is clearly enjoying using the application and the comprehensive experience already being offered, so we're delighted to go that extra mile by introducing deals into our feature set. By encouraging people to explore their surroundings and embrace local amenities more, while getting the best value for their money, we're certain that this latest version of M8 will enjoy a warm welcome across the UK," explained Tim Owen, UK Country Manager at Telmap, developer of the M8 app.

Since its launch in September 2012, M8 is recognised in the UK for offering an intuitive and interactive location-based mobile guide which combines real time information from popular leading travel resource Lonely Planet, in addition to peer review services from Trip Advisor and sophisticated navigation and mapping functions. Extending its offering to include content from MyVoucherCodes.co.uk, M8 has successfully added to existing features with location based money saving information aiming to create an all in one mobile companion for UK smartphone owners.

Searching via categories of interest, M8 users are able to access local deals currently active on MyVoucherCodes.co.uk. Extracting important details such as availability surrounding the offer, M8 users can check out recommendations, directions and information from trusted sources using the app's existing features and integrated social networks, before redeeming offers by presenting coupons direct from within the app.

Blending cutting edge satellite navigation technologies and multiple layers of location based data, M8 seamlessly integrates with social media channels – Facebook and Twitter – to provide a next generation mobile experience that gives users the opportunity to explore and make the most of their surroundings by accessing real time local hyper-relevant information, offers and recommendations wherever they are, and all from within one mobile application.

"With such a huge number of deal, coupon and voucher online services available in the UK, there is a danger that people begin to feel bombarded. We've updated M8 to remove any confusion typically associated with vouchers, enabling people to access deals and offers that are relevant and local to them in one simple process using their personal devices," concluded Owen.

Available on iPhone, Android, and Blackberry Touch devices M8, Your Local Mate in the UK, has been designed and developed by Telmap, an Intel company and a world leading location- based services provider. The introduction of MyVoucherCodes.co.uk to M8 users has been secured by a partnership between Telmap and multi-channel voucher and deals network, VouChaCha.