More red hot styli action coming at you, this time courtesy of Studio Neat's Cosmonaut stylus.
As you'd no doubt have seen if you frequent the site, a while back I covered the Zoogue Stylus and more recently covered the Applydea Maglus Stylus. Two very different styli, at different price points (The Zoogue is still free from their site, and the Maglus is c.£20).
The Cosmonaut was given life thanks to a Kickstarter project which obtained over 6000 backers with a combined pledge amount in excess of $134,000 – well over twice the pledge target.
Unboxing
A rather small cardboard outer box with astro-themed graphics housed the beefy black Cosmonaut stylus. A sparse package this, with only the stylus itself in the box. There is however a rather nifty little blurb giving a nod to the simplicity of the design….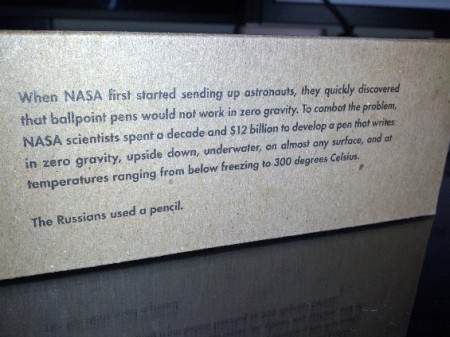 Package Contents
Cosmonaut Stylus with capacitive nib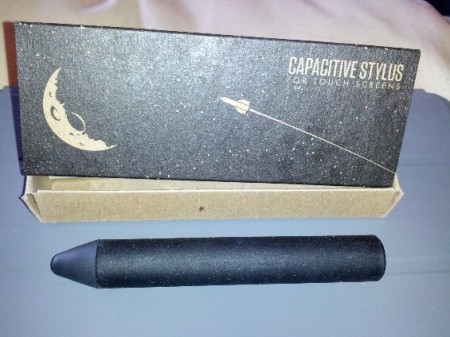 Hardware/Design
Specifications
Stylus Size: 121mm long x 19mm diameter
Weight: 45.4g (1.6oz)
Black/Brown (also Black/Silver available)
This stylus is unlike any I have used before. By their very nature, styli tend to be sleek and pen-like in design in order to allow the user to instinctively find a safe place for the styli, whilst on the go and provide familiarity. The Cosmonaut however bucks this trend and instead has adopted a much larger design.
My initial thought when unboxing this stylus was that I had been sent a jumbo Crayola Crayon instead of an industry-leading stylus for capacitive devices. That is exactly what it looks like. Thankfully there is no waxy crayon tip. The stylus tapers off to a rounded rubber nib which gives a completely different experience to many other styli that tend to have a spongey, hollow tip. Instead the Cosmonaut's rubber encases an aluminium core which gives a sturdy feel.
There is only a very subtle piece of "Cosmonaut" branding at the top of the stylus, with the majority of the design being a plain rubberised black material.
If discretion is your thing, then this is not the stylus for you. With it's chunky design comes a rather hefty 45g weight. Rather than detract from it's use however, I found that it aids the effortless gliding whilst in use on a device, meaning less pressure is needed for a positive result. Studio Neat compare the use of the Cosmonaut with that of "a dry erase marker: fast, simple, low fidelity". I certainly can't argue with that. The general feel of the Cosmonaut is far superior to the Zoogue, and edges ahead of the Maglus on pressure sensitivity during my testing.
During use, I became used to it's dimensions and the first impression of a chunky unwieldy styli had been replaced with a feeling of familiarity when in the hand. Writing and note taking was a pleasure, and drawing (such as within Draw Something or using Paper by fiftythree) was another area in which the Cosmonaut particularly excelled.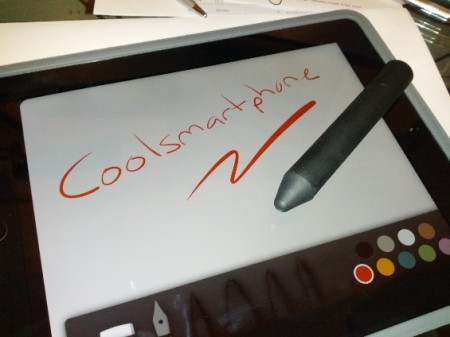 Conclusion
The Cosmonaut is, by some distance, the best stylus I have used. If you can look past it's heft, the stability it provides in the hand and it's rubber-covered aluminium core provide a level of sensitivity and precision that other styli simply fail to live up to.
Whilst I found the design very familiar once in use for writing and drawing alike, the cylindrical nature means it's very difficult for the styli to be kept on any desk without fear of it rolling away. It might sound like a small niggle, but having to find a location to store this stylus whilst not in use was a downside. It's not as though this could easily be mistaken as a pen in one's shirt pocket (a-la Zoogue). It's not insurmountable, but I'd have liked to have seen some gesture towards storage (lanyard loop even) either described, or included in the box.
With this stylus weighing in at the £20 price point at Amazon, it is comparable to the Maglus in price, and has it beaten in terms of precision during my use. It's a very good addition for those wishing to partake in some handwriting or drawing on their capacitive devices. It's a fine accessory for anyone with a capacitive-screened device, and should be the top of every stylus users' shopping list.
Pros
Excellent precision
Sturdy weight
Good price
Aluminium core provides unique experience
Cons
Shape makes it difficult to store without dedicated bag/case
It's size might put some off
Rubber coating makes it a lint-magnet