So, EXIF data has appeared as part of a set of leaks pointing towards the existence of a Nexus 10 tablet. Of course, EXIF data can be spoofed relatively easily, so up until now we haven't really attributed that much credibility to the images. However, today the EXIF data leaks regarding a Nexus 10 just got a bit more credible thanks to Vic Gundotra and two images he's uploaded to Google+ today.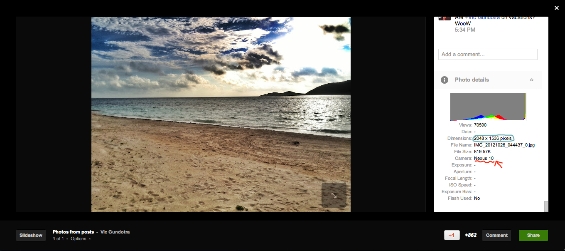 When you look at the images, you can't immediately see anything special – just a couple of photos of a beach. However, someone at Android Central spotted that the photo details tab clearly shows that the two images were taken on a 'Nexus 10'. Vic Gundotra is the Senior Vice President of Engineering for Google, so he would have access to unreleased devices – so these could be legitimate. Either that or he is playing with us Nexus-hungry souls – we'll have to wait and see! It's also interesting to note that the image is of relatively low resolution, 2048*1536 to be precise. Some other sites have attributed that to Google+ upload compression, but I would suggest that it's probably a combination of that and the HDR effect that has been applied to the photo – either that or the Nexus 10 packs a low-quality rear camera which is something I think is unlikely.
Either way, we should find out further details this Monday – make sure to join us for the liveblog!
source: +VicGundotra on G+
via: PocketLint, AndroidCentral