Recently rumours surrounding Nexus devices have been all over the web. One interesting rumour surfaced the other week about a new 10" Google Nexus tablet.
It was said that Samsung are going to be making a "Nexus 10" tablet with a rumoured high resolution screen.
Well some evidence of sorts to backup this rumour has appeared. For some reason manufacturers when they are testing top secret devices, decide to photograph pointless stuff and post the pictures to Flickr or Picassa or somewhere similar. Harmless fun maybe, but people find these images and inspect the Exif data for the pictures and boom they have found a new device. This has happened recently on Picassa and the device model no is "Nexus 10".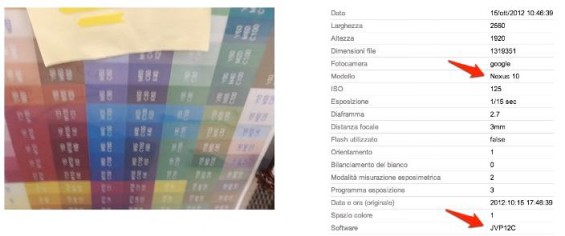 No other info has appeared on it yet. But a high resolution Samsung Nexus tablet might just be what the tablet buying masses want. If Google can maybe get some more developers to make tablet apps.
You never know this might be one of the devices announced in a few weeks, doubtful I'm guessing the event will have a Nexus 7 refresh and possibly the new LG Optimus Nexus.
Via – SamMobile