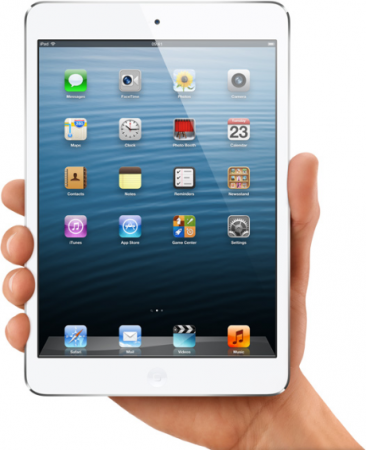 Apple finally announced the second worst kept secret in the mobile industry this evening along with a number of other new products. Amongst the updated iMacs at 21.5 and 27 inches, they also revealed their 13 inch MacBook pro, the 4th generation iPad (and changed the name of the new iPad to the much-easier-to-say "iPad with Retina display") and the star of the show, the iPad mini.
Starting at £269 for the 16GB wifi only models, the 32GB and 64GB are £349 and £429 respectively. They all feature a 7.9" multi-touch display and keep the same 1024×768 resolution as the previous iPad 2.
The mobile enabled variants weigh in at: £369 for 16GB, £449 for 32GB, and for those whom there is never enough storage £529 for the 64GB version. Together with the smaller screen, that keeps the pixel density at 163ppi.
The new mini is a svelte 200 x 134.7 x 7.2mm device against the nexus 7 at 198.5 x 120 x 10.45mm and 216ppi, although the iPad mini has the edge against the android tablet with about 67% more viewing area and has a much smaller bezel. Because the mini is utilising the same aspect ratio as the previous iPads, you have access to the same iPad specific apps as the older generations, barring those developed for the iPad 3 New iPad iPad with Retina display.
http://www.youtube.com/watch?v=qL0UlqpfuQc
Wi-Fi connectivity has also been taken care of with a/b/g bands, with n on both 2.4 and 5Ghz, and it appears to use the same camera module from the iPhone 4 and the new iPod Touch with 5MP. Add full 1080p HD recording and use of the nano sim over the microsim found in the previous models and you have what is probably going to be a hot seller. Battery life doesn't suffer either as its still rated the same as its bigger brothers at 10 hours.
Whether this is going to kill the Nexus 7 Android star, or appeal to those who already have an iPad, I don't rightly know. What is for certain is that they took the most popular tablet in the world, the one Apple advised in their keynote speech is used by 90% of tablet owners, and they made it smaller. They made it thinner and lighter at 308g. They made it easy to hold in one hand.
The thing I like most about the iPad mini? Its available to pre-order now with shipping beginning Oct 26. The 3G versions are due to be shipped late November.
A beautiful display, powerful A5 chip, FaceTime HD camera, iSight camera with 1080p HD video recording, ultra-fast wireless and over 275,000 apps ready to download from the App Store. iPad mini is an iPad in every way, shape and slightly smaller form.

Thin and light design.

iPad mini has everything that makes an iPad an iPad, but it's a fraction of the size. At just 7.2 millimetres, it's pencil thin and unbelievably light.3 You can easily hold it in your palm. And stash it in your smallest bag without a second thought, so it's always close at hand.

Everything you love about iPad — the beautiful screen, fast and fluid performance, FaceTime and iSight cameras, thousands of amazing apps, 10-hour battery life* — is everything you'll love about iPad mini too. And you can hold it in one hand.

Colours are vivid and text is sharp on the iPad mini display. But what really makes it stand out is its size. At 7.9 inches, it's perfectly sized to deliver an experience every bit as big as iPad.

Right from the start, apps made for iPad also work with iPad mini. They're immersive, full-screen apps that let you do almost anything you can imagine. And they make iPad mini practically impossible to put down.

With advanced Wi-Fi that's up to twice as fast as any previous-generation iPad and access to fast mobile data networks around the world, iPad mini lets you download content, stream video and browse the web at amazing speeds.