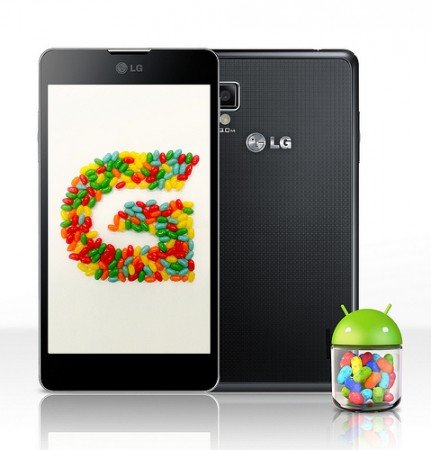 It seems like the heir to the Nexus dynasty is going to be LG, however, they are renowned for being particularly tardy with their Android updates, so it's good news that some needy handsets are due some Jelly Bean action, right?
Well yes, if you're patient, oh, and if you live in Korea!
The Korean LG news site has published the plans for a Jelly Bean roll out to several devices, however, there's no mention of when these updates will be arriving elsewhere.
The first recipient of the update will be in November for the Optimus LTE II. A dual core 1.5GHz Snapdragon based phone with 4.7 inch screen which we are unlikely to see on these shores any time soon.
Next in line will be the Optimus G in December. With its 4.7 inch IPS+ screen, 1.5GHz Snapdragon S4 quad-core processor, 2GB of RAM and 32 GB onboard memory, pretty much everyone was expecting this powerhouse to come prepacked with Jelly Bean, but sadly not. Even sadder is that we don't have it in the UK at all yet. However, seeing as it could well be the basis for the new Nexus we may get it with 4.2 (Key Lime Pie?) anyway.
Right, back from rumour-land to what we know…
After the Optimus G, the next LG handsets due for Jelly Bean are the quirky 4:3 ratio 5″ phablets Optimus Vu and Vu II, although these upgrades are not going to roll out until the first quarter of 2013.
Unfortunately it makes no mention of the LG Optimus 4X HD – another 1.5GHz quad-core, 4.7″ beast that is one of the best LG phones we've seen this year. It would have been a great to see LG upgrading such a high end handset with good worldwide availability, but alas no.
Along with the usual Jelly Bean goodies, the upgrades will include the innovative Q-Slide software which allows users to have two apps open with one overlaid translucently on the other, so that users can, for example, watch video and write a text message at the same time, as demonstrated in the video below.
http://www.youtube.com/watch?v=Asa9Ol1GoAQ&hd=1&t=1m29s
If this seems of little consequence to UK LG owners, it may help to remember that these new ROMs could be ported by developers and used to create custom Jelly Bean ROMs. Fingers crossed…