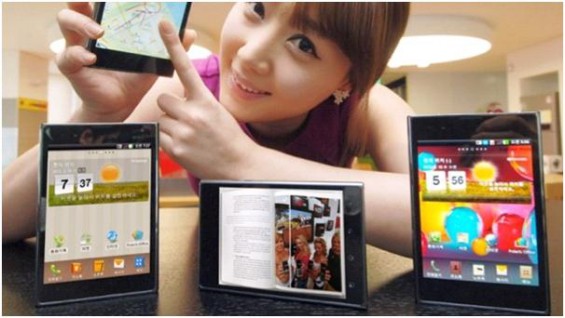 LG have been threatening to release the 5″ screen equipped VU for a while now and UK based online retailer Expansys now have them in stock at a great rate of £349.99 inc Vat. A great deal if you want a phone quite a bit different to anyone else. It has quite a good spec as well.
The 4:3 ratio screen may be quite interesting for web browsing, hopefully at some point we'll get our hands on one of these soo.
CPU: NVIDIA® Tegra® 3 mobile      processor, 1.5GHz 4-PLUS-1™ quad-core
Platform: Android Ice Cream      Sandwich
Network: HSPA/WCDMA 900/2100 MHz /      Quad-band GSM/GPRS/EDGE: 850/900/1800/1900 MHz / (Band frequency, HSPA      availability, and data speed are operator dependent)
Memory: Internal phone storage:      32GB
Display: 5.0-inch 4:3 ratio XGA      IPS with 768×1024 pixels resolution
GPS: Internal GPS antenna
Connectivity: Bluetooth® 4.0 /      Wi-Fi®: IEEE 802.11b/g/n / 3.5 mm stereo audio jack / Standard micro-USB
Camera: 8 megapixel camera / 1.3      megapixel front camera
Battery: Li-ion battery 2100 mAh
Weight: 168 grams
Dimensions: (LxWxT): 139.6 x 90.4      x 8.5 mm
Source – Expansys
Expansys have the following to say about the VU:
Please note: This is the EU version of the LG Optimus Vue, supplied with an EU plug and a UK AC adapter. The warranty is EU wide and valid.

With 5-inch 4:3 aspect ratio display, the Optimus Vu blurs the line between traditional tablets and smartphones for a truly unique smart device experience.

The Optimus Vu is equipped with NVIDIA® Tegra® 3 mobile processor, the super 4-PLUS-1™ quad-core that offers a superb balance of performance and power requirements. 4 cores are used for high performance tasks such as games and multitasking. For voice call, email, music and video playback, only the 5th battery-saver core is enabled and it consumes very less power.

When paired with the high-resolution 5-inch, 4:3 ratio IPS display, the Optimus Vu becomes something special – a device that's both pocketable and spacious.