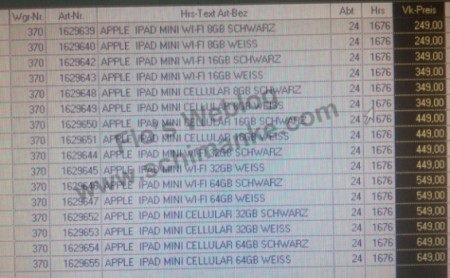 The Apple rumour mill has been given more information to add to the rapidly increasing and still growing pile – this time possible prices and model versions have been spotted on a German bloggers site known as Flo's Weblog.
He's posted a screenshot showing you could possibly get a total of 16 different versions of the Cupertino 7.85 incher. The memory sizes will come in flavours ranging from 8-64Gb. As will the full New iPad's they'll have a cellular radio option, and knowing Apple's predilection for leveraging their economies of scale, the mobile chipset will probably be the same LTE version, so we're not anticipating a surprise launch for EE. On top of that, the iPad mini will be offered in both black and white.
Given that the Euro is still pretty close to the Pound at this point, I don't think there'll be any huge shock at the prices listed on the screenshot being similar, if not exactly the same, when they hit UK shores.
Source – flo's blog