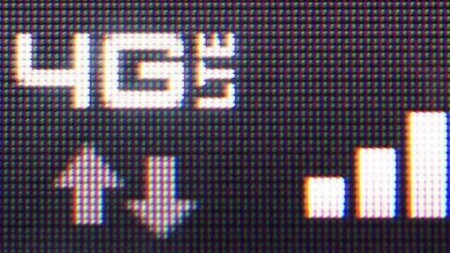 Tucked away in a leafy part of London yesterday I was given the opportunity to have a play with EE's new 4G handsets running on the brand spanking new 4G network.
The handsets on show were the newly announced Samsung Galaxy S3 LTE, the Huawei Ascend P1 LTE, the HTC One XL and the already on sale iPhone 5.
Now the hype is slowly starting to build around 4G and with the imminent announcement of pricing plans, availability and coverage the questions remain: Is it really all that different, is it really much better?
At home I am extremely lucky and have a 100mbps fibre connection.  When my Galaxy Nexus is linked to my wi-fi I can achieve speeds of between 30 and 40mpbs over the handsets wireless connection.  My 3G connection consistently gets speeds of around 3mbps.
Back on September 11th when the EE brand was announced a couple of speed tests were shown off.  Speeds of between 30 & 40mbps were demonstrated as well as a swift demo of the downloading of Angry Birds which took around 8 seconds!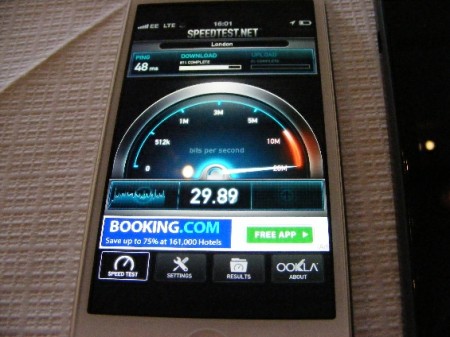 Back to yesterday and 4 devices were placed in front of me, unfortunately the Galaxy S3's were being utilised by others, three handsets were on the new 4G network and one (an iPhone 5) was on 3G.
All of the handsets had the speedtest app installed and I was invited to simply play! Naturally the first thing to be done was press the Begin Test button and watch the needle fly.  My first attempt on an iPhone 5 showed a download speed of over 30mbps with absolutely no hesitation.
It was no fluke.  Time after time, test after test, and download after download showed speeds of between 20 and 45mbps.  In fact, the record speed for the day inched over 46mpbs.  Upload speed is incredible too reaching speeds of between 11 and 16mbps.
There was a little variation between the different handsets and it should be remembered that whilst the venue was little more than a stones throw from EE's headquarters  with all its 4G testers, the network capacity can hardly be classed as loaded.
That said, the consistency of speed is certainly something to behold.  Across all handsets it rarely dropped below 20mps.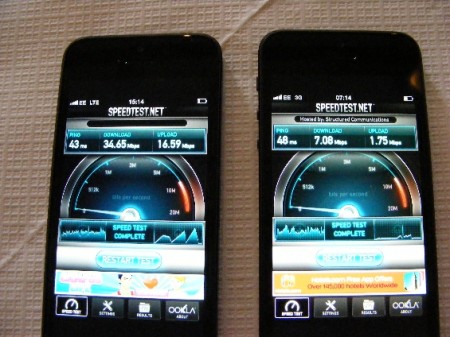 No further details were revealed around a launch date but with the infrastructure beginning to take shape and full London coverage no more than a few weeks away it is hard to imagine not being able to get onto 4G very soon.
It was re-affirmed that the by the end of 2014 98% of the country's population will be able to get 4G.
Despite pushing no details around prices could be revealed however it has been confirmed elsewhere that 4G tariffs will be slightly more expensive than their 3G counterparts.
In summary, 4G will certainly be a premium product, the speeds are more than a match for most peoples home broadband connection and in most cases far out strip anything that is currently available.  With Orange / T-Mobile's promise to make migrating to EE as easy as possible the push to build on their current monopoly has begun and I for one can't wait to jump on the bandwagon!
Below are pictures taken of the new handset's EE branding and the summaries of the speedtests completed during the day of testing.
Are you looking forward to 4G or are you content with your current service?  Let us know over on our forums.