The ebay app has been having some issues recently, as we reported the other night. Well, it looked like it was fixed. However, as the email and screenshot below explain, ebay are having so many problems with it they have rolled back to the old version for now.
I've tried on all of my devices but all I got was a force close message. However, once uninstalled and reinstalled everything is working as it was this time last week.
It's a shame, because the updated version looked like a real step forward. Still, let's hope things are sorted soon.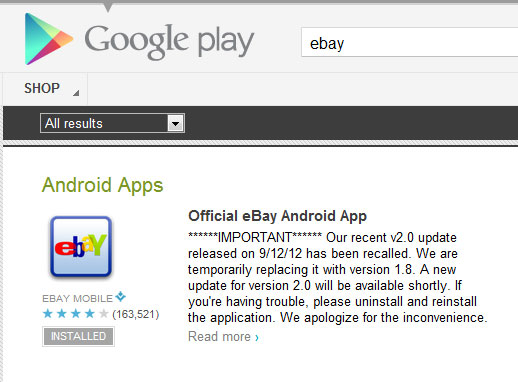 Hello,
By now, you have probably noticed that we experienced an issue with the latest version of our Android app. As a result, we have temporarily replaced the latest version with the previous one. We value our customers and regret any inconvenience. Delivering the very best shopping experiences to our customers is our goal – anywhere, anytime and on any device.

Thank you,

eBay Mobile Team