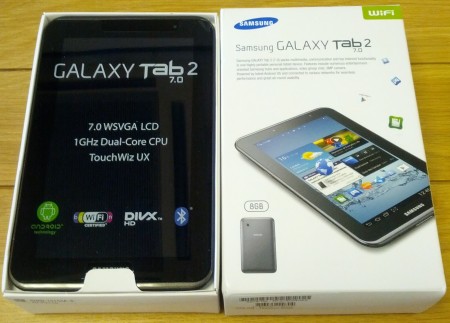 So, the Nexus 7 is the best 7″ tablet on the market, right? No need to go shopping round, right? So why on Earth would anyone in their right mind buy a Samsung Galaxy Tab 2 7.0?
Well, whilst some may question my sanity, I'm the bloke at Coolsmartphone Towers that did just that, and I feel it's a question I should answer.
The first part of my answer is that I bought it before the final details of the Nexus 7 had been announced. I had recently had a Gemini Joytab 8 on loan for review and I'd become smitten with the smaller form factor compared to my Asus Transformer. After having to send it back to Gemini I decided that I couldn't wait for the Nexus 7, so I pre-ordered myself an 8GB Galaxy Tab 2 7.0 and had it the day after release. I then bought a 32GB microSD card and loaded it with MP3's. The plan was to use it until the Nexus was launched, keep the SD card and flog the tablet on ebay the next day.
So, picture the scene: Google are doing their launch presentation for the Nexus 7, many members of the technology world are glued to the live video stream, credit cards in their sweaty palms, salivating over the prospect of a new Nexus device to play with – and yes, I was one of them. But then it became clear that there was no SD card slot.
Hang on, a multimedia device with only 8 or 16GB of storage and no way to expand it? My credit card went back in my wallet and my Samsung Galaxy Tab 2 7.0 was here to stay.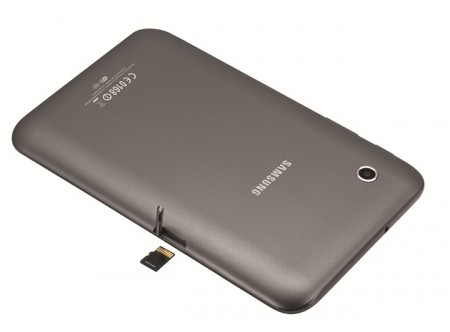 That's not to say it's just an SD card slot with a screen. The 1GHz dual core processor and 1GB of RAM sound like they're going to be a bit weedy, but coupled with the PowerVR SGX540 GPU I've had no lag when watching HD video, or playing high demand games such as Grand Theft Auto III.
The screen on the Galaxy Tab 2 is 'only' 1024 x 600, but I have found it to be bright and sharp; friends that have used it have been impressed by the colours and contrast.
One of the significant differences between the Galaxy Tab 2 and the Nexus 7 is the different version of Android they run. Whilst the Nexus is bang up to date running the latest version of Android 4.1 Jelly Bean, the Galaxy Tab has Android 4.0 Ice Cream Sandwich (ICS), skinned with Samsung's idea of an upgraded user interface called TouchWiz. Each to their own, but whilst I don't think there's a massive advantage to running Jelly Bean. I do think, however, TouchWiz is a poor UI that detracts from the Android experience. It's also the only thing I've found that causes any lag, which seems a bit self defeating to me! For this reason alone I will shortly be flashing it with a custom ROM – shame really.
One of the main criticisms of the Nexus 7 is that it feels like a big phone. The reason for this is that it runs the phone style user interface, rather than the built in tablet mode that the Galaxy Tab uses. It's a matter of taste, but I want my tablet to run as a tablet!
The camera is better than the Nexus 7's… but that's because the Nexus doesn't have one! The 3.15 mega pixel shooter is adequate at best for stills, however, the 720dpi video recording capabilities are actually pretty impressive for the price. I only ever use forward facing cameras for face unlock, for which I'm sure its VGA squinter will work fine.
In short, the Samsung Galaxy Tab 2 7.0 is a very well built 7″ tablet that serves every purpose I bought it for – from writing articles for Coolsmartphone, emailing, surfing, and twitter through to watching videos and listening to a couple of thousand of my favourite MP3's.
So, is the Samsung Galaxy Tab 2 7.0 the best 7″ tablet on the market? To be honest, unless you need an SD card slot and a tablet that actually works in tablet mode, I'd have to say no. It's that little bit too expensive. Although, if you buy one direct from Samsung you can get £30 cash back "for a limited time only".
With the imminent release of the new Acer Iconia A110 tablet there's pressure on Samsung to reduce the price of the Galaxy Tab 2 even more, as it also has the crucial addition of a micro SD card slot.
If I lost my Galaxy Tab 2 7.0 would I buy another? Yes, but only with the cash back deal.
Would I swap it for a Nexus 7? No. Definitely not.