Not so long back we announced that Gemini had become a new name in the Android tablet world.
Aimed squarely at the entry level market, the Gemini JoyTAB range aims to bring the full Android 4.0 Ice Cream Sandwich experience to a price point that has, until recently, been dominated by poor quality tablets running either 2.1 (Froyo) or 2.3 (Gingerbread), both of which are essentially phone operating systems, stretched to fill a larger screen.
This isn't such an issue for people who just want to check their emails and play a few games, but they often aren't accredited by Google and therefore don't have access to the Play store, so there is a very limited choice of apps anyway.
The kind people at Gemini lent me the 8″ version of the JoyTAB for a couple of weeks, so, rather than the normal quick review, I decided to give it a real test: could this £150 newcomer replace my £400 Asus Transformer TF101 with keyboard dock? The answer should be a no-brainer, but you may be surprised at what this (almost unfair) test yielded.
The vital statistics of the Gemini are pretty impressive for the price, with a 1.2Ghz ARM processor, 512MB of RAM, 8GB of onboard storage (upgradable to 32GB via a micro USB slot – yay!), and an 800×600 capacitive multi-touch screen. A very nice addition is an HDMI 1.4 port – more on this later.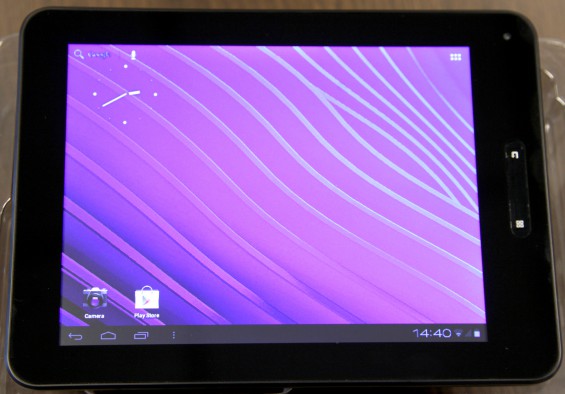 First Impressions
So, the evening the JoyTAB arrived I packed my beloved Transformer away for a fortnight and started up the Gemini. Boot up was surprisingly quick, I timed it using Android Assistant and it clocked in at 71 seconds (62 seconds for the Transformer). The screen is bright and responsive and the operating system hasn't been heavily skinned. I like the vanilla Ice Cream Sandwich user interface, and find the skinning applied by the likes of HTC and Samsung only detracts from the Android experience, so Gemini's lack of interference in this department is very welcome.
Physically, the JoyTAB feels sturdy and well built, if a little heavy. On one of the long sides of the unit is a headphone socket, mini USB port, mains charging socket, mini HDMI port and a micro SD card slot, and on the other there are power, volume up/down, and home buttons. The front also sports hardware buttons, one is a back button and the other gives access to the app tray.




The buttons are the first sign that this is a budget tablet. They feel cheap and clunky, and occasionally need an extra press to get them to work. The home, apps and back buttons are superfluous when running ice cream sandwich, as it is designed for purely on screen navigation. These are obviously leftovers on a chassis that was originally designed to run gingerbread. They are unobtrusive, so in the long run I ended up ignoring them completely.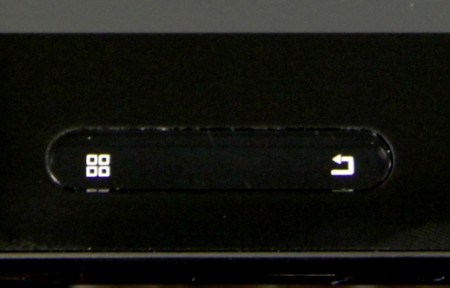 At first the bright display and various colourful wallpapers gave a fun feeling to the whole experience (including a peaceful koi carp live wallpaper that reminded me of the goldfish screen on the Sony Xperia X1. Does anyone else remember that?). However, I was disappointed to find that the colour balance meant whites were actually tinted quite blue. This isn't a problem in general use, but when typing long emails or reading large pages of text this did become jading. I'm sure that a colour balancing app could sort this out, but one shouldn't be needed.
Overall, however, my first impressions were pretty good, and I could see a place for this tablet in my life.
Work and Play
This was going to be the tough one for the Gemini. Writing for coolsmartphone and the copious emails I have to deal with for work out of hours means my Transformer is my go to machine whenever my phone just isn't the tool for the job.
I thought the 8 inch form factor and lack of keyboard dock was going to be an issue here but, once I'd replaced the (more than adequate) stock onscreen keyboard with the excellent SwiftKey, I found myself able to deal with a lot more emails than expected and even navigate around the work admin system with ease. This also meant that surfing the net and using apps such as Evernote was a breeze.
I did have to resort to my latop when writing articles and the like. No matter how much I'd like it to, my Transformer can't replace my laptop, so it's always about when I need it. This wasn't looking good for my go to machine! My mind started considering how much I could get for it on ebay, buying a Gemini and still having change.
Games, I thought, that's where it'll fail. It's got to be said that the processor/GPU/RAM couldn't handle some of the fast action, high definition games that are on the Play store these days, but I'm a more sedate gamer, and when it came to Cricket Fever, Flick Golf and Angry Birds I forgot about the lower resolution screen and enjoyed myself. Damn you Gemini, I thought, why did I buy that sodding Transformer?

Video
When watching HD videos from YouTube and Love Film I was very impressed that there was virtually no lag and the sound was clear and could be pumped reasonably loud. Headphone performance was also pretty good, with deep bass and crisp trebles through my closed back headphones (not included).
Most impressive was the HDMI 1.4 output performance. I plugged it into my 40 inch Panasonic full HD television though my surround sound system and I could have been watching a DVD. Yes, it was that good. Colours were crisp (whites were white!), and blacks were solid, the sound was also very good and I was able to relax into the film and forget I was watching it through a tablet. It's also capable of outputting 3D, however, I don't have a 3D TV, so could not test this. Overall a win for the Gemini.


Camera
I say camera rather than cameras because the Gemini only has a forward facing camera. I presume they think that owners are more likely to make Skype calls than take snapshots, but in my experience this isn't the case. In fact I've never used the forward facing camera on my Transformer, and only use the one on my Galaxy Nexus for face unlocking it. Also, if I did want to Skype I would probably use my laptop anyway.
All this is irrelevant though, because the camera on the Gemini seemed to be angled to face at about twenty-five degrees left of the normal usage position, making it almost impossible to use. I'm assuming that this is a one off fault that would be sorted under guarantee, but I can only report what I find.
Whilst I normally use my phone for taking photos, I have often taken quick snapshots with the camera on my Transformer. It's especially useful if I'm writing an email or tweeting and need a quick pic, rather than getting my phone out and transferring between the two.
The lack of a main camera is not insurmountable, but a win for the Transformer nonetheless.
Battery Life
The spec sheet for the Gemini quotes a battery life of six hours. It was never going to keep up with the Transformer with its two batteries. I've learned from previous experience that the battery life never lives up to the manufacturers claims, but on several occasions I got over five hours 'normal' use from the Gemini. When I say normal, I mean tweeting, emailing (with regular email checking turned on), listening to music, instant messaging, playing the odd game, installing apps and lots of net surfing with very little standby time. Not only was I impressed by the battery life, I was also impressed with the fact that the manufacturers hadn't exagerated in the way that so many do.
Other Thoughts
The one thing that I did have to do with the Gemini was increase the font size in several apps because the screen made small text too pixelated to read comfortably. I'm a great lover of widgets on Android, and one of my favourites is Plume's large tweet widget. This, unfortunately, does not have a font size setting, and therefore was unusable. I can see this being a problem with other apps that don't have font adjustment either. I don't think this is a failing of the 800×600 resolution, it's more down to the low pixel density of 125ppi.
One thing that niggled me was that it displayed a phone network reception meter, despite being wi-fi only, but then, I am picky when it comes to things like that!
In Conclusion
I believe Gemini have named this perfectly when they say JoyTAB. It's fun. It does a lot of entertaining for very little cash, and it's also more than capable enough to be very useful to people wanting to leave it on the coffee table and keep up to date on their emails, Facebook, tweets, etc. without booting their PC up.
The 8 inch form factor is small enough to keep in a handbag/briefcase without taking up much more room than the more common crop of 7 inch units on the market, and the fact it can be easily tethered to a smartphone means the lack of 3G connectivity isn't a big issue.
I feel for the Gemini, having to be a David to my Transformer's Goliath, however, it's acquitted itself very well. It certainly impressed me, as it has several of my friends. Would I swap? No, I'm afraid my job and hobbies demand more from a tablet, and the screen would put me off after a while.
However, it certainly opened my mind to a smaller, cheaper tablet, and for a first time buyer with £150 in their pocket I wouldn't hesitate to recommend the Gemini.
UPDATE 02/08/12 – Due to the release of the Nexus 7 Tablet I feel I need to update my conclusions slightly – I would now say that unless you need the flexibility of the HDMI output and SD card slot then this is not such a good buy for £150. However, if you can pick one up for £100 – £120 then you've still got yourself a cracking little tablet.
We already have a thread going on the coolsmartphone forum about budget tablets sparked by James' article from the other day. Come along and join the discussion, or ask any question you may have in the comments section below.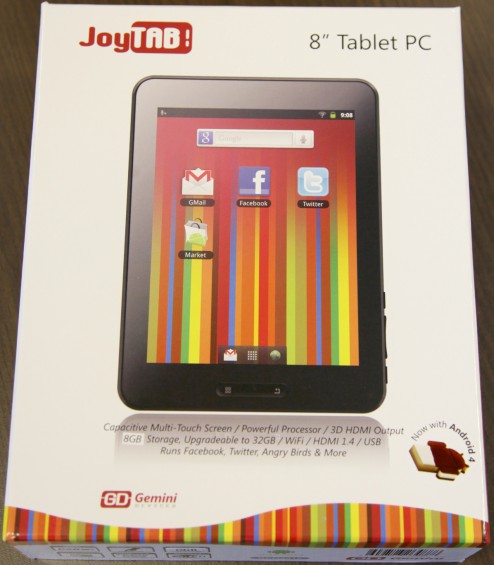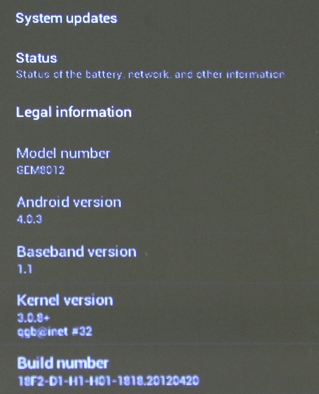 The Gemini JoyTAB 8″ retails for £149.99, and is part of a full range of tablets. Details of stockists can be found here.
Many thanks to Kerri at Pick 'n' Mix PR and Leo at Gemini Devices for the loan of the JoyTAB.