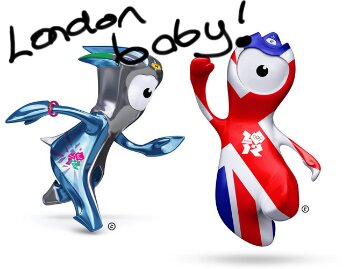 I know, by visiting Coolsmartphone you thought you'd found a refuge from all this Olympics stuff didn't you?
Well, no. Sorry. We're going to be on it like a car bonnet.
Right now I'm on a train to London to cover the games in our own unique way. But why are we reporting live from the London 2012 Olympics exactly? What has all that sport and fitness got to do with a smartphone website?
The answer, if I'm brutally honest, is.. not a great deal. But, as we're based in the UK, we couldn't let such a landmark event pass us by when it's right in our own back yard. David Beckham on a rocket boat? The Queen and James Bond? The Prodigy getting played at full volume in the Olympic Stadium? Come on, we had to. 🙂
So, from today (Thursday August 2nd) until Sunday August 5th I'll be covering the Olympics from our own perspective with daily updates, pictures and video. Sure, there's nothing extraordinary about that you might say, but I'll be doing everything – and I mean everything – from a Samsung Galaxy Note.
I'm typing this out right now using Swype and – for the first time ever – I'm on the train without a laptop. Every news item, every picture, every video, every tweet.. it'll be direct from this very handset. No bag on my back, no laptop, no camera, no press centre, no dedicated network connection. Just a smartphone and a lot of running about.
Can you report on a world event and update a site with nothing more than a phone? Will there be enough bandwidth? Will I get wet? Will the battery last?
Let's put it to the test 🙂
Update – Below you can find some of the latest shots from my Olympic journey. Some uploaded via the free WiFi in The Tube. Get the whole lot here.
Link – Samsung Galaxy Note Review