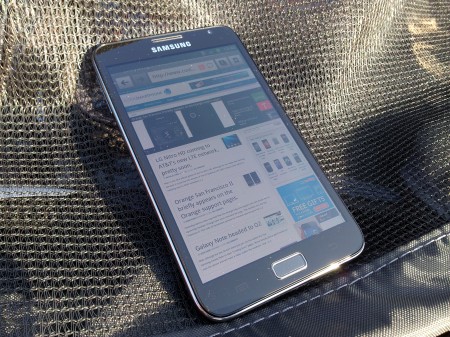 OK, this is a little big. Many moons ago we reviewed the Orange SPV M2000. We thought that was big. It's not. Not when compared to this. The style and design is still there and it does look a lot like a larger version of the rather glorious Samsung Galaxy SII.
Sitting somewhere on the fence between a tablet and a phone, this monolith has a 5.3″ WXGA screen pumping out 1280×800 pixels in HD. That Super AMOLED screen is a joy to look at. That resolution is just so immersive, I felt like a child sitting just a few inches from the TV…. slowly getting sucked in.. 🙂
It's a … little bigger than the Galaxy SII as you can see from this quick comparison shot..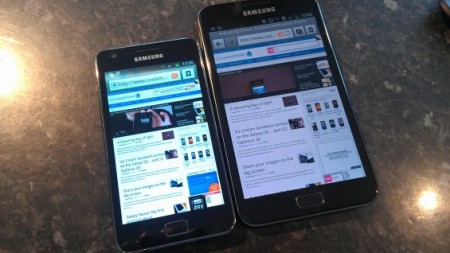 Other specs ? Well, there's the 1.4GHz dual-core CPU, an 8 megapixel camera around the back (with flash) and a 2 megapixel camera up-front for video calls and what-not. Oh, then there's Bluetooth 3.0, WiFi 802.11 a/b/g/n, accelerometer, digital compass, proximity, barometer and light sensor. Not enough? Well, stick the 16GB internal memory, microSD expansion, 3.5mm audio jack, FM radio and…a pen.
A pen? Yes, a pen. A stylus. Phone manufacturers have moved away from adding a stylus to their handsets, so why the flip has Samsung added it here? It's to try and capture your thoughts and ideas in a natural way. Originally a stylus would be added to a phone because it had a resistive screen, which made it difficult or impossible to control with your finger. Now, with a capacitive screen, you use the "S Pen" (as it's known) to create your own precise and quick notes and sketches. You can also add those as widgets or memos, cropping images, adding voice recordings and digitizing your handwriting.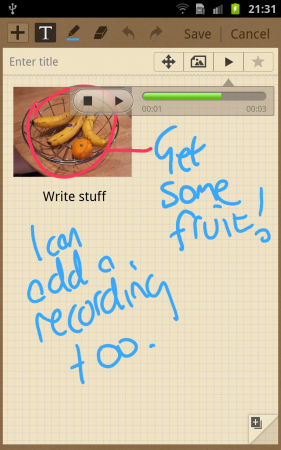 Imagine, if you will, walking into a meeting with an A4 pad and a pen. Those scribbles, drawings and thought-processes can go into the Galaxy Note and shared, tweaked or edited later. This being a Samung Android phone, you can also grab a screenshot at any time by holding the action (or home) key and pressing the power button. You can scribble onto photos that you've taken, email or text those notes.
Video overview
Want to see the phone without reading our entire review? Try this..
Outside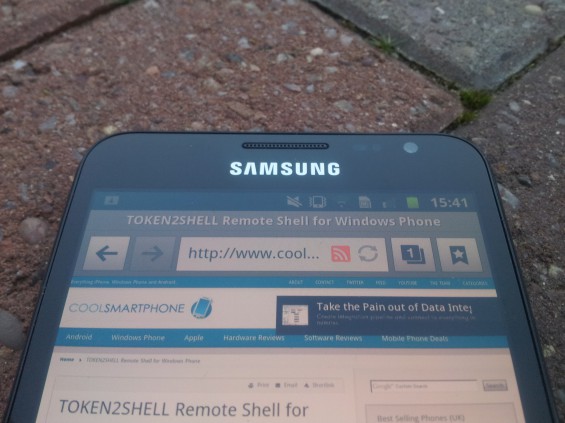 The front of the device is a clean, black and cool. Apart from the Samsung logo and the front-facing camera in the top right you can't really see a great deal but those proximity sensors are up there.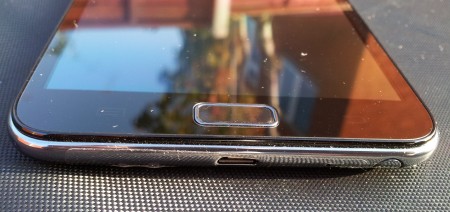 Down at the bottom there's the main action button which you can use (along with the power button) for waking the device from its' standby setting and two pressure-sensitive keys either side. To the left is the menu key, and to the right there's the "back" key. These light up when pressed.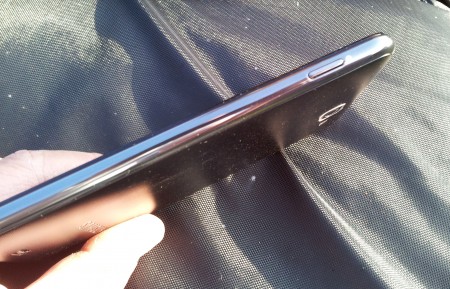 The edge of the phone is a polished silver and is rounded beautifully. This meets the light and flexible rear panel – this is black and has a slight grip to it. On that top edge is the 3.5mm audio port and what I presume is the second microphone for cancelling out background noise.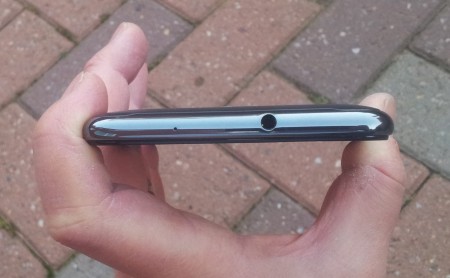 The left edge has the volume up and down buttons.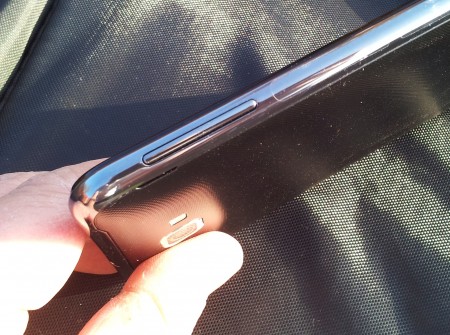 On the right there's the power button..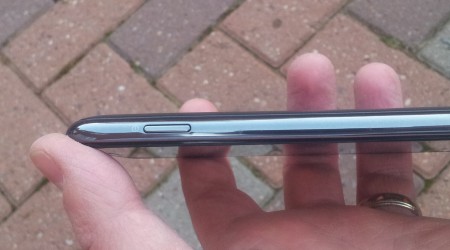 ..and down at the bottom there's the microUSB charging socket which you can also use to move data to your computer. To the side you can find the S Pen.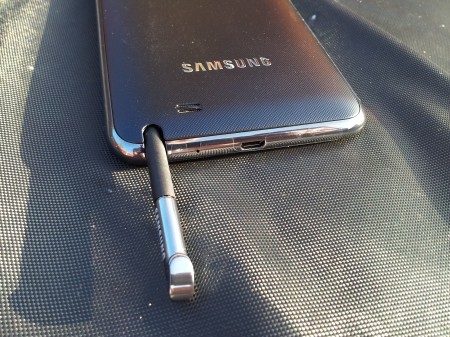 That rear panel is as light and flexible as the one on the Galaxy SII, but we assume that was the general idea. Beneath it is the battery, microSD card and SIM slot
Camera
The Galaxy Note, or GT-N7000 to give it it's full name, has a very impressive camera. I actually used it in other reviews to take snaps of handsets, so the shots below can be a little confusing, but they were all snapped on the Note with the flash off. Up-close, indoors, outdoors, it handled everything we threw at it and the HD video recording was stunning. I used the video camera option quite a bit to film clips and the continual focus and instant, no-wait recording was stunning.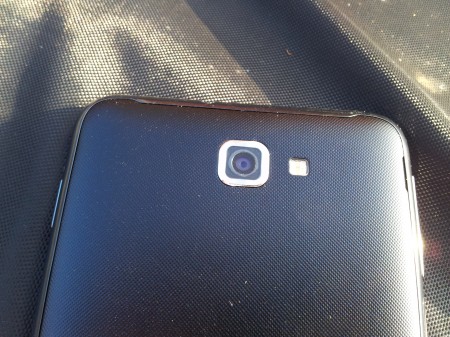 The camera also has a  range of effects and modes. You can take a normal shot, a "smile shot", "beauty shot", "panorama" or a "Share Shot" which seems to output the camera to your connected devices via WiFi. Oh, and if you really want you can take a snap of yourself by flipping the camera around and using the front one.
Overall, stunning on every level. You can bin your normal camera. I've uploaded a few images below and will have a few more online shortly.
Inside
The device appears to be aimed at business users to some degree, with apps like Cisco WebEx and VPN clients being available and promoted on their site. That, plus the "S Planner" which we used to remind and plan our days out, did prove useful in the work setting and it all began to make sense. Let's face it, carrying a tablet around with you can be tricky. Going to work, getting on the Tube, sitting in the car – transporting it around can prove a little difficult and not too secure if you're waving it about. The Note, which granted is a little bigger than a normal phone, meets the tablet and the smartphone somewhere in-between.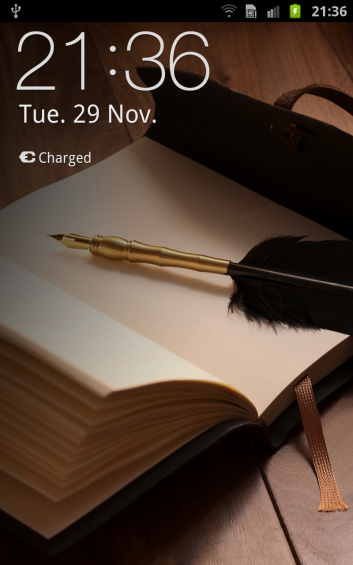 Oh, and before we go on, we've had to really reduce down the size of these screenshots to fit on screen because, as you can see above, they're a little big. Just click to see the full size..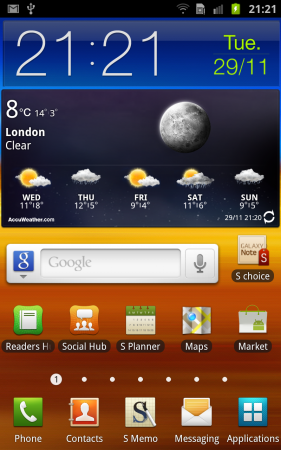 Inside you'll find Android 2.3.5 and the Samsung Touchwiz skin. It's very similar to the Galaxy S2 and, this being Android, you can drag and drop widgets, shortcuts and folders onto the main screen easily. Everything has more room here obviously, so there's no lack of space. Plus let's not forget that it's a simple swipe to the left or to the right to access additional screens for your apps and widgets.
There's a good selection of live wallpapers and the rather speedy dual-core CPU ensures that apps run alongside the animated wallpapers without difficulty. Notifications, updates and warnings from apps will pop into your notification bar at the top, just slide that down to see what's going on. It'll reduce the clutter for you.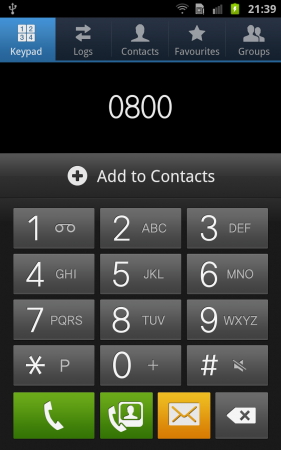 Again, like all of the Android phones we review, your contacts, calendar appointments and documents are sync'd with the might Google cloud. If you have a GMail account or Google apps them you're pretty much good to go and all the contacts from your old Android phone will drip seamlessly into the new handset. You can also add POP3 mailboxes and Exchange, plus there's a range of additional on-screen keyboards if you're finding the provided one a bit fiddly. We'd recommend Swype, but as with everything – the messaging interface, the browser and most other things can be changed and added to.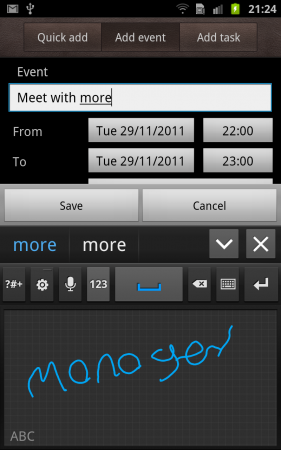 That browser, by the way, is the usual Android one. I hate saying that though, because "usual" isn't a very positive term. The browser works amazingly well and handles big, complex websites easily and – more importantly – quickly. You can double-tap on the screen in a text area to have that clever "text reflow" technology – it'll move all the text around so you don't have to keep browsing left and right. It loads pages in a clever way too, even sites that aren't giving data in a sequentially. This effectively means that you can start browsing almost instantly.
The usual predictive dial greets you when making calls – just tap 328 if you're after someone called "Dave" (DAV) and the name will pop up. There's 5 tabs showing due to the extra landscape and you can now see the "Groups" tab in addition to the Keypad, Logs, Favourites and Contacts. All pretty self explanatory stuff and, thanks to the in-built wizardry, it'll easily guess who you're trying to call based on the amount of times you've called someone too.
Adding extra apps, such as Twitter, LinkedIn or Facebook, brings further contacts into your main contact system. You can, of course, turn this off. I usually do because it'll bloat your contacts list quite a bit.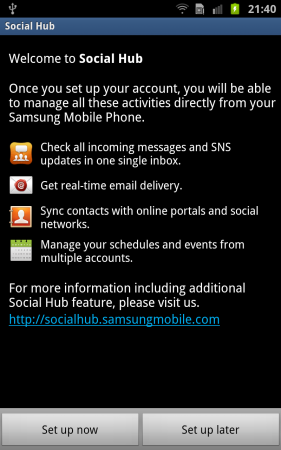 As with the Galaxy S2, we did find that the noise reduction system worked fantastically well in noisy environments but suffered quite a bit out in the wind. It's easy enough to turn off thought and you can do it during a call.
Using the Galaxy Note to watch videos was a fantastic experience. The resolution on the screen is amazing and colours appear natural and vibrant. The on-board media application showed every video we tried and it was smooth as butter.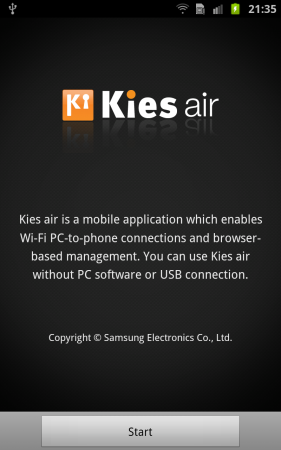 The Samsung Kies software was on the S2 and we still love it here on the Note. Sure, you've got the usual WiFi hotspot capability, but this is something else – this is an on-board portal for your phone. Spark it up, browse to the URL displayed with your laptop and bang – you get to see your photos, videos, text messages and ringtones. There's loads more too – you can upload to the phone, download and text your mates using your computer keyboard. It's easy, quick and there's no wires to worry about. We love it.
The other "normal" Android apps can be found on the Note. Google Maps, Google Navigation and the Android Market for sucking down many additional apps. There's also the "Voice Search" system, which looks a bit different to the one we saw on the S2. It seems to have more functionality and options this time. It worked rather well, although I did find that it changed me saying "What's the weather like today" to be "W H A T Semi colon S the weather like today".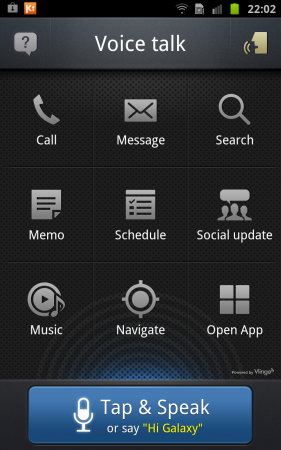 Conclusion
Look. I can't find many bad points. That 2,500 mAh battery is "OK" – it'll get you through the day, but due to the epic screen it's not going to keep you going for days on end. The noise reduction can get upset with wind. Oh dear. I'm really picking at flies now. To be honest the Galaxy Note is another stand-out amazing handset from Samsung. It's stunning to look at, lucious to view things on and brilliant to use. That S Pen works well and the camera will have you throwing your normal shooter in the bin, followed by your camcorder and, possibly, your tablet too.
This is a device which treads the line between smartphone and tablet, and somehow it does it brilliantly. You can use it as a tablet, make notes, attend meetings, watch videos and play games. Then you can use it as a phone, and you don't need a special bag to carry it around in. The biggest question, I suppose, is whether you're prepared to put a device measuring around 14cm x 8cm against your head. We found it to be reasonable, although I still preferred a Bluetooth headset for some calls. We took a couple of comparison shots below just to show the size of the device, there's some every day household objects in there so you can get a proper idea on the size.
Thanks to ur-mobile.com for the loan. You can buy the Samsung Galaxy Note right now SIM free.
We had quite a few extra shots that we couldn't fit into the review, they're here below..