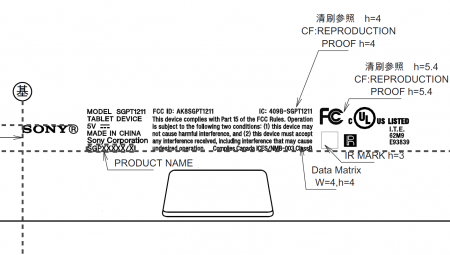 The Sony Tablet S is going to be replaced soon with what looks to be a much more powerful tablet – the SGPT1211 – but will it be able to compete with the Nexus 7 and the iPad?
The Tablet S is a well designed, stylish 9″ tablet that should have been a great success. The trouble is it was late to the party, meaning that the Tegra 2 1Ghz processor was lacking power compared to its rivals, and came with an old version of Android 3.2 (Honeycomb) when manufacturers like Motorola and Asus were starting to roll out Ice Cream Sandwich devices. Coupled with its iPad price-point, this was always going to be a hard sell.
Now, however, Sony are trying again. According to test documents published by the FCC a Sony 'Tablet Device' has been accredited for sale under the moniker SGPT1211. Sources at XDA Developers also suggest that this is going to be another 9″ device with three memory capacities priced at $450 (£287) for the 16GB, $550 (£351) for the 32GB and $650 (£415) for the 64GB. The rumoured official announcement date is 14th August.
Whilst very little else is known, one has to think that Sony need to make this a powerhouse at these prices. One of the biggest things Sony has going for it is its gaming heritage. If they can make this run PSP/PSX style games smoothly (maybe with a wireless joy-pad?), then we could be looking at a very interesting multimedia tablet that will stand out from the crowd. Let's face it, with the Nexus 7 16GB at nearly £90 cheaper than the entry level Sony, and the larger capacity versions straying into iPad price territory, it will have to!