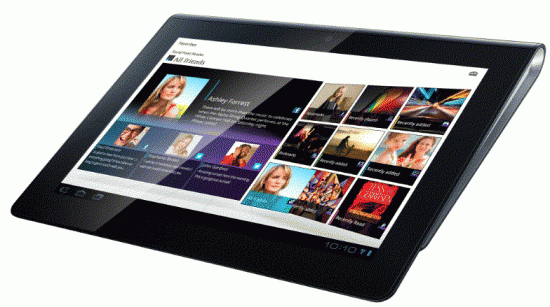 Pre-orders for the new Sony Tablet devices are underway. Coolsmartphone reader, Anthony, has just shelled out £499.99 but doesn't have a delivery date just yet. Rumour has it that it could take a month for devices to arrive.
Three devices are available – the Sony Tablet S 16GB (£399.99), Sony Tablet S 32GB (£479.99) and the Sony Tablet S 16GB with 3G (£499.99). Each one has a 9.4″ screen and they have a rather sleek design as you can see below. The Android Honeycomb 3.1 devices measures in at 24.12 x 1.01 x 17.43 (cm). The CPU is an NVIDIA Tegra 2 mobile processor running at 1 GHz and there's a 5 megapixel camera plus a VGA one up-front a battery which should kick out 8 hours of battery life.


Sony being Sony, they've worked hard to make this a curvy and ergonomic device which moves its' weight closer to your hand to make it feel ligher. The screen technology is advanced too, using a TruBlack panel with a resolution of 1280×800. Sony have also made the device easy to use, with a simple and intuitive user interface. Oh, and this device has something you've probably not seen in quite some time – an infra-red port. It has the ability to learn your IR commands and controls your TV, set-top box or stereo equipment. DLNA is included too, so it's easy to share your media with other devices.
PlayStation favourites including Crash Bandicoot come as part of the deal and you can download loads more through the Android Market. There's also a "Video Unlimited" and "Music Unlimited" feature which lets you rent media and watch or listen to it instantly.
The Sony Tablet S devices also include Bluetooth 2.1 + EDR and an SD card slot. Android 3.2 will be available on the SGPT114 (WiFi and 3G model) soon enough too.
Click on for all the details.
Update – We've had it confirmed that availability will be at the end of September.
Links – Press Release – Devices – Product page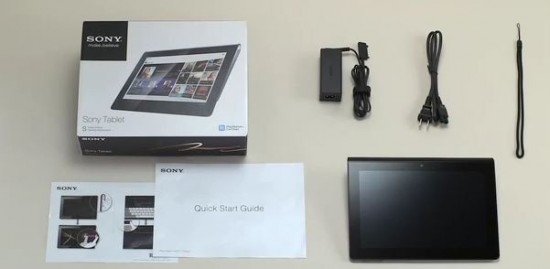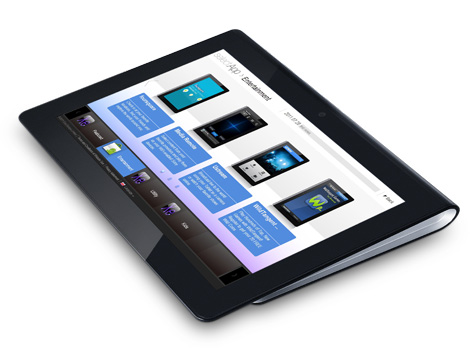 Sony confirms launch dates for "Sony Tablet" S and "Sony Tablet" P
31 August 2011

Optimally designed hardware and software
Swift and smooth experience
Network entertainment- Connect with an immersive world of movies, music, games and books
Cross-device connectivity to easily share content and control your home entertainment devices

Sony today announces the market launch of its first two "Sony Tablet" models. These devices combine unique hardware, content and network services with seamless usability to create an exciting new world of network entertainment experiences.

Available in Europe from the end of September 2011, "Sony Tablet" S is optimised for "rich media entertainment" on its 23.8cm (9.4") touchscreen display. With the powerful NVIDIA® Tegra™ 2 mobile processor inside, "Sony Tablet" S lets you enjoy the web plus your favourite content and applications on its large, high resolution screen. Weighing 598g (approx.) (Wi-Fi version), its unique asymmetric design conveys a sense of lightness for hours of comfortable use. A Wi-Fi/3G version of Tablet S will be available from November 2011.

Also available from November, "Sony Tablet" P is geared for "mobile communication entertainment", with an innovative folding design and dual screens for maximum portability. Weighing 372g (approx.), "Sony Tablet" P features the same NIVIDIA® Tegra™ 2 mobile processor and offers connectivity via Wi-Fi and 3G mobile networks. Dual 13.9cm (5.5″) touchscreen displays can be folded to achieve dimensions of just 79x180x26mm (approx.) to fit in a pocket.

Wi-Fi only models are equipped with Android™ 3.1 (To be upgradable to Android 3.2) and Wi-Fi/3G models are equipped with Android 3.2.

Both "Sony Tablet" models feature front and rear facing cameras for still and video image capture. USB 2.0 port and SD card slot simplify direct file transfers from other devices such as PCs, digital cameras or camcorders.

Optimally Designed Hardware and Software

"Sony Tablet" S features a new unique asymmetric design which allows it to be easily held for long periods of time. The unique form factor shifts the device's weight closer to your palm, making it feel lighter and more comfortable while reading a book or magazine. The screen slopes gently when placed on a flat surface, enhancing visibility and making typing more comfortable. Available as an optional accessory, a special cradle converts "Sony Tablet" S for use as a digital photo frame or digital clock.

The innovative design of "Sony Tablet" P features dual touchscreens that can be used for different functions. Watch video on one screen while using the other to control it, or check email while using the other screen as a keyboard. The two displays can be combined into a large, single screen for web browsing and more. Its folding design achieves a compact form factor for easy carrying in a jacket pocket or bag. Flip "Sony Tablet" P on its side and read eBooks in comfort, just like you'd read an ordinary book.

Both "Sony Tablet" models are equipped with TruBlack™ technology by Sony. By controlling the refraction of light between the LCD and the screen, the TruBlack™ display reduces reflection and glare from sunlight or fluorescent light for high-contrast visibility both indoors and out.

Swift and Smooth Experience

Quick view: Sony's rapid response technologies efficiently load website information for faster browsing.

Quick touch: Highly responsive and smooth touch screen is realized by combining various Sony technologies.

The large keys of the virtual keyboard take full advantage of screen real estate while automatically adjusting to the task in hand. For example, a numeric pad pops up when inputting passwords, while auto word complete makes email and texting a breeze.

Network Entertainment

Both "Sony Tablet" models offer smooth, seamless access to an exciting world of network entertainment and content services1.

· "Sony Entertainment Network" services: "Video Unlimited" will have a huge range of movies and TV episodes available for download. A pre-open campaign for the Sony Tablet devices will be offered at device launch with limited content and more content will continue to be released over time. Available in October, "Music Unlimited" is Sony's cloud-based digital music service that gives access to a global catalogue of over 10 million songs2 from major labels, leading independent labels and publishers worldwide.

· PlayStation®Certified: "Sony Tablet" S and "Sony Tablet" P are the first tablet devices that let you enjoy games for PlayStation® Certified devices including original PlayStation games.

· Reader™ Store: A rapidly-expanding catalogue of eBooks and periodicals will also become available in Europe, coming first to the UK scheduled by the end of October, and Germany within this year. Successive launch of Reader Store in France, Italy and Spain will begin in spring 2012. Ideal for on-the-go reading, book lovers can set bookmarks, make text highlights and adjust font size.

· Personal Space™:This free, cloud-based service makes it easy to share pictures and videos stored on "Sony Tablet" with friends and family. "Sony Tablet" can also be used to access albums that have been previously uploaded from other devices.

Video, music, games and other content can be directly accessed via "Favorites" menu without the need to re-launch any of the respective applications.

1 Availability varies by country.

2 The number of songs available from this catalogue varies by region

Cross-device Connectivity

"Sony Tablet" lets you control your home entertainment devices and share content wirelessly with friends and family. Personal photos and video content can be 'thrown' (streamed) at the touch of a button from "Sony Tablet" to DLNA-compatible TV sets and other devices. Music can also be streamed from "Sony Tablet" to wireless speakers.

"Sony Tablet" S includes infrared technology, and can be used as a fully customisable remote control for multiple home devices including your television, Blu-ray Disc™ player and home theatre set-up.

Both "Sony Tablet" devices are compatible with "Media Remote" which allows users to control Sony devices including "BRAVIA" through Wi-Fi.

Wide range of Applications

"Sony Tablet" S and "Sony Tablet" P come installed with a wide range of preinstalled applications to let you enjoy video, music, games, eBooks and more. Both models provide instant access to Google™ mobile services and applications, including 3D maps and easy web search with Google Voice Search.

Also, Select App recommends applications, content and network services for "Sony Tablet."

There's also a huge range of other applications that can be downloaded via Android Market™, including a growing number that have been optimised for both devices. Preinstalled unique applications by Sony include:

· Social Feed Reader combines Facebook and Twitter into a single feed for easy and convenient viewing.
· Music Player lets you browse your music library, create dynamically themed playlists with SensMe™ channels, view cover art and visualisations and get related online content. Touch an icon on screen to 'throw' music wirelessly from "Sony Tablet" to enjoy on other DLNA networked devices like your hi-fi system.
· Video Player lets you browse and playback video content with a wide range of view modes, search scenes and 'throw' video to watch on other DLNA networked devices like your "BRAVIA" TV.

Accessories and Availability

Accessory options include AC adaptor, rechargeable battery (for "Sony Tablet" P), LCD screen protector, a variety of carrying cases, USB adaptor cable and Bluetooth keyboard.

"Sony Tablet" S is available from the end of September 2011. "Sony Tablet" P is available from November 2011. Exact date of availability varies by country.