Looking to get yourself the Sony Xperia P we reviewed recently? It's available today on Three and tomorrow in their stores. Prices start at £27 a month with no upfront cost on the Ultimate Internet 500 plan.
It's being offered up on Pay As You Go too. For £289.99 you can then get the "All in One 15″ top-up package for £15, giving you 30-day access to all-you-can-eat data along with 300 any-network minutes and 3,000 texts.
The Xperia P has a dual-core 1GHz CPU, 4" 540×960 pixel screen, 8 megapixel camera, VGA front camera, NFC, Bluetooth, WiFi, GPS and… Hey, go and have a look at our review for more, or dive into the offers below.
Links – Sony Xperia P Review – Three
Cheapest Sony Xperia P Deals on Three across the web currently…
[showphones handsetid='Sony Xperia P black' network='3′ number='3′]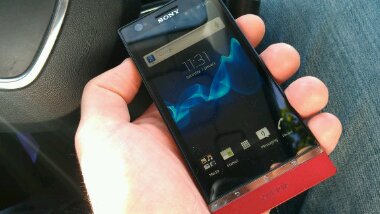 The Sony Xperia P is now available online at www.three.co.uk and from 17th July in all Three stores.

The sleek, aluminium-finished smartphone features a 4" reality display with WhiteMagic™ technology to deliver the most colourful viewing experience, even in bright sunlight. The phone also features a 1GHz dual-core processor for super-fast performance.

Helping people take the perfect picture, the Sony Xperia P features an 8 megapixel HD camera with Exmor R™ sensor and unique Fast Capture technology allowing the phone to go from sleep mode to 'snap mode' in just one second. The Sony Xperia™ P also makes it simple to share photos, music and videos on TVs, laptops or Sony PlayStations® using an HDMI cable or wirelessly by DLNA.

Sylvia Chind, Head of Devices at Three said, "The Sony Xperia P is an affordable and stylish smartphone, ideally suited for quick-fingered photographers. Running on Android, people can make the most of this great device by personalising their experience with countless photography apps like Instagram, downloadable through Google Play."

The Sony Xperia P is available from £27 a month with no upfront cost on the Ultimate Internet 500 plan. Both the Essential Internet and Ultimate Internet plans offer a fear-free mobile internet experience, with a guarantee of no surprise out-of-bundle data charges.

The phone is also available on Pay As You Go for £289.99. All in One 15 costs £15 and gives 30-day access to all-you-can-eat data along with 300 any-network minutes and 3,000 texts. Or All in One 25 costs £25 and offers 500 minutes, 3,000 texts and all-you-can-eat data for a 30-day period.

Key features:

Sleek, aluminium design 4" Reality Display with WhiteMagic™ technology 1GHz dual-core processor 8 megapixel HD camera with Exmor R™ sensor and fast capture 16GB internal storage and 50GB online storage with Box Easy HDMI and DLNA connectivity to share content on any screen NFC compatible