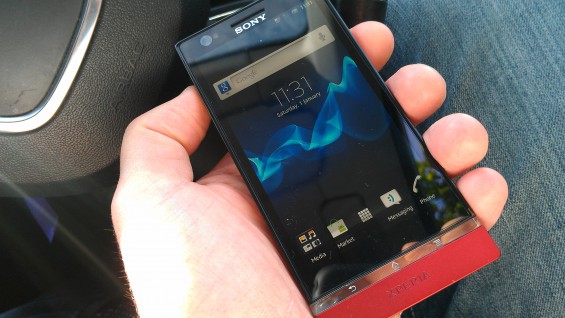 The Xperia P sits squarely in the middle of the new Sony Mobile NXT range. The Xperia S has a 4.3″ screen (720×1280), this Xperia P has a 4″ and the Xperia U gets a 3.5″.
Inside this is powered by a 1GHz dual-core CPU and there's an 8 megapixel camera at the back with a VGA camera up front for video calls and self-portrait shots.
The handset is curved at the back and flat at the front, with angled sides and sharp but stylish edges. It has an industrial feel about it but has some nice design touches like the see-through strip at the bottom of the handset.
So, the first thing we should tell you about is that fact that it runs Android 2.3.7. We're hoping that this will change pretty soon but, for the most part, you're not going to be totally left out with this version.
The Xperia P has the Sony Mobile BRAVIA Engine on board, 16GB flash storage, HDMI out, DLNA, NFC and it's available in silver, black and red. This obviously is the red version and uses a micro SIM, so you'll need to swap your normal SIM or start snipping. The SIM slots in the side and there's no microSD card slot, so the 16GB is your lot.
The Xperia P has a "WhiteMagic" technology which alters the "experience" based on light conditions and the surroundings. It sounds like a normal light sensor but it's not. Sony are quick to tell us something about a 4th white sub-pixel instead of the three standard pixels (red, green and blue).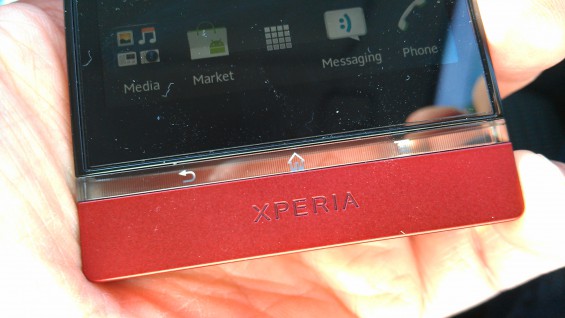 Outside
The front of the device can be broken into three sections (not literally, obviously) – the black screen and border, the see-through strip with lights it and the lower red (or white, or black) section.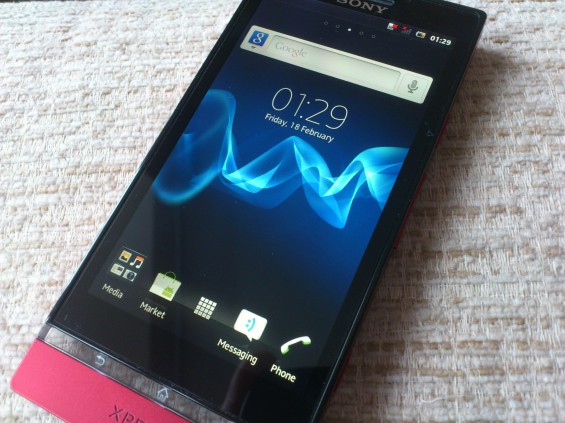 Up top there's a reassuring Sony logo next to the earpiece and the VGA camera sitting next to the light sensor. Down at the bottom, that strip is the part you'll be pressing to access back, home and menu. Hold down the Home button to get your recent apps.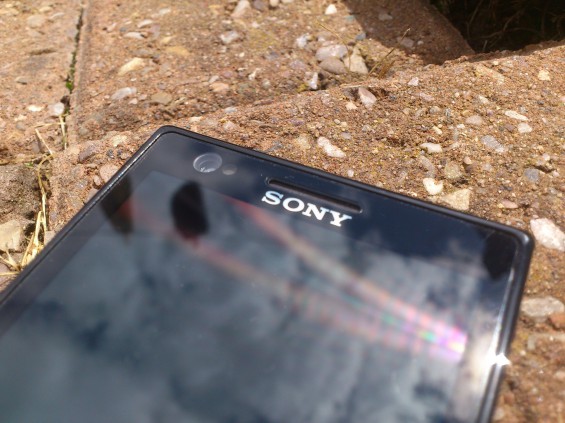 The left side of the phone has a small screw to give this a real solid feel and a flap covering the micro SIM card slot. Further up there's a mini HDMI cable (we had a mini HDMI to standard HDMI cable provided, so you can output those HD video recordings onto your TV pretty easily) and the standard microUSB connector for charging and moving files around. The aluminium unibody gives it a sturdy and sleek feel.

Up top you can see the 3.5mm audio port and the curve I mentioned earlier, whilst on the right there's the external speaker, power key, volume control and – thankfully – a dedicated camera button.
At the bottom there's the microphone and at the back you've got the camera and flash with the Xperia logo.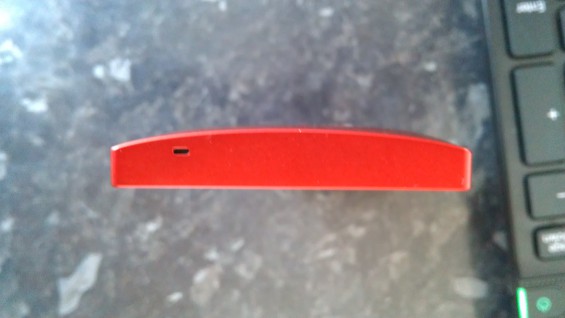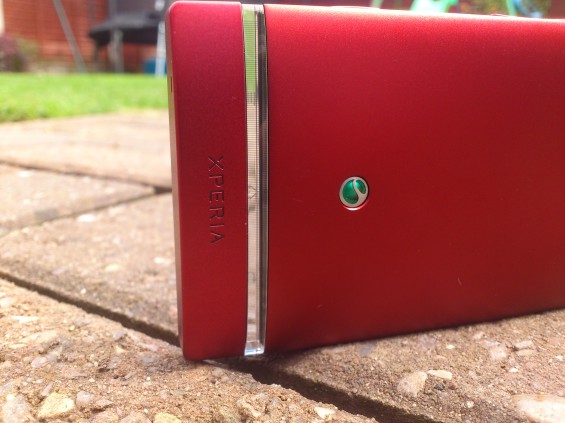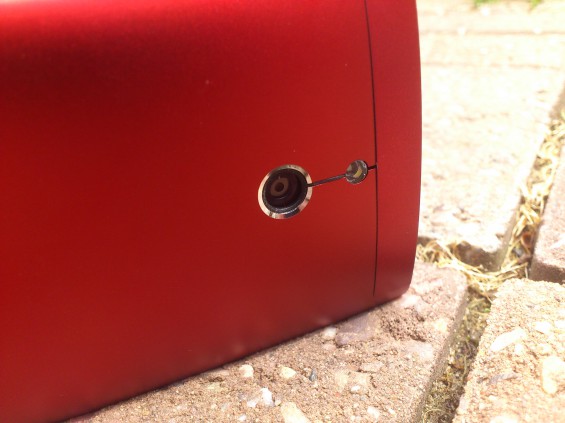 Inside
The interface hasn't really been messed around with a great deal. Android, as usual, delivers a whole bucket-full of cleverness and sync's your calendar, contacts and life with the web if you choose to allow it. There's POP3 email clients, GMail clients and Google Maps or Navigation to get you around. The Google Play library is on board for diving into the collosal catalogue of games and applications plus there's Facebook installed out of the box. Oh, and you can always sync your Facebook contacts too if you really want to.
Sony have added a few of their own touches though, with Timescape cascading your Facebook and Twitter updates into a floating deck of messages so that you can, in theory, see who's done what at a glance. The added parts are useful too, such as the Video Unlimited (pictured below) and Music Unlimited services which let you rent movies and download tunes easily. We'd recommend keeping track of your data allowance if you're doing this, although to be fair the apps do warn you about this and there's lots of data usage counters available in the Google Play store if you need to keep tabs on things.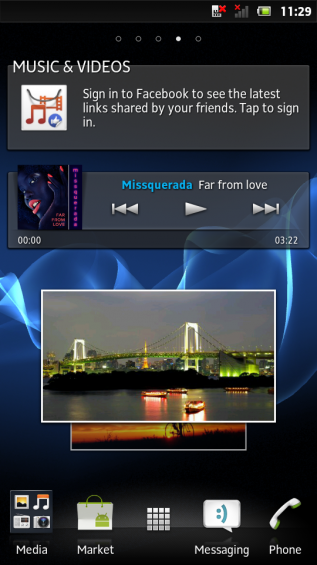 By the way, all these screenshots were taken easily by holding the power button. It'll give you the option of taking a picture and then saves the images. When you then go into the gallery you can email the images, rotate them, play them across DLNA (Sony term this "Play On..") or share the image with whatever sharing apps you have installed – Picasa, Bluetooth, WhatsApp, Twitter, Facebook etc. The gallery app tilts as you tilt the phone and is very fluid.
While we're talking about the gallery, we should perhaps discuss the…
Camera
Below there's some example shots taken with the rear 8 megapixel camera. I liked the fact that you can activate the camera from the lock screen easily – just tap the power key, then hold the camera button and about 1 second later it'll have taken a shot of whatever you're pointing at. This is why I love dedicated camera keys – everyone knows what they do and there's no fiddly swiping or messing around to get a shot taken.
The camera is quite clever too, and will decide what sort of photo you're taking. Point it at a piece of paper and you'll see it say "Document" – it'll adjust the settings to ensure that the picture comes out as clearly as possible.
There's a range of settings, and if any owners are reading this we'd definitely recommend checking the resolution setting as we found our review unit to be on 6 megapixels instead of 8 megapixels out of the box. You can also set whether it should take a picture when you press the shutter key / camera button or whether you'd like an on-screen button or touch capture. There's also settings for geotagging, smile detection and you can turn off that shutter sound for those… ahem… "personal" photos.
The camera also lets you take "3D sweep" shots which are highlighted in the gallery. There's a multi-angle mode too. Meanwhile, in the video settings, you get the option of enabling your "video light" (flash) and the extremely-useful Image Stabiliser mode to stop all your videos looking jerky. Overall, I was pretty impressed with the camera and the results it produced. Don't forget though, if you're filming stacks of HD video, you only have the on-board storage, so removing the videos or storing them "in the cloud" should become part of your routine.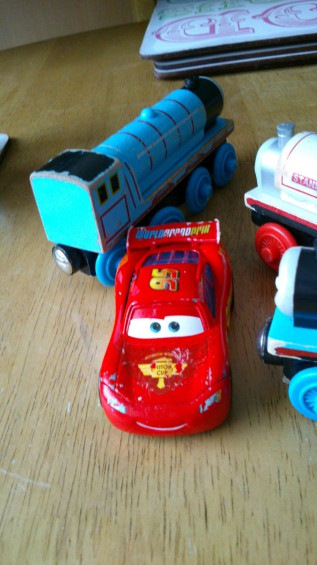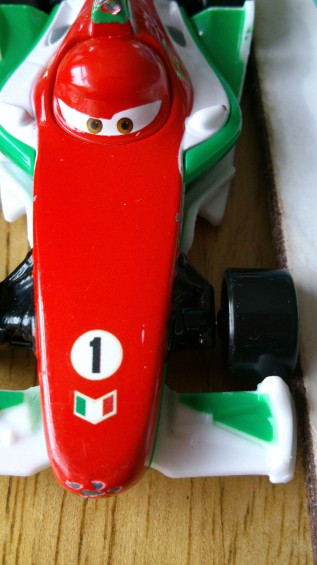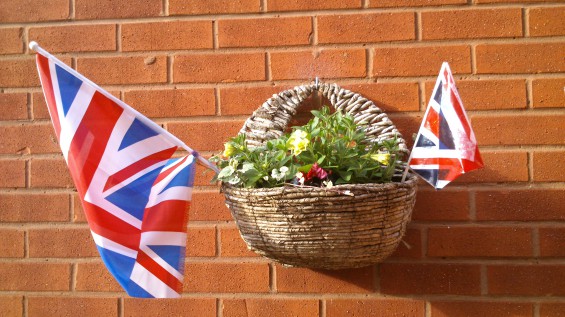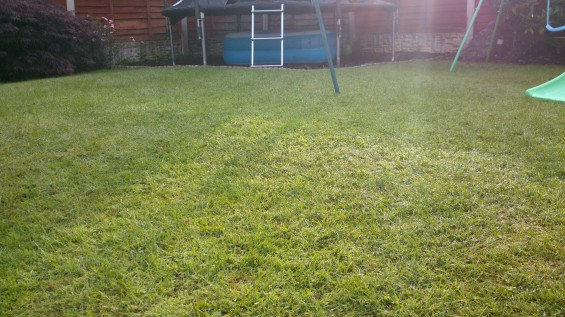 The browser was, as usual, pretty spot on. It "reflowed" text into readable chunks on zoom, but I found a few jitters when looking at "content rich" sites, especially when zooming in or moving around. For a dual-core 1GHz CPU I expected a bit more smoothness, but it seemed to struggle a little when zooming in and out on "heavy" sites. The browser allows multiple tabbed browsing, text selection, sharing and a range of settings to clear the cache or set your homepage. The settings also include the ability to turn off plugins such as Adobe Flash, which in my mind should be disabled to make the browsing experience better.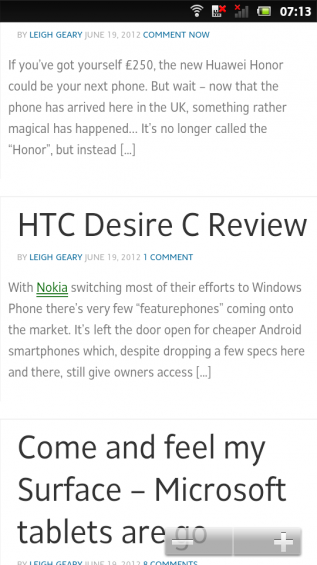 The on-screen keyboard here on the Xperia P is actually really good, and let's not forget that you can switch your phone around to get a larger keyboard "footprint". There's also a range of other keyboards within the Google Play store but we found the default on to be perfectly fine and the word-prediction system to be pretty useful indeed.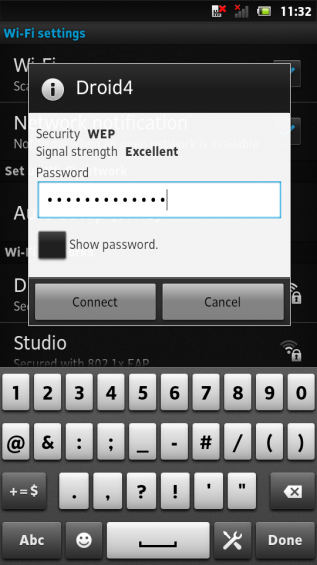 As I mentioned earlier, Sony haven't really freaked about with the interface too much, although there are a number of very nice widgets which are very well done. You can see a few below..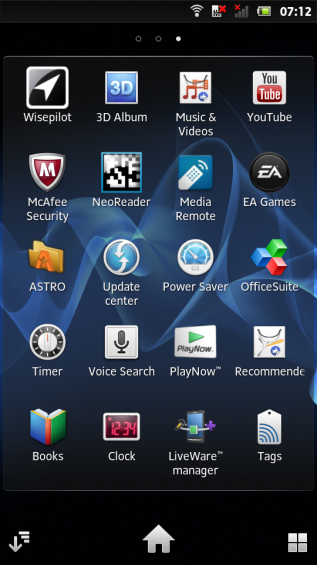 Overall
The Xperia P is, if I'm honest, easy to overlook. I say that with the greatest of respect, but most smartphone buyers can easily be lulled into buying a super-powerful handset. Sony Mobile have successfully cast of the Ericsson brand and should be proud of these handsets. Sure, the lack of a microSD card and a dual-core CPU which sneezes a bit at hefty websites could be a deal-breaker, but if you want to trim down your expenditure and get a slightly cheaper smartphone, this is definitely one to consider. Great styling, good software tweaks and an all-round pleasant experience.
[showphones handsetid='Sony Xperia P black' number='5′]
As is usual with our reviews, we have  a few shots that we just can't fit in, so if you'd like to see all the images we took for this review, click on..