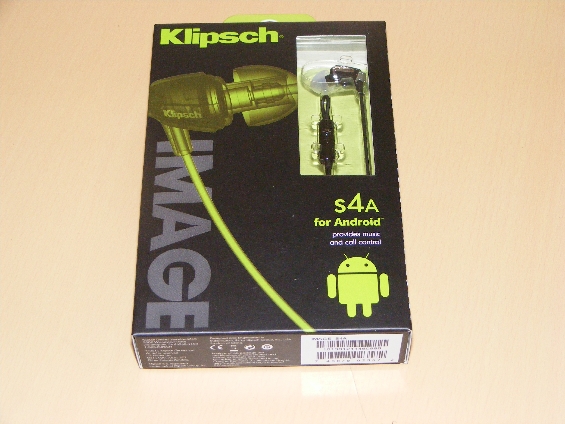 The shops and internet are full of products that are "Made for iPhone", from docks to headphones, from cases to wireless chargers.  However, try and find an accessory that is "Made for Android".  They are few and far between.
Klipsch however have bucked the trend with their S4a Android earphones made specifically for Android devices.
Supplied with a rather fetching case, the earphones themselves are rather distinctive with an angled head which holds the quite unusual oval earbuds.  There are 4 sets of supplied buds, each a different size, and once you have found the size that suits your ear they are not in the least uncomfortable to wear for extended periods.  The earphones themselves are very light.
The cable has a control button halfway down from the right earphone which also houses the microphone.  There is a clip supplied as well as a containing slider.  The earphones can be worn two ways, they can either be plugged directly into your ear or the cable can be worn wrapped around the top of your ears in what Klispch call "Sport mode".
In order to gain the most from the built in options you need to download the Klipsch app from Google play.
This enables the user to customise the button presses, decide which app is launched when the earphones are plugged in, define the speed at which the user is required to double or triple click, set the volume control levels and advises on any software conflicts.  The only thing that can't be set is the way that the volume is controlled which is with a long press.
Whilst you can choose not to use the app, this severely limits the functionality allowing only play and pause.
So, just how good are the earphones for music?
The oval buds sit nicely in the ear and do a very good job of isolating external noises.  This means that all that is heard is the sound emanating from the earphones themselves.
I tested the earphones with a variety of tracks starting with Birdy's haunting Skinny Love. Vocals are faithfully reproduced with movement handled deftly and without distortion at any volume levels.  Moving on to Lil John's Get Low, bass is booming without being overbearing, when playing Mozart the earphones handle each instrument with aplomb, and without a hint of the harshness often found in earphones of lesser quality.  Overall the S4a's handled whatever genre of music was thrown of them with ease and accomplishment.
In summary, an app that is easy to use and stunning sonic performance mean that these earphones represent great value for money although it is worth checking the Klipsch website before purchasing as due to software conflicts, the Klipsch Control app is incompatible with select Samsung phones (Galaxy S II family, Captivate).
The Klipsch S4a earphones are available priced  89.99 directly from Klipsch or from Amazon.
Have you found other Made for Android products? Come and let us know over at our forums!