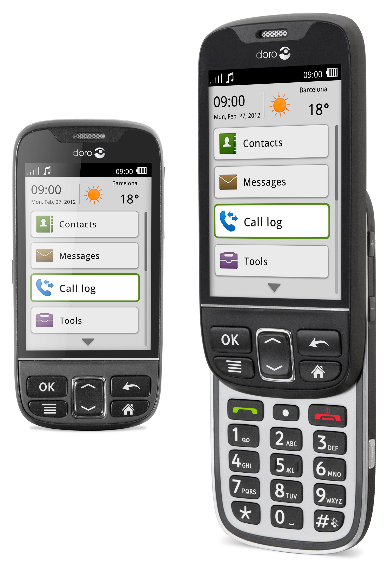 Many, many years ago I took a look at one of the Doro phones. It was, if I'm honest, a simple phone which was modelled on a big-button calculator. Since then Doro have gained momentum. Tesco sell the Phone Easy 409s for less than £50 and it was out of stock in our local store.
Now Doro, like JCB, have entered the smartphone world in their own way. The PhoneEasy 740. This is designed for "seniors" but, to be honest, it might suit others too. Although it's powered by Android they've made a lot of changes with their own "Doro Experience" added on top. This new user interface puts big and well-space icons onto the screen to simplify navigation, plus there's a web-portal for either the owner or their family or friends to manage the device, the content and applications. This means that loved-ones can push content and help communication with relatives. Imagine you sending pictures automatically to your elderly relatives – just call them and tell them to view it, instantly.
Doro have also supplied their own "recommended choice" of applications which are tailored for the senior citizen. They can get on Facebook and see what others are doing, easily. The handset also has a classic (and some would say sadly missed) numeric keypad, 3G connectivity, 5 megapixel camera, charging cradle, GPS (as a security function), magnifier, FM radio, SD card slot and the screen is 3.2″ HVGA 320×480. It's powered by a 650MHz ARM1176 CPU and also has WiFi and Bluetooth.
Link – Doro PhoneEasy 740 Details