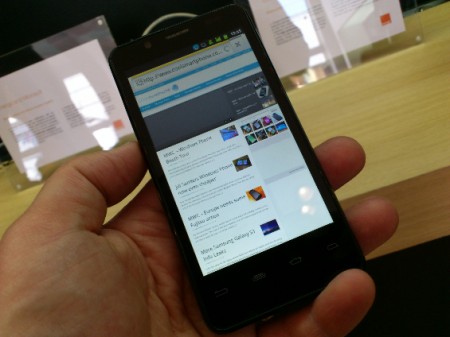 The Santa Clara is, it turns out, just a codename at the moment. So perhaps, just perhaps, it might appear as the Orange London we thought it would?
Powered by a rather rapid Intel Atom Z2460 1.6GHz CPU, this has 16GB of memory, HD voice, NFC, 1080p HDMI out and a 4.03″ display (600×1024). It'll run Android 4.0 (Ice Cream Sandwich) out of the box.
The guys in the Orange "cube" were keen to show me the rapid-fire camera technology which is built into this Orange-branded device. Hmm.. I'm sure we've seen that somewhere before? Yes, indeed. It seems to snap shots in a similar way to the new HTC One Series. Orange tell me that it can take 10 shots per second, but in reality it takes even more than that and only chooses the best ones. The 8 megapixel rear camera has an image stabilizer and there's a front-facing 1.3 megapixel camera too. Packing GPS, WiFi, Bluetooth 2.1 and superb mobile connectivity is a given, but they couldn't tell me how much it would cost. It'll arrive this summer.
We have a couple of hands-on videos for you here and lots of cable-free photos of the branded device itself. Click on!
Edit – An earlier version of this story mentioned how the CPU was quad-core, and indeed we were told this during the demo. However, it seems that it's actually a single-core with hyper-threading technology and Intel Graphics Media Accelerator.
Link – Earlier story