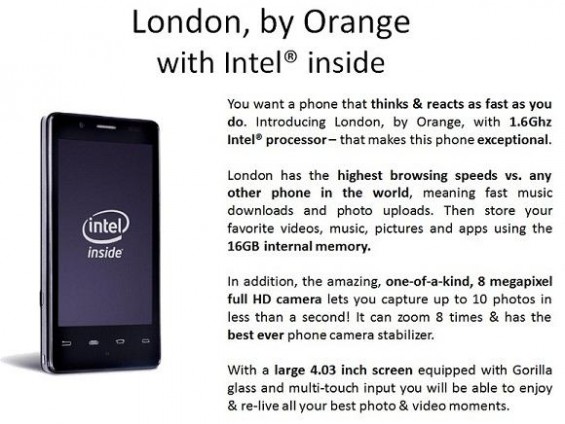 OK, we'll ask the question. After trawling the web for literally minutes and hitting lots of nothing we're a bit puzzled by the Orange London. The shot above was sent in by Simon Hardy, who was presented with the info after completing a survey..
As an Orange customer, I was signed up to a marketing scheme of theirs called Better Together. This basically involves being asked to complete various surveys related to phones & plans, internet, adverts, etc. Today I completed a survey on what they claimed to be a phone that they will be introducing called the Orange London.
Whether this is a fictional phone we're not sure, and Simon is right to point out the distinct lack of info regarding the OS, which would be a pretty big deciding factor and something he's mentioned in his response.
So, is the Orange London, complete with a 1.6GHz Intel CPU, 16GB memory and multi-touch 4.03″ screen for real? We'll have to see. That "one of a kind" 8 megapixel HD camera with image stabilizer and 10-shots-per-second ability certainly sounds very interesting indeed.
Of course, it could all be a big hoax. If it is, I'll be the first to wave our fists in the air and shout, "I'll gett you pesky kids!"