A new tablet was announced by Huawei today. This 10″ beast has got a quad-core 1.5Ghz processor and runs Android 4.0. We'll have a run down there in a second and get some pictures of it for you.
The CPU is, according to Huawei, the smallest quad-core unit in the industry and has fast 3D processing thanks to an embedded GPU. Other specs include a 1920×1200 IPS display, 2GB of RAM, an 8 megapixel rear shooter, another 1.3 megapixel shooter up front and speeds of up to 84Mbps across the HSPA+ connection.
The MediaPad 10 FHD will go to market by Q2 2012 and weighs in at 598grams. It's just 8.8mm thick too.
We've already seen the likes of Orange rebranding Huawei kit as their own, so you may find this one appearing in shops as something else fairly soon.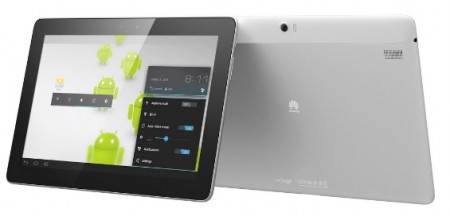 Huawei Debuts the World's First 10-inch Quad-Core Tablet

The MediaPad 10 FHD Entertainment Tablet has Arrived

Barcelona, Spain, February 27, 2012 – Huawei, a leading global information and communications technology (ICT) solutions provider, introduced the world's first 10-inch quad-core tablet today at the Mobile World Congress 2012. The HUAWEI MediaPad 10 FHD is a fast-performing tablet with unsurpassed audio-visual entertainment features including a Huawei 1.5GHz quad-core processor, Google Android 4.0 operating system and a 10-inch IPS high definition display screen.

"Most consumers use tablets for entertainment purposes such as gaming, viewing multimedia content, browsing the internet and reading e-books," said Richard Yu, Chairman of Huawei Device. "We have created the HUAWEI MediaPad 10 FHD to excel in all of the entertainment capabilities including speed, power, web-browsing, high definition display and audio, and packaging it all in a compact and portable body."

The HUAWEI MediaPad 10 FHD is the fastest quad-core tablet available. Running on Huawei's proprietary 1.5 GHz K3 quad-core processor, the smallest quad-core processor in the industry, the HUAWEI MediaPad 10 FHD leverages the K3 chip's embedded GPU to provide incredibly fast processing power and 3D graphics processing capability, ideal for high definition video clips or large-scale 3D games. The HUAWEI MediaPad 10 FHD enables high speed wireless access of up to 84 Mbps (HSPA+ 21/42/84Mbps), while at the same time supporting a number of network standards including LTE.

The audio-visual functionalities of the HUAWEI MediaPad 10 FHD bring a whole new entertainment experience to users. Boasting the industry's highest screen resolution and high-definition 1920 x 1200 IPS display that supports multi-touch, its colourful and clear display gives users the ultimate visual experience. HUAWEI MediaPad 10 FHD uses Dolby surround sound technology and offers perfect experience for users when playing games, watching HD movies and listening to music. The HUAWEI MediaPad 10 FHD is also installed with an 8 megapixel rear automatic-focus camera and a 1.3 megapixel front-facing camera and memory storage of 2G RAM, making it easy to record and store high-definition photos and videos.

HUAWEI MediaPad 10 FHD follows the design principle of all Huawei's products: elegant, simple and easy to use. The uni-body of the HUAWEI MediaPad 10 FHD is made of the trendiest aluminium-alloy materials, providing a glossy and light finish. The tablet is 8.8mm thin and weighs only 598g which makes it convenient to use and carry.

The HUAWEI MediaPad 10 FHD is the fourth generation tablet from Huawei following after the S7, S7 Slim and MediaPad (Android Honeycomb). HUAWEI MediaPad 10 FHD will be available for global market in Q2 2012.