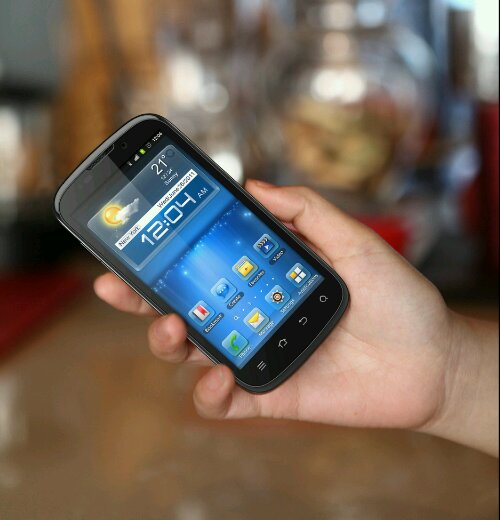 Yesterday ZTE announced two new devices, details here. The PF200 and the N910, well today they have announced the Mimosa X. Don't you just love a good naming convention?
The Mimosa X is a qHD device with an NVIDIA Tegra2 dual core chip, running Ice Cream Sandwich. It has a 5 megapixel camera and another 0.3 megapixel shooter up front. This seems to be a mid range device, as the PF200 from yesterday had a 8 megapixel camera. It's all getting a little confusing and the strange names are not helping. 🙂
Either way they do look nice, although they do seem to have a different launcher running on them. This may delay updates in the future.
Yesterday's photos did look like mockups, but today we appear to have a real picture does actually look real. We will be at MWC soon so whatever they announce we will be there to cover it.
Here is the press release from ZTE.
February 21, 2012, Shenzhen, China – ZTE Corporation ("ZTE") (H share stock code: 0763.HK / A share stock code: 000063.SZ), a publicly-listed global provider of telecommunications equipment and network solutions, is set to launch a new Android handset, the ZTE Mimosa X, running the NVIDIA® Tegra® 2 mobile processor and the NVIDIA Icera 450 HSPA+ modem, at the global telecoms industry event Mobile World Congress in Barcelona.

The ZTE Mimosa X will run Android 4.0 (Ice Cream Sandwich) and have a high quality QHD (960 x 540 pixel) capacitive TFT touchscreen. It will also come equipped with a 5 MP autofocus and flash camera, with a 0.3 MP front facing camera for video-calling.

The Mimosa X will also have a wide range of user-friendly capabilities built in, including GPS, WiFi, Bluetooth 2.1, an accelerator for screen orientation management and firmware over the air (FOTA) updating, and a proximity sensor.

The ZTE Mimosa X handset, powered by the Tegra 2 processor, will be targeted at smart phone users who take their handset audio and video capabilities seriously. Features of the handset will include advanced audio distribution profile (A2DP), Dolby sound, digital living network alliance (DLNA) compatibility for easy sharing of content, HD video record and play, dual microphones, and built-in gyroscope. It also includes an Icera baseband processor, making it the first phone to incorporate this cutting-edge technology that was acquired last year by NVIDIA.

"The Tegra processor and Icera modem will play an important part in the development of the mobile handset market, and ZTE has worked closely with NVIDIA to develop the Mimosa X smart phone in time for launch at this major global telecoms industry event," said Mr. He Shiyou,Executive Vice President and Head of the Terminal Division of ZTE. "We expect that the Tegra processor will have a big impact on the mainstream mobile communications world in the coming months and years."

"The ZTE Mimosa X sets a milestone for the mobile computing industry," said Michael Rayfield, General Manager of the Mobile business at NVIDIA. "This is the first time that both NVIDIA Tegra and Icera processors are powering a smartphone. The Mimosa X brings the outstanding performance and long battery life that Tegra has quickly become known for, into the mainstream smartphone market."

The Mimosa X will be launched around Q2 2012.
Source – ZTE