OK. I'm getting pretty amazed with quite how much money is being thrown at the new Nokia Lumia 800. While watching Channel 5 this evening I became increasingly annoyed by some new advert "buffers". They pop up for a few milliseconds between each ad but all I kept seeing was the "5" logo pop up with a brief drum beat.
However, look a bit closer and, if you're quick enough on the pause button…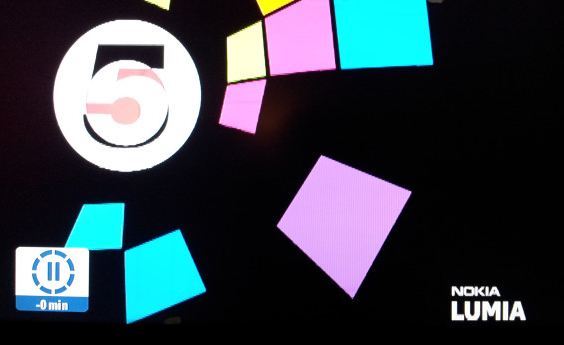 Microsoft and Nokia have also eaten up the whole Channel 5 website. Then, before you know it, this longer commercial pops up… and I love it. Great dance tune, great visuals. It pulls you in. (The music is by Totally Enormous Extinct Dinosaurs … yeah, a strange choice..)
http://www.youtube.com/watch?v=I1qTbs8K3go
I tell you the most amazing thing. This is a phone that won't be available for another three weeks. You've got to wait until November 16th to get it. That's at least another three weeks of this full-on advertising splash. This is going to get rammed down your throat. You're going to see it everywhere. They will not stop. It's gotta be costing millions.
Links – Windows Phone and Nokia, Back in the game? – Nokia Lumia 800