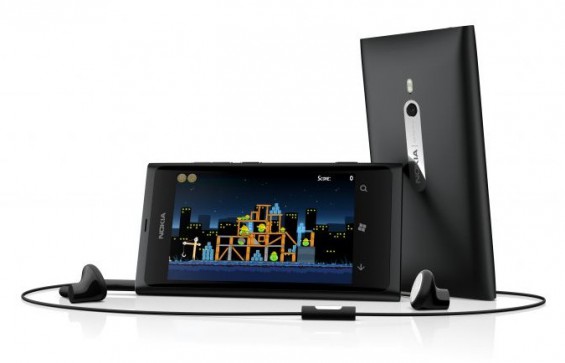 We've just had the full press release for the two new Windows Phones announced by Nokia this morning. We've also had a stack of photos, so we've added them at the bottom of your post. But first, I'd like to hear your thoughts on these new handsets.
I'll be honest. I've had a few comments about my own personal opinions of Windows Phone. It's fair to say that I lost a lot of faith over the years in Microsoft. As an MVP I've seen Windows Mobile stagnate and fail to innovate against challengers like the iPhone. Windows Phone 7 was badly needed, but sadly it still needed work to compete against the likes of Android and iOS – both frequently-updated OS's. Yes, I've been critical of Windows Mobile. Yes, I've been critical of Windows Phone. I was critical this morning too. Nokia CEO Stephen Elop, isn't going to impress the other Microsoft partners by saying that Nokia have made "The first real Windows Phones". Comments like that, plus the added flexibility Nokia seems to have with the Windows Phone OS, will only serve to annoy the likes of HTC and Samsung.
However, the Nokia partnership and the newly refreshed Windows Phone 7.5 / Mango Operating System is the biggest and best opportunity I've seen to date. It simply must succeed. You can almost smell the urgency. The advertising campaign is costing millions and the handsets, if we're honest, are slightly tweaked versions of existing models. I think we'll have to wait just a little while longer to see face-pointing cameras and a larger range of handsets.
Should I be critical? Below you'll find the Nokia Lumia 800 (left) and the existing Nokia N9 (right)..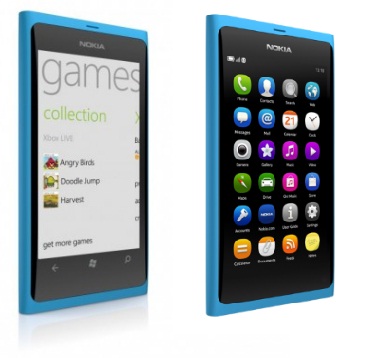 Although it looks very similar, the N9 has a few things that that Lumia 800 does not. There's now front-facing camera, no NFC, less storage (than the 64GB version), no hot-swappable SIMs and 54 more pixel lines. (Credit – Vlad Savov)
Then there's the new Nokia Lumia 710. Here's the shot we were sent this morning by the PR people…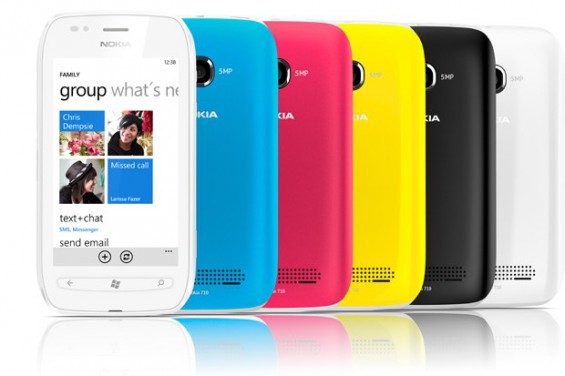 …and here's the Nokia 603..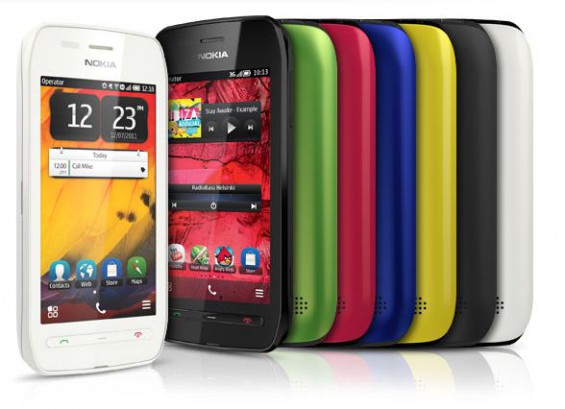 Similar? Sure they are, but will that make them any less of a success? Nokia make fantastic phones. Look through your own mobile phone history and I'll bet there's a Nokia in there. People will buy Nokia phones and I really do hope that this signals a return to form for both Nokia and Microsoft, but boy, do they have one huge mountain to climb. Let's not forget that this Christmas you'll only have the Nokia Lumia 800 – the 710 isn't due here in Europe for a few months yet.
I'd love to hear your thoughts though, because I know that there's a razor-sharp blade separating Android and Windows Phone fans.
Link – Nokia Press Release
Nokia showcases bold portfolio of new phones, services and accessories at Nokia World

Signals new dawn with the launch of Nokia Lumia 800 and Nokia Lumia 710, the first Nokia smartphones powered by Windows Phone

Introduces a range of stylish, smart mobile phones, superior Nokia Maps, partnership for co-branded accessories with Monster, and more

London, UK – At Nokia World, the company's annual event for customers, partners and developers, Nokia demonstrated clear progress on its strategy by unveiling a bold portfolio of innovative phones, services and accessories, including the first smartphones in its Windows Phone-based Nokia Lumia range. The stunningly social Nokia Lumia 800 brings content to life with head-turning design, Nokia's best social and Internet experience, familiar Nokia elements, such as leading imaging capabilities and new signature experiences. The colorful and affordable Nokia Lumia 710 is a no-nonsense smartphone that brings the Lumia experience to more people around the world.

Nokia also launched four new mobile phones which feature stylish design, a rich social experience and location-aware technology. The Nokia Asha 300, Nokia Asha 303, Nokia Asha 200 and Nokia Asha 201 blur the line between smartphones and feature phones, offering QWERTY and touch screen experiences, combined with fast and easy access to the Internet, integrated social networking, messaging and world-class applications from the Nokia Store.

"Eight months ago, we shared our new strategy and today we are demonstrating clear progress of this strategy in action. We're driving innovation throughout our entire portfolio, from new smartphone experiences to ever smarter mobile phones," said Stephen Elop, Nokia President and CEO. "From the Nokia Lumia 800 to the Nokia Asha 201, we are bringing compelling new products to the market faster than ever before. I'm incredibly proud of these new devices – and the people of Nokia who have made this happen."

"Since Nokia's major strategic shift only eight months ago, the company has found a new energy. It has provided substantial improvements to Symbian, managed to differentiate on Windows Phone and it continues to build on its strong portfolio in mobile phones," says Pete Cunningham, Principal Analyst, Canalys. "Nokia is delivering on its pledges, and is clearly demonstrating its path to future success."

The first Nokia Lumia smartphones
First two smartphones based on Windows Phone introduce a range of new experiences designed to make everyday moments more amazing.
Nokia Lumia 800
The stunningly social Nokia Lumia 800 features head-turning design, vivid colors (cyan, magenta and black) and the best social and Internet performance, with one-touch social network access, easy grouping of contacts, integrated communication threads and Internet Explorer 9. It features a 3.7 inch AMOLED ClearBlack curved display blending seamlessly into the reduced body design, and a 1.4 GHz processor with hardware acceleration and a graphics processor. The Nokia Lumia 800 contains an instant-share camera experience based on leading Carl Zeiss optics, HD video playback, 16GB of internal user memory and 25GB of free SkyDrive storage for storing images and music. The estimated retail price for the Nokia Lumia 800 will be approximately 420 EUR, excluding taxes and subsidies.
Image: Nokia Lumia 800
Image: Nokia Lumia 710 Nokia Lumia 710
The purposely built, no-nonsense Nokia Lumia 710 can be personalized with exchangeable back covers and thousands of apps to bring the Lumia experience to more people around the world. The Nokia Lumia 710 is designed for instant social & image sharing, and the best browsing experience with IE9. It is available in black and white with black, white, cyan, fuchsia and yellow back covers. With the same 1.4 GHz processor, hardware acceleration and graphics processor as the Nokia Lumia 800, the Nokia Lumia 710 delivers high performance at an affordable price. The estimated retail price for the Nokia Lumia 710 will be approximately 270 EUR, excluding taxes and subsidies.

Both smartphones include signature Nokia experiences optimized for Windows Phone, including Nokia Drive, which delivers a full-fledged personal navigation device (PND) with free, turn-by-turn navigation and dedicated in-car-user-interface; and Nokia Music introducing MixRadio, a free, global, mobile music-streaming application that delivers hundreds of channels of locally-relevant music. In an update delivered later this year, Nokia Lumia users will also gain the ability to create personalized channels from a global catalogue of millions of tracks. Also integrated in Nokia Music is Gigfinder, providing the ability to search for live local music for a complete end-to-end music experience, as well as the ability to share discoveries on social networks and buy concert tickets also coming in the Nokia Music software update delivered later this year.

Completing the ultimate mobile audio offering, Nokia also introduced the on-ear Nokia Purity HD Stereo Headset by Monster and the in-ear Nokia Purity Stereo Headset by Monster, co-designed and co-developed by Monster, a recognized leader in high performance audio. Both products provide a fresh listening experience and are the first output of the exclusive long-term partnership between Nokia and Monster, intended to introduce a range of premium audio accessories to reflect the outstanding quality and bold style of the Lumia range.

The new Nokia Lumia 800 is now available in select countries for pre-order on www.nokia.com and is scheduled to roll-out across France, Germany, Italy, the Netherlands, Spain and the UK in November, with 31 leading operators and retailers providing unprecedented marketing support in those first six countries. It is scheduled to be available in Hong Kong, India, Russia, Singapore and Taiwan before the end of the year, and in further markets in early 2012.

The Nokia Lumia 710 is scheduled to be available first in Hong Kong, India, Russia, Singapore and Taiwan toward the end of the year alongside the Nokia Lumia 800, before becoming available in further markets in early 2012.

Nokia also announced its plans to introduce a portfolio of products into the US in early 2012 and into mainland China in the first half of 2012. In addition to the existing products, which include coverage for WCDMA and HSPA, Nokia also plans LTE and CDMA products to address specific local market requirements.

Asha: A new family of smarter mobile phones
Nokia continues its mission to deliver high quality, stylish devices that provide the best access to social networks, the Internet and information, and offer the best overall experience and value proposition for the next billion mobile phone users. These consumers want access to innovations such as easy-to-use dual-SIM, local services and content, and third-party apps, all with a superior user experience for which Nokia mobile phones are known.

These devices comprise the new Asha family of Nokia mobile phones. Derived from Hindi – meaning 'hope' – Asha signifies Nokia's focus on positive user experiences and connecting millions of people to new opportunities that help them reach their aspirations.

The Asha mobile phone family includes:
Nokia Asha 303
The Nokia Asha 303 is a stunning phone designed with sophisticated materials and metallic finishes. It combines a large 2.6″ capacitive touch screen with a high quality QWERTY keypad. The Nokia Asha 303 is built with Internet and social networks ease in mind.
Image: Nokia Asha 303

The device harnesses a powerful 1Ghz engine, 3G and WLAN to deliver a fast Internet experience. Social networks, email and IM are at the center of the experience, easily accessible from the homescreen. The Nokia Asha 303 is powered by the cloud-based Nokia Browser, which by compressing the web by up to 90%, provides higher speeds and a more affordable access to the Internet.

Entertainment and applications are also a core part of the Nokia Asha 303 offering. Angry Birds Lite, the popular mobile game, comes preinstalled, together with support for other globally relevant applications such as Facebook Chat, Whatsapp messaging and the latest release of Nokia Maps for Series 40 (in selected markets). The price will vary from market to market and operator to operator. The estimated retail price for the Nokia Asha 303 will be approximately 115 EUR, excluding taxes and subsidies. It is expected to start shipping in the fourth quarter of 2011.
Image: Nokia Asha 300 Nokia Asha 300
The beautifully designed Nokia Asha 300 is a touch device which also offers the convenience of a keypad. The Nokia Asha 300 has a powerful 1GHz processor and 3G to deliver a faster Internet and social networking experience. The Nokia Browser allows for fast, affordable and localized Internet access by compressing web pages by up to 90%.

Users have fast access to messaging, email and instant messaging from the home screen and can swipe to access apps, music or games from the Nokia Store. The Nokia Asha 300 also arrives preloaded with the popular Angry Birds game.

The Nokia Asha 300 comes with a 5 megapixel camera, a music player, FM radio, Bluetooth connectivity and can handle memory cards up to 32GB. The price will vary by market and operator. The estimated retail price for the Nokia Asha 300 will be approximately 85 EUR, excluding taxes and subsidies. It is expected to start shipping in the fourth quarter of 2011.
Nokia Asha 200
The Nokia Asha 200 is Nokia's latest dual SIM phone with Easy Swap functionality, allowing consumers to easily change their second SIM without switching the device off.

It is a fun and colorful QWERTY phone designed to meet the needs of young, urban consumers who want to constantly stay in touch. The Nokia Asha 200 features integrated social networking, email and IM, adding RenRen, Orkut and Flickr support. Nokia Asha 200 makes it possible to carry thousands of songs with support for 32 GB memory cards and providing a battery for an amazing 52-hour playback time. The price will vary by market and operator. The estimated retail price for the Nokia Asha 200 will be approximately 60 EUR, excluding taxes and subsidies. It is expected to start shipping in the fourth quarter of 2011.
Image: Nokia Asha 200

Nokia Asha 201
The single SIM version of the Nokia Asha 200, the Nokia Asha 201 is ideal for young consumers who wish to stay socially connected, are price conscious and like listening to music. The Nokia Asha 201 has great music features including a high performing loudspeaker, enhanced stereo FM radio and ringtone tuning. With the Nokia Browser you get even faster, even better and more affordable access to the Internet. It supports up to 32 GB memory cards and provides a battery for 52 hours of music playback time. The Nokia Asha 201 also supports push email as well as the popular Whatsapp messaging app. The price will vary by market and operator. The estimated retail price for the Nokia Asha 201 will be approximately 60 EUR, excluding taxes and subsidies. It is expected to start shipping in the first quarter of 2012.

Nokia Maps: location services designed to make every day better
With an aim to continuously improve its location-based offering, Nokia showcased the latest versions of Nokia Maps and Nokia Drive for Windows Phone. These and other map-related applications introduced at Nokia World aim to make Nokia Maps relevant for commuters and to find interesting places in the city where people live. In addition to its world-class, free walk-and-drive navigation for more than 100 countries worldwide, the Nokia Public Transport application tracks public transportation directly on a mobile device in more than 430 cities worldwide, including up-to-the-minute updates on bus and train routes for 45 cities. Nokia also introduced Nokia Pulse, which allows location-tagged updates and photos to be sent privately, adding location to conversations with the people that matter most. Nokia also showcased Nokia Live View, which turns the phone's camera view finder into a reality augmenting tool. With Nokia Live View, a phone can be pointed to a building or street and the names of the places become superimposed over them, offering one click access to detailed information about businesses, restaurant or attractions. All the applications announced today are available at Nokia's Beta Labs (betalabs.nokia.com).

Nokia also announced:
· Nokia Maps is now powering Yahoo! Maps, starting with the US and Canada
· An agreement with the New York Metropolitan Transit Authority to develop a NFC-based smartphone ticketing solution to pilot on New York regional commuter trains starting before the end of 2011

For more information on Nokia World 2011, including the full event agenda, please visit http://events.nokia.com/nokiaworld. To follow or contribute to the event discussion online, visit the Nokia Conversations blog, follow @nokia and use #NokiaWorld.