Good news if you're looking for the LG Optimus 3D on Orange. The network has just made it available through their stores, online and through phone sales.
Available for free on £40, 24 month plans, it features dual 5 megapixel cameras, HD video recording, WiFi, GPS and a 4.3″ WVGA screen. Nicola Shenton, Head of Device Portfolio, Everything Everywhere states…
The LG Optimus 3D is truly a game changer in the smartphone market, and we are delighted to be able to give our customers the opportunity to dive into the exciting world of 3D. The way we create, share and view content is constantly evolving, and we're proud to be at the cutting edge of innovation by offering smartphones and handsets which give users more options than ever before.
Links – Orange Press Release – LG Optimus 3D Review – Orange Shop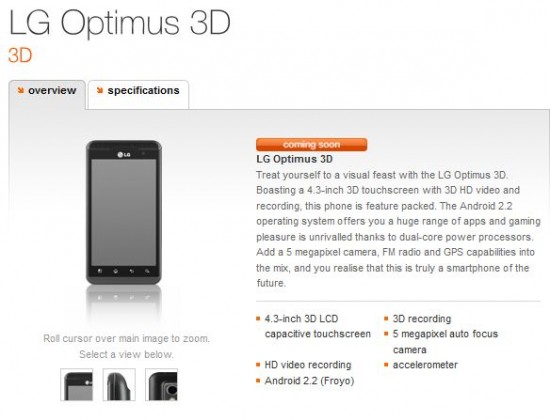 LG Optimus 3D comes to Orange

LG Optimus 3D is the world's first 3D smartphone – now available on Orange
Handset allows users to record, view and share 3D content via a vibrant 4.3" WVGA display

Orange today announced the availability of the LG Optimus 3D, the world's first glasses-free 3D smartphone. The handset can be purchased from Orange retail stores, online, via direct upgrades and telesales.

The LG Optimus 3D offers a brand new way for customers to interact with their phones – and is ideal for gaming fans looking for a more realistic experience. As the world's first 3D smartphone, this handset lets users record, view and share 3D content via a bright 4.3" WVGA display. Ideal for customers looking for the next step in shareable content, the LG Optimus 3D offers 2D (up to 1080p) and 3D (up to 720p) HD multimedia content in the palm of your hand. To share content even further, users can view clips on YouTube's dedicated 3D channel and upload their own directly from their handset, or stream to a 3D capable TV or other 3D device via an HDMI connection.

The LG Optimus 3D also offers strong features such as a large 8GB of storage, a dual 5MP camera, a dual core 1GHZ processor and 10.1 Flash Support for quicker and more streamlined access to multimedia content on the move.

The LG Optimus 3D is free from £40 on a 24 month plan from Orange – which includes 900 minutes, unlimited texts, 750Mb data allowance and unlimited Wi Fi.*

Nicola Shenton, Head of Device Portfolio, Everything Everywhere said: "The LG Optimus 3D is truly a game changer in the smartphone market, and we are delighted to be able to give our customers the opportunity to dive into the exciting world of 3D. The way we create, share and view content is constantly evolving, and we're proud to be at the cutting edge of innovation by offering smartphones and handsets which give users more options than ever before."

For more information on the LG Optimus 3D please visit – www.orange.co.uk/shop