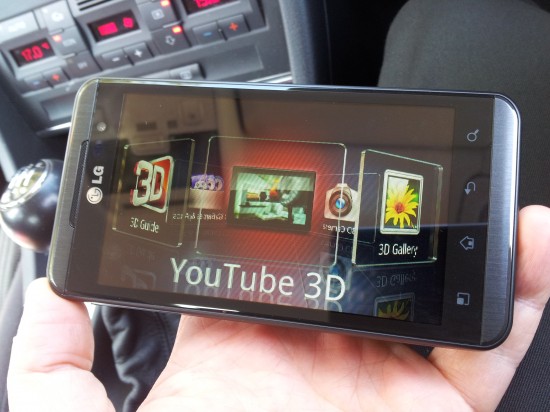 AGH. My eyes. What the heck is going on with my eyes? The first thing you do with this phone is turn it on and jump into the "3D Space" feature. Here you'll get YouTube 3D for lots of featured YouTube content, the 3D Gallery, the 3D Camera itself, 3D Games and Apps plus a 3D Guide showing you how to use the technology.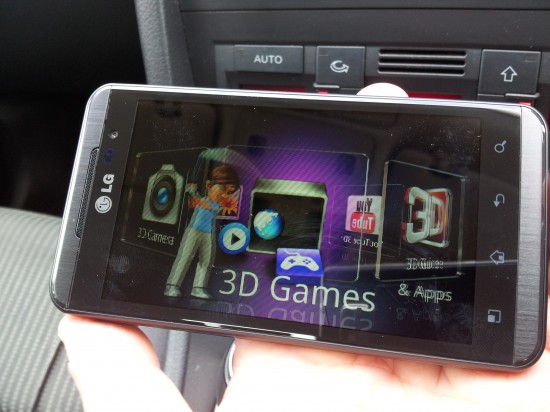 There's a whole load of technical wizardry and terminology describing the 3D technology but it's perhaps easier to tell you in my own inimitable way. The 3D screen itself, when you view 3D content, fires a slightly different image in different directions. You have to find what LG call the "sweet spot", which tends to be around 30-40 cm from the screen. At this point your left eye will pick up one image and the right one gets a slightly different image.
It is, I have to say, a weird experience. Imagine holding two very tiny screens in front of your eyes, each showing a slightly different perspective of some footage. This is effectively what you're getting. The clever screen creates a vertical blind effect which blends into one image when you're in that "sweet spot". The 3D feeling can be a little weird at times.
[yframe url='http://www.youtube.com/watch?v=3S9X313zMW8′]
[yframe url='http://www.youtube.com/watch?v=gW_P8s9ZWGw']

Specs
Android 2.2
Dual-core 1GHz ARM Cortex-A9 proccessor, PowerVR SGX540 GPU, TI OMAP4430 chipset
4.3″ 800×480 screen (with 3D glasss-free functionality)
GPS, WiFi, Bluetooth 3.0 with A2DP
Dual 5-megapixel rear cameras plus 1.3-megapixel front-facing camera
HD Video recording

Outside
Before we get onto the 3G stuff let's have a tour around this new LG device. There's a fairly industrial feel to it and it has a definite "weight". It's not terribly heavy, but at the same time it's noticeably heavier than the slim Samsung Galaxy SII. I was actually lucky enough to have both devices and the SII was definitely both thinner and lighter but, in terms of screen, it was just as good. The colours were vivid and there was a definite crispness and difference in shades. The whites were pure white.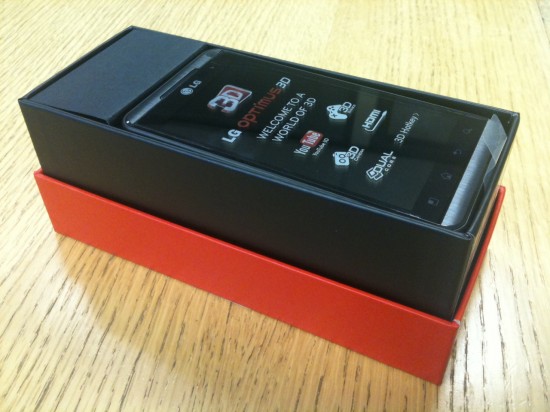 The border of the screen is made from black plastic with four touch-sensative buttons down the bottom. They don't seem to mean anything in particular but the first one is the menu, the second is the home, the third is the back and the fourth is the search button. They're back-lit in a crisp white.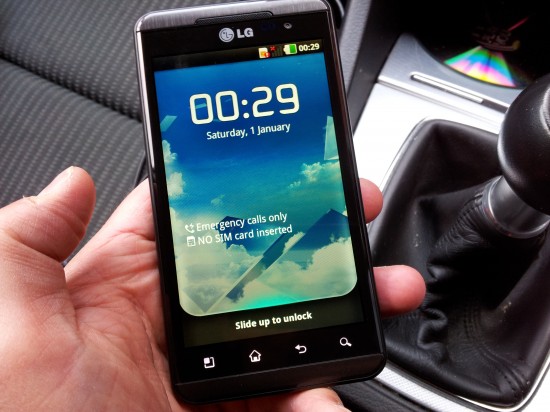 Up top, and next to the LG logo, there's a face-pointing camera and a couple of sensors too. They're for proximity and light.
On the right spine there's a volume up / down and, down the bottom, the camera button with the letters "3D" on it.

On the very top of the handset there's the power / lock button which, on this particular Android, is the only way of waking the device. Some devices allow the "Home" button to do this too, but not on this one. Next to that is a 3.5mm audio port for headphones.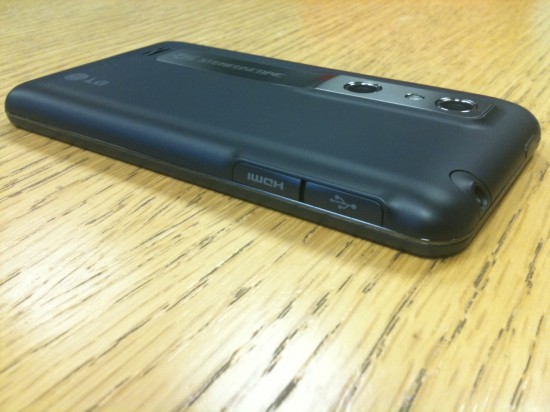 On the left is your USB port for charging and moving files to / from your computer. Under that is the HDMI output so you can hook the phone into your TV. If you're lucky enough to have a 3D TV you can watch all the stuff you've recorded this way. There's an option within the settings to alter the resolution all the way up to 1080.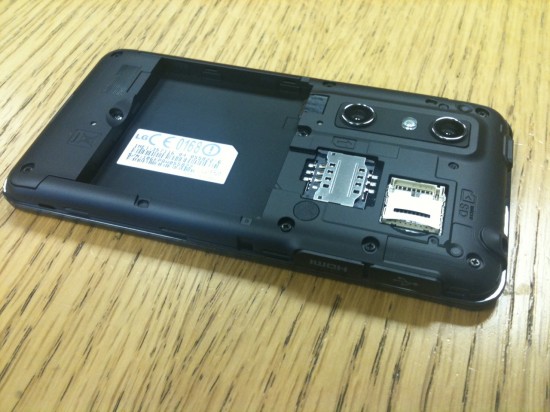 At the bottom there's a tiny hole for the microphone and a slot for popping off the battery cover. You may notice the thin silver strip that goes right around this phone. This separates the metallic front section with the matt-black rear panel. This has a grippy rubber feel too.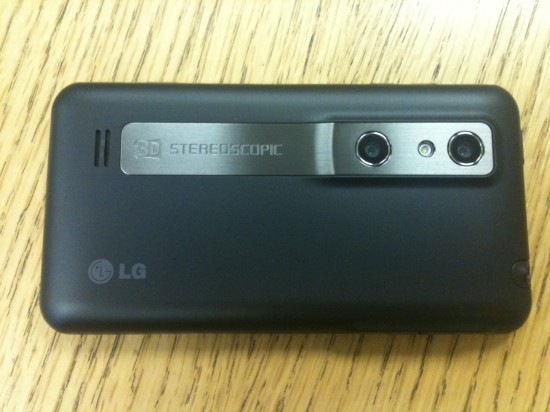 At the back you can see those dual 5 megapixel cameras with a flash light in the middle. These sit beneath a brushed metallic panel with "3D Steroscopic" written on it. Beneath that is an external speaker.

Inside
As with all Android devices (version 2.2.2 is on here) there's a stack of applications to choose from. Those pressure-sensitive keys will also let you do tricks like hopping into your recent apps (hold down home) or start voice control (hold down search). The apps include the usual cloud-sync'd calendar, email, and documents plus LG have added in a Social+ system which includes Facebook, Twitter and Myspace. There's also the clever gestures we've seen on other phones, like the ability to flip the phone face-down to mute the incoming call sound or to stop an alarm.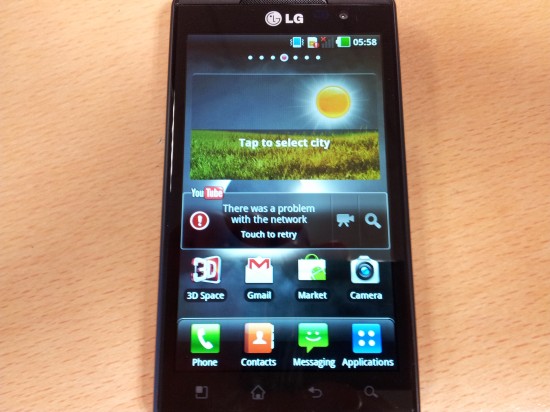 The main home screen consists of 7 panels with apps, widgets, shortcuts and folders. It's simple enough to add an item, just press and hold anywhere on the screen and the bottom part of the screen will slide up with a large choice of stuff to add to your home screen. As with all Android devices it's simply a matter of navigating left or right to get to the other panel. Some of the widgets you can add include a Bluetooth control, Bookmarks, Calendar, Facebook, a Photo Alubum, Photo Frame, the LG Social + widget, Richnote, WiFi Control, a World Clock, WiFi Control and Youtube. A grid system pops up when you're adding widgets so you now where you can place things.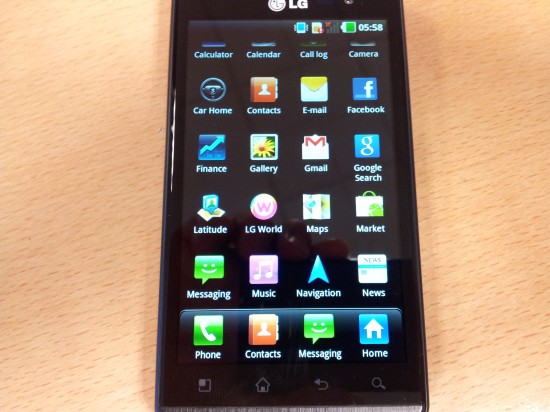 Apps you can choose from include the usual Alarm Clock, Calculator, Call Log and Google Search. The ever-excellent YouTube app is installed as default, as is Polaris Office for viewing documents and spreadsheets on the go. LG have included a few things of their own – the LG App Advisor lists apps which are recommended by the company. This is sectioned off into countries – we had to choose "Global".There's also something called "Remote Call" which appears to be a remote support tool allowing LG staff to log into your phone and remotely control / fix your device. That's quite a cool little addition.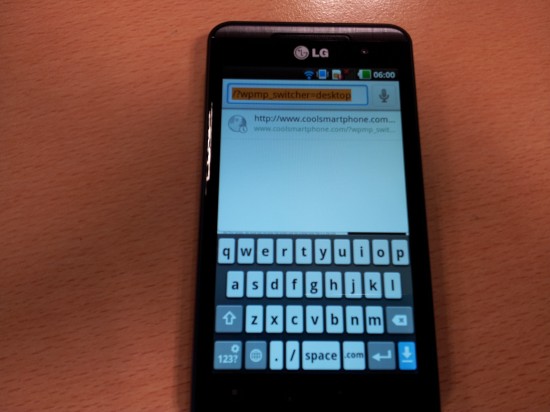 From the main apps list you can also get into an Application Manager for removing and stopping apps, Facebook for keeping up to date with your online friends, a Yahoo finance app to keep track of your shares, Latitude for monitoring where your friends are (and sharing your location with them), Google Maps (and we all know how good that is), Google Navigation (a free sat-nav app), Google Talk (IM) and a Yahoo! news reader app. There's also a direct link into the software update system. Just one click and you can instantly see if your phone has an update available.
The browser, as with all Android handsets, is excellent. Multi-touch pinch to zoom-out, auto-rotation and text re-flow when you double-tap. Favourites can be stored easily and there's tabbed browsing.
With DLNA built-in LG have added an app called "SmartShare" which lets you send media to compatible devices over WiFi. It's simple enough to use and just a matter of dragging and dropping.
We tried out an app called RichNote which allows you to make quick notes. As the first app we tried to involve the on-screen keyboard, we were instantly hit by how similar the supplied LG keyboard is to the iPhone keyboard. It's pretty much identical in every way, with the letters even popping up on "stalks" just like the iPhone.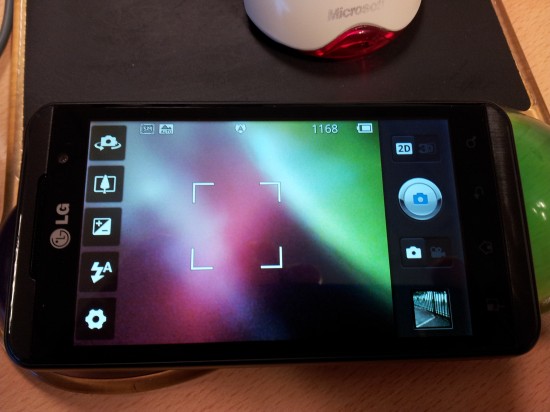 That said, although it's an out-and-out copy, it is rather good to use with very little mis-keying. If you want you can also engage "Scribble Mode" on the RichNote app and add shapes or "finger written" notes in various colours and pen sizes.
The main app list is sectioned off with the 3D Applications at the top, normal applications in the centre and your downloaded (extra) apps toward the bottom.

3D
Out of the box LG have installed a stack of 3D apps and included many 3D videos. The 3D games include Asphalt 6, Let's Golf 2 and Nova. There's more to download from the Gameloft website too. LG appear to have partnered with Gameloft and, at the time of writing, their 3D games cost just 99p. There's a sizeable range too, including Avatar 3D, Real Football 2011 3D, Shrek Kart 3D, Spider Man: Total Mayhem 3D, Fishing Kings 3D and a whole lot more.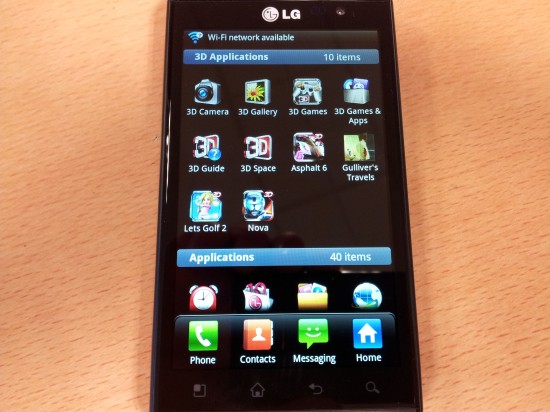 We filmed some 3D video and below you can see an example. Of course you'll need to watch this on some 3D kit.. 🙂
[yframe url='http://www.youtube.com/watch?v=2gWh2mEMuP0′]
The handset runs smooth enough with no noticeable slow-down, even with many apps installed. The camera performed very well indeed – shooting standard video and taking pictures in "2D" mode produced clear and crisp photos.
Example Photos
Click each image for the larger version. We were impressed with the quality of the camera(s). Shots were crisp and the actual process of taking photos was simple and quick to do.

Overall

We're getting used to smartphones lasting for around a day on battery with normal use. Here the LG Optimus 3D struggled somewhat and we found that it needed the odd charge in the evening to top things up. There's the usual confusion as we've heard some users having no problems with battery life – there's presumably another ROM around which handles battery usage better.
We were impressed with the 3D capability, although if you take this feature away there's not a great deal pulling me towards this phone. It's weighty and, although the pictures produced by the onboard cameras are fantastic and it's a very speedy experience, we still yearned for the Samsung Galaxy SII. The 3D functionality, whilst excellent and a little mind-boggling, wasn't enough on it's own.  Take this functionality out and you're left with a rather large, heavy phone which lacks a bit of design flare. That said, it's quick, the screen is superb and the tweaks LG have done to the OS aren't annoying or in-your-face.
Link – UR-Mobile.com – Buy LG Optimus 3D