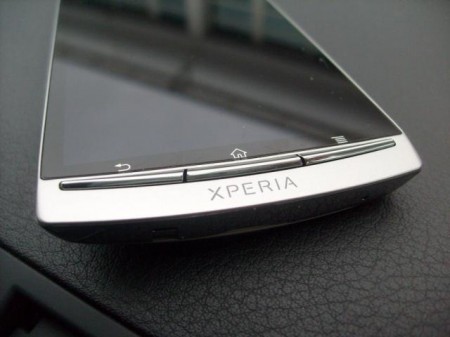 The Sony Ericsson Xperia arc is now available on Three. It'll be free on contracts over £35 a month and you can enjoy All-You-Can-Eat Data (and it really, really is because we tested it) on The One Plan for £40 a month with 2000 anytime, any network minutes and 5000 texts. If you want to buy it on Pay As You Go it'll £449.
Want a close-up tour of the phone? Dive into our gallery, we've just added some new photos of the device to go with our video tour.
Links – Three.co.uk – Up-close gallery
Press release below..
Sony Ericsson Xperia arc now available on Three.

From today Three is stocking the sleek new Sony Ericsson Xperia arc. Sony Ericsson's latest slim-line device can be got with All-You-Can-Eat data either on The One Plan or on PAYG.

Sylvia Chind, Head of Branded Devices said, "Sony Ericsson continues to bring exciting new devices to the market, and we are pleased to be able to add this slick new handset to our expanding range of high end smartphones. As well as its extra slim casing, The Xperia arc also comes with a crystal clear screen thanks to its Sony BRAVIA graphics engine, making the pictures you take on its 8.1MP camera look even stronger and more striking. It's a great multi-media handset, and one that can make the most of Three's super fast 3G network."

Sony Ericsson Xperia arc is available from just £35 a month on contract or £40 a month on The One Plan with All-You-Can-Eat Data, 2000 anytime, any network minutes, 5000 texts.
PAYG customers can enjoy the Sony Ericsson arc for £449. All in One 15 costs £15 and gives 30-days access to all-you-can-eat data along with 300 any-network minutes and 3,000 texts. Or All in One 25 costs £25 and offers 500 minutes, 3,000 texts and all-you-can-eat data for a 30-day period.

Sony Ericsson Xperia arc

Hidden beneath its 8.7mm thin design, not only is the arc one of the slimmest smartphones on the market, it also conceals an impressive array of technology. Running on the Android Gingerbread OS, the device is equipped with Reality display, powered by Sony's Mobile BRAVIA engine which gives the 4.2" touchscreen clearer and crisper pictures.

Key features:

• Sharp, crisp and clear images on the 4.2" multi-touch Reality display, driven by Sony Mobile BRAVIA Engine™
• Extra slim body only 8.7mm thick
• Download widgets you want and apps for everything from the Android Market™
• Capture pictures on the 8.1 Megapixel Camera or HD Video
• Enjoy music through the 3.5 mm headphone jack.
• Sony Exmor R™ CMOS sensor – great for shooting videos under low light conditions
• Direct picture upload to Facebook , Geo Tag pictures.

Follow us at @ThreeUK on Twitter for the latest product announcements.