Wow what a manic two weeks that really was.  When I approached Three about this challenge I gave myself a whole month but due to my bill being generated on the 2nd of every month and being away at Mobile World Congress for a week I ended up with just two weeks to see just how much data I can use and to challenge Three to see if AYCE really did mean AYCE (All You Can Eat).
And I am happy to say YES it does!.  The results below are based on just two weeks and no you are not seeing things, i shifted an INSANE amount of data within that short time
Please note I will comment that this test took two weeks, you will see data use starting from 2nd Feb in small amounts, the test actually started on the 18th February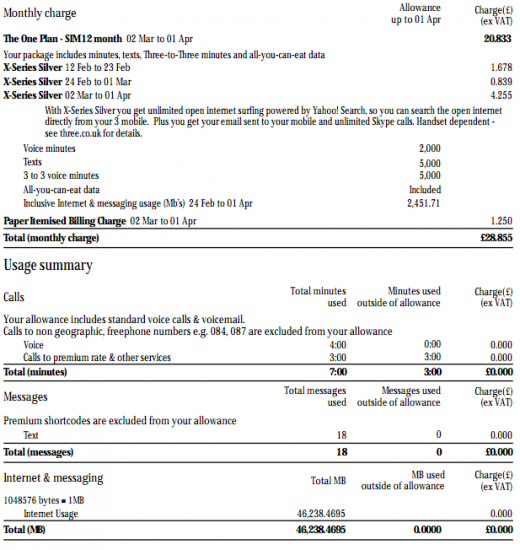 Most people can get away with 500MB on a phone, some prefer 1GB just to make sure they have enough, and there are some other people who want to tether so decide to spend more on a Tethering pack costing around £15 for an extra 3GB.  Well as the results show in just two weeks of handset and tethering I went through 45.15GB!!!. Yes you did read right, over 45GB!!.
I would like to thank everyone who allowed this test to take place, Three for their support and letting me run with the idea and cover it on their twitter account and blog and also to everyone who has commented on the original post and who comes back to the site to check these results.
So test over and it really is clear to see All You Can Eat works, it's there to use how you want to use it.  These past two weeks have been crazy for me putting through all this data and finding ways to do it, at least I know now I will never be charged more for data.
Link: The One Plan