Please note – We pay for a dedicated server and rely on adverts to fund it each month. Our ads are now getting blocked more and more. So, if you want to help us, just click this…
A little bit more information about this site and how it came about. I've been an Orange customer from the early days of Orange – my first mobile was a big Nokia 5. When I bought a Nokia 6210 I was very impressed with it – I'd had it for almost 2 years, but then I heard about the Orange SPV. It was promised for launch late October 2002, but I didn't manage to get mine until November 15th 2002.
Shortly before I got the SPV I'd called nearly every mobile phone chain in the UK, asking after the SPV – but each one kept saying that they'd be delivered "soon". One day "the missus" dragged me out to Merry Hill – a shopping centre near Wolverhampton.I strolled into the Orange shop and asked if they had one – they said they had, and they were selling like hot-cakes. The girl showed me the "test" SPV they were using to show customers .. the battery was going flat, the "Chemical Brothers" movie stuttered and broke up, and it seemed quite slow.. but I wanted it. The girl didn't even know how it worked as it had only arrived that morning – but it blew every other phone off the shelf – then I looked around, and there were about 20 people around me going "bloody hell, that's excellent! Can I have one too?!" So I grabbed it – it cost £99 at the time.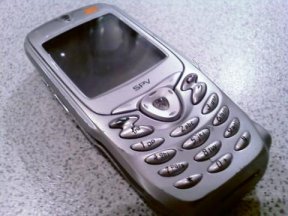 And that's when it began …. There was limited support, and no-one knew what it could / couldn't do. I set out to break it and fiddle with it as much as possible. I found some cool features, such as the fact that you could upload your own backgrounds. A simple web page grew into a full website fairly quickly. Initially we designed the site in Frontpage (yeah, I know).
Then Microsoft contacted me.. I gotta admit this now – I thought it was a wind-up. Microsoft wanted me to become an MVP (Most Valuable Professional) for the Microsoft SmartPhone, which has now become Windows Phone. This was amazing, and it gave me the opportunity to pass on all the concerns and comments that I'd received from SmartPhone users to the people concerned. I met Paul (www.modaco.com) and other great peopole the way.
Our initial site had a rather strange name so, soon enough, Coolsmartphone.com was born. More and more people emailed daily. Now, if you've bothered to read down this far, and quite frankly – I'm amazed, 'cus I've had a bit to drink and this is rambling on a bit now – but I want to thank you. This site isn't all our work – it's your news tips, advice and emails that keep everything fresh and interesting. I love checking the email every day because new stuff always appears. Also though, I enjoy answering questions .. I learn, and it gets posted on the site so that everyone else knows about it too.
As coolsmartphone.com grew we had to start moving servers. To begin with we were on a shared server in the UK, then we moved to a VPS (Virtual Private Server) in the USA, then – after a few more changes – to our own servers inside a state-of-the-art hosting facility. The site is powered by three currently – one being a backup server and one providing the database, whilst the third has the main web front-end.
Initially we covered just Microsoft Smartphone – that's the non-touch screen device. Then we moved onto Pocket PC and Windows Mobile. When the iPhone exploded onto the scene things shifted very quickly and Microsoft have struggled to compete. Android was also a big shift in the market and we've moved to reflect these changes.
We're driven by a team of really talented writers, bloggers and tech fans. It's their continued and unrelenting dedication to hunting down the latest gossip, reviewing the latest kit and news that keeps this place growing. We attend the latest launches, cover the big events, test out the geeky gadgets and review the smartphones and accessories you'll hopefully be buying.
If there's one motto we have, it's that we like to provide a personal touch and our own style to the content that appears here. You'll find videos filmed in the kitchen, Bluetooth speakers tested in the shower and phones snapping real photos in real surroundings.
Above all, it's your feedback and suggestions that point us in the right direction, so as long as you keep coming back, we'll keep on going 🙂