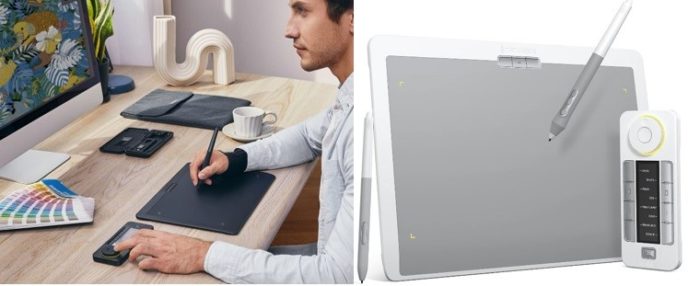 Xencelabs Technologies Ltd, which has recently delivered a range of digital tablets and Quick Keys, offering high-quality professional alternatives for digital artists and designers market, will now offer a free years premium subscription of the No 1 photo editing and design software, Pixlr, worth $59 from Jan 15th – Feb 15th for anyone purchasing tablets through its e-store.
The Tablets are customized to the professional requirements of artists and designers working in a range of creative applications. The latest Pen Tablet Medium Bundle in Black/Special Edition Nebula White and Pen Tablet Small offer many features. These include three programmable buttons, a curved palm rest, 16:9 aspect ratio, which maps to most industry-standard monitors out of the box, LED Active Area Indicators with 8 Color options, three dimmable levels that change with each application, and easily downloadable drivers. This helps to make it more comfortable to use and provides more customization, and is compatible with Apple Mac, Windows and Linux operating systems.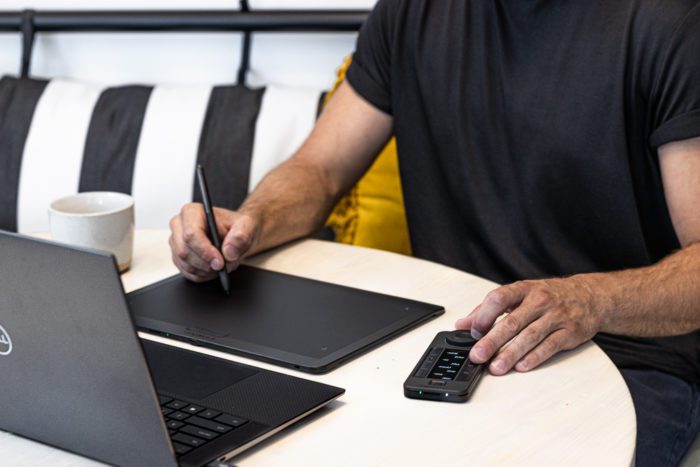 Minimalist design with a thin and thoughtful profile.
 The Xencelabs Pen Tablet Medium's active area has an ultra-fine matte-texture surface which is non-slip. This texture gives the included pens a surface that recreates the feel of pen on paper.
The tablet's front edge is narrowed to only 5mm thin and features a 6.5-degree curved slope to form a seamless palm rest and create a comfortable, natural drawing experience. The Xencelabs Pen Tablets have natural grooves on both sides of their aluminium alloy back to increase portability and hand-held comfort.
Quick Keys.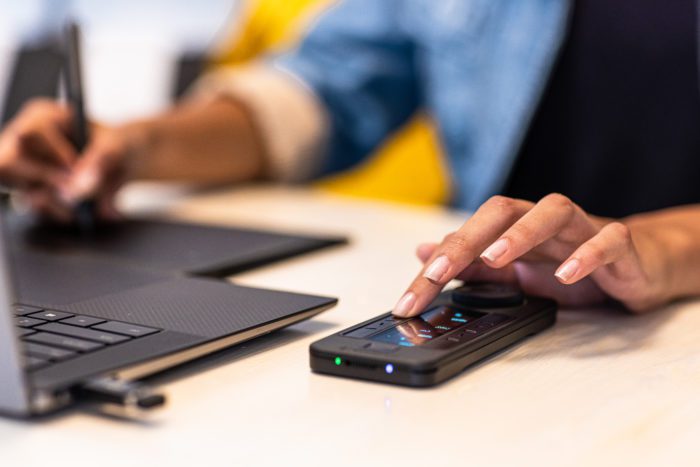 The Quick Keys accessory is a programmable shortcut remote featuring an OLED display designed to increase user productivity. The Xencelabs Quick Keys can be used with or without the Xencelabs Pen Tablet to increase production within your applications.
With the OLED display, functions are clearly visible at a glance, and the downloadable driver allows users to customize 40 shortcut keys per application and four dial options, giving a total of 44 programmable Quick Keys per application.
Additional Quick Keys features include:
Physical dial with color LED ring.
Wireless mode.
Up to 50 hours of continuous use when fully charged (This can be extended in the driver panel).
Use as a standalone keypad.
Two Pens for More Choice
To provide alternatives for artists, Xencelabs offers two different pen options. The 3-Button pen with Eraser has an improved button layout that helps artists easily identify which button will be activated. All the buttons, including the eraser, are programmable to the user's preferences.
The company's Thin Pen was developed especially for creative's who prefer the natural feel of traditional drawing tools. This pen has a smaller profile barrel than the 3-Button Pen and features two well-positioned buttons and an eraser that are programmable, with soft-touch rubber providing a more comfortable drawing experience.
Pen Tablet Medium – Additional Benefits
Color LED active area indicator for customizing a workspace to application or mood
Kensington Nano Security Slot™
3 inset buttons for driver access, pen settings, display toggle (these buttons can be changed and customized by the end user)
Non-slip silicone pads to keep the tablet steady while drawing
A large built-in 3000mAh battery with included wireless dongle.
When fully charged, the tablet can last for up to 16 hours of wireless use. (This can be extended in the Driver panel)
The Pen Tablet Medium Bundle including the Quick Keys and pen accessories is available on the Xencelabs store, Amazon and Amazon UK for $359.99/£329.99
The Pen Tablet Medium Bundle SE in Nebula white available on the Xencelabs store, Amazon  and Amazon UK for $379.99/£339.99.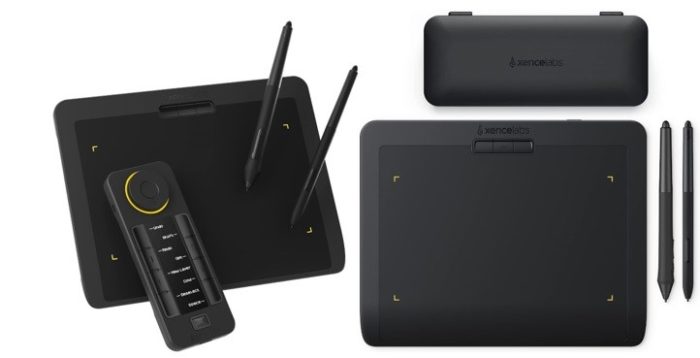 The Pen Tablet Small is nearly 2/3 the size of the Medium, with the entire device almost fitting entirely within the Medium's drawing surface. Like its predecessor, the new product was developed through close collaboration with creative professionals – photographers, illustrators, designers and VFX production artists – all contributing to making a digital tablet closely matching the traditional hand-drawing experience. The result is a professional design alternative ensuring the optimal mix of comfort, customization, ergonomics, intuitive use and compatibility Apple Mac, Windows and Linux operating systems.
The new Pen Tablet Small is ideal for use in the same applications and markets as the Pen Tablet Medium – photography, education, visual effects, gaming, broadcast and industrial uses.
Certain customer types may find the compact device appealing due to its smaller size and increased portability. This tablet is optimal for creating graphics layouts or when graphics editing involves control points, transformation handles or filters.  The tablet is also useful in a photographic editing workflow. People who have a smaller drawing stroke (from the wrist with less arm movement) may also prefer a smaller tablet.
Other uses for this type of tablet include non-traditional applications like writing and mathematics in educational settings, especially helpful for distance learning where topics are demonstrated over a webcam.
Pen Tablet Small users may also include those with a high need for mobility, limited desk space or a computer screen size smaller than 20 inches (the tablet's mapping ratio is sufficient for precision and provides a good screen-to-tablet ratio for drawing strokes).
A small tablet is also suitable for working with desktop apps as a navigation tool since artists also need to do emails, word processing and other common work functions. The smaller tablet can complement the Pen Tablet Medium as a secondary device and may also appeal to price-sensitive users such as students or entry-level professionals.
The Pen Tablet Small is available from the Xencelabs store, Amazon and Amazon UK for $199.99/£179.99