ESR introduces its HaloLock™ 3-in-1 Charger Stand with CryoBoost™ technology and the HaloLock™ Mini Kickstand Wireless Power Bank.
"Faster than official MagSafe chargers, ESRGear's 3-in-1 CryoBoost HaloLock™ charger features a combination of a phone cooling fan and heat-dissipating components to keep a phone cooler whilst wirelessly charging.
ESR's KickStand holds up to 1kg of weight to allow for secure propping up of phones whilst charging."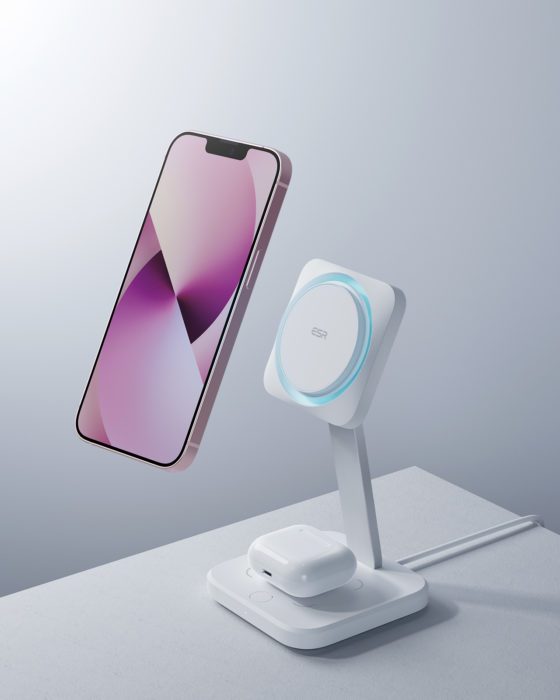 ESR have released the latest additions to its range of innovative chargers the HaloLock™ 3-in-1 Charger Stand with CryoBoost™ and the HaloLock Mini Kickstand Wireless Power Bank. The 3-in-1 charger conveniently allows users to charge their iPhones 13/12, AirPods 3/2/Pro, and Apple Watches all at the same time with super-fast charging speeds, whilst the KickStand conveniently functions as a stand so users can watch videos whilst charging their phones.
Traditionally when  using your phone for tasks such as watching video's or navigation whilst being wirelessly charged they can generate some heat ( sometimes quite a lot). By using the HaloLock charger with its CryoBoost™ cooling technogy it is claimed that the HaloLock can charge an iPhone 13 playing a video over 4.5 hours faster than official MagSafe Chargers, making them the fastest MagSafe-style chargers for phones in active use
Thanks to the CyroBoost technology, this charger charges phones in 3 hours, comparing to 3rd-Party MagSafe Chargers which take 4 hours 50 minutes. The fast and easy MagSafe-style wireless charging that ESR's 3-in-1 Charger provides is ideal for quick charging of devices, whilst also providing a handy organising space for devices, so charging can happen when the user's electronics are resting on the stand. The 3-in-1 charger is complete with MagSafe-style wireless charging stand with phone-cooling tech, AirPods magnetic charging pad, and Apple watch charging stand.
The HaloLock 3-in-1 Charger is also completely sleep-friendly due to its dark charging mode designed to allow for stealth charging, so users can be assured their sleep will go uninterrupted (note: stealth mode disables CryoBoost™ fast charging)
The HaloLock™ 3-in-1 Charger Stand with CryoBoost™ –  £63.99 from Amazon and the ESRGear website.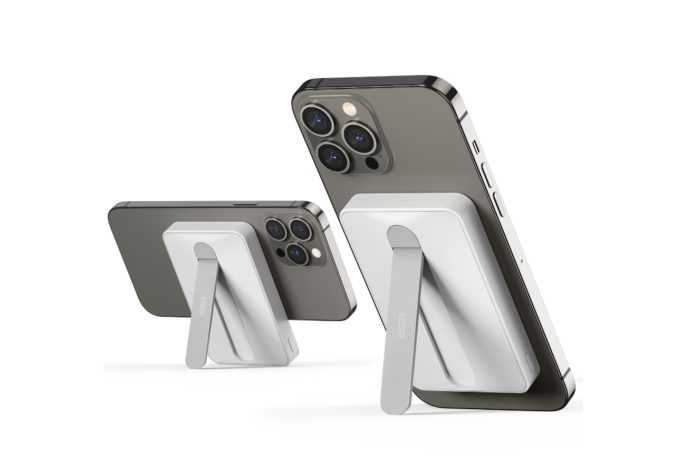 ESR also announced the release of its HaloLock Kickstand Wireless Power Bank, which allows users to charge their phones whilst using the stand feature to prop them up. The stand can be used to hold phones in either landscape or portrait which makes it ideal for use for calling friends or watching videos whilst simultaneously charging the device. Magnets with 1000g of holding force align phones with the charger to ensure that MagSafe-style wireless charging automatically begins as soon the power bank is attached, meaning reliable charging is maintained throughout use.
The Kickstand is also designed to be portable, so users can charge their phones through the stand on the go! In addition to this, it is possible to choose to turn off the charging feature of the stand to save the power of the portable charger and use solely as a stand if power isn't required.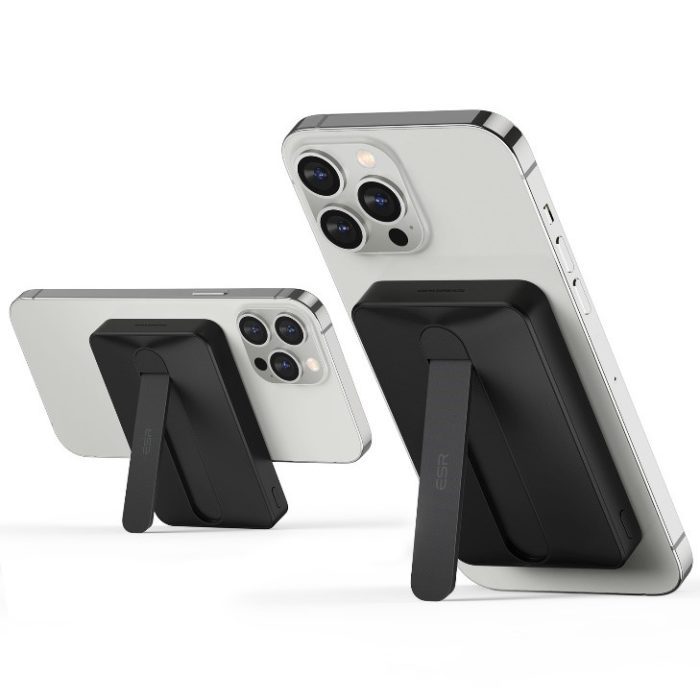 The conveniently located USB-C port and pass-through charging let users simultaneously charge their phones and the power bank at the same time, allowing for the bank to remain charged up for future use. Offering two ways of charging: wired (12W) and wireless (7.5W), the kickstand caters to users charging preferences.
ESR HaloLock Mini–Kickstand Wireless Power Bank. £46.99 from Amazon in Black and White 
Hopefully we will get some of the new HaloLock chargers in for a full review in the not too distant future.