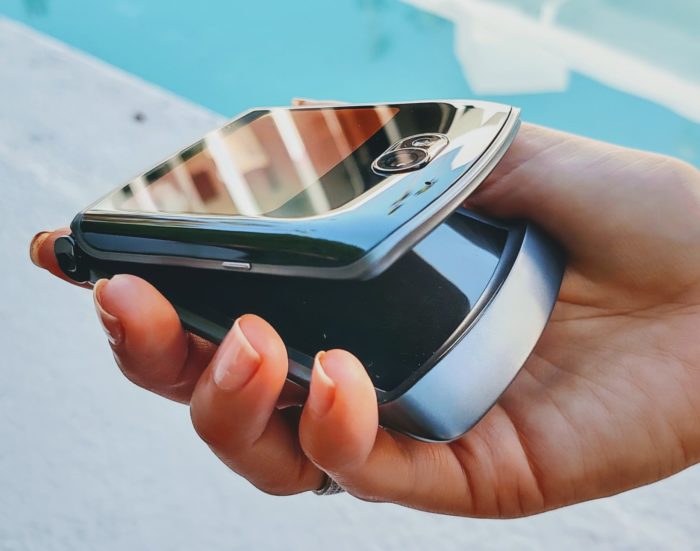 Got some cash? Lots of cash? Like, nearly £1,400? Well, for starters, if you have, can I borrow some please?
If you won't lend me anything, you can perhaps get yourself the 5G Motorola Razr instead. It's the foldable 5G phone with "true pocketability" and goes from a small phone to a large-screen entertainment centre in seconds.
Motorola tells me that, provided you front-up the cash, you can …
Experience style-driven innovation that fundamentally changes the way you interact with your phone and the world around you. Meet the new motorola razr 5G, a new kind of fashion symbol designed to turn heads with an iconic look and embrace the full potential of the foldable form factor to deliver unmatched compact capability for a next-gen mobile experience.
Here's a look at it…
As you'll see, the secondary "Quick View" display up front lets you do a number of tasks and check information without having to unfold the phone. You can send messages, make video calls and get into your favourite apps with the phone still closed.
The smaller front screen lets you reply to messages with speech-to-text, smart reply, or you can type a longer message with the full keyboard. Navigation can be accessed with Google Maps, plus you can control apps like Spotify and YouTube Music with the front screen too.
Weighing in at 190g, unfolded the phone has a 6.2″ P-OLED screen (876 x 2142 pixel) at 373 ppi. The "Quick View" display is a G-OLED unit.
The Razr 5G runs Android 10 on a Qualcomm 765G octa-core CPU which goes up to 2.4GHz. There's 6GB RAM and has 128GB plus NFC, GPS, dual-band WiFi, USB-C charging, fingerprint sensor and Bluetooth 5.0.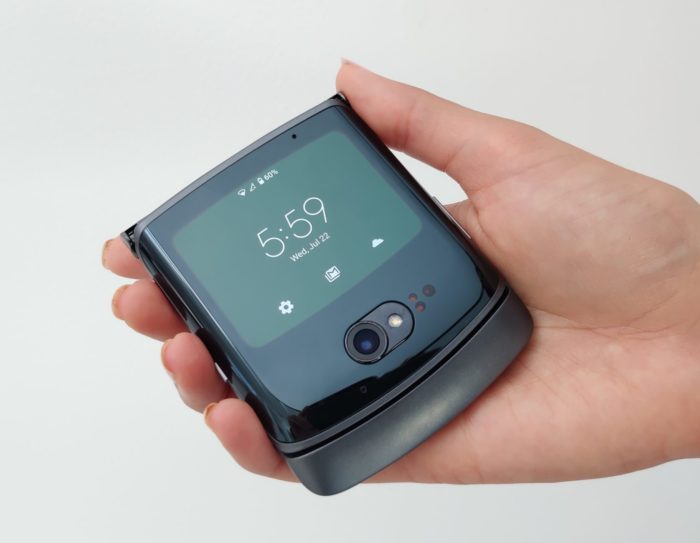 You get one main camera – a 48 megapixel f/1.7 with a dual-LED flash, and for your selfie action there's a 20 megapixel HDR shooter. The dual displays mean that you get additional camera features such as "Camera Cartoon" to show a fun animation on the Quick View display while taking a shot. Good for kids that one. You also get an "Instant Review" and "External Preview" option to deliver instant feedback or to mirror the viewfinder.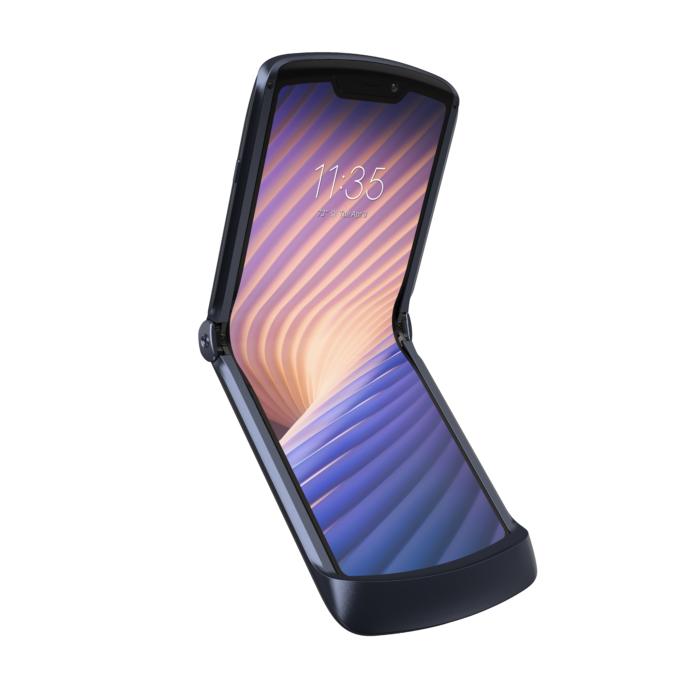 In addition, Motorola have added a unique hinge design which delivers a gapless closure to protect the internal display, plus they've tested it loads – more than 200,000 flips without issues.
The phone is powered by a 2800mAh battery, and while that might not sound like much, they tell me that you can go all day without recharging. Even when you need to, there's 15W fast charging.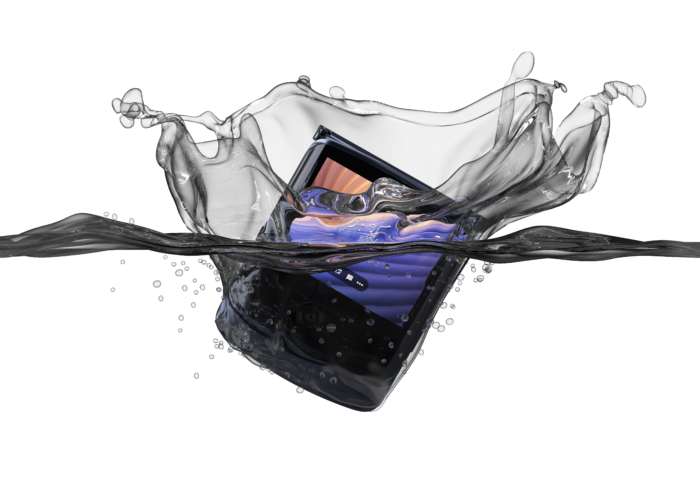 Here in the UK you can buy the phone out-right for £1,399 or buy the Polished Graphite Motorola Razr 5G from O2, Vodafone, Tesco, John Lewis, Amazon, Carphone Warehouse and on motorola.co.uk. For the Liquid Mercury and Blush Gold colours, you'll need to go to motorola.co.uk