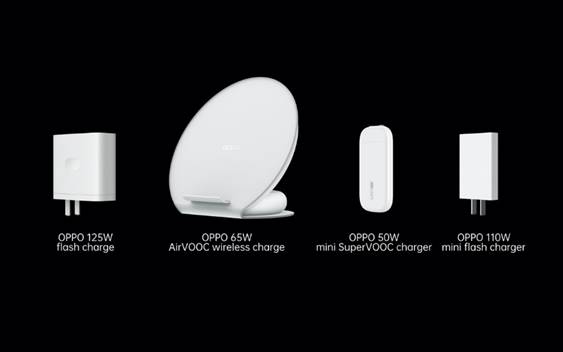 The smartphone world has slightly backed away from chunky long-life batteries and has, in some cases, gone for a super-slim battery that can be charged wirelessly in no time at all.
Today OPPO have really raised the bar. They've announced a stack of new flash chargers, and at the top of the tree is a 125W flash charger that'll safely and efficiently fully charge a 4,000 mAh battery in only 20 minutes. Mental. It's no bigger than a normal charger either.
Other chargers announced today include a 65W AirVOOC wireless flash charger, which (despite the lower wattage) can still charge that 4,000mAh smartphone battery fully in just 30 minutes. It's Qi compatible and delivers a secure, seamless and quick cable-free charging solution.
OPPO also announced a portable and super-small 50W mini SuperVOOC charger which is ideal for when you're out and about. It's no bigger than a business card holder.
In addition, a 110W mini flash charger is just 35.76 cm³.
OPPO are pushing hard here – they've applied for more than 2,800 global patents to protect their flash charging kit – the most advanced flash charging technology in the industry.
Get more info on the OPPO website here.