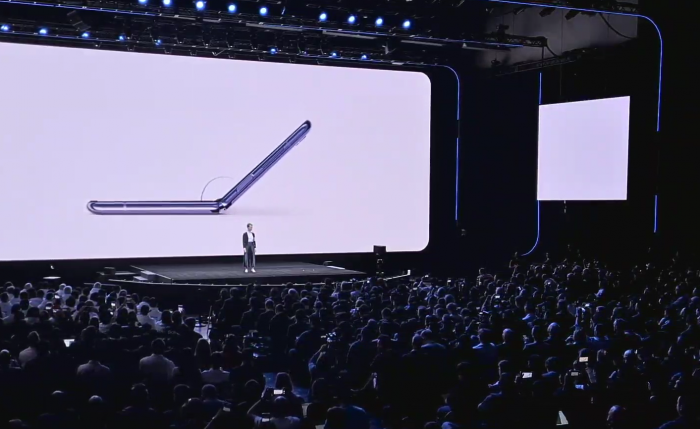 Fitted with a 6.7″ Full HD (2636×1080) 425ppi 21.9:9 Dynamic AMOLED screen, there's also a 1.1″ Super AMOLED external display to show you information like incoming calls – that's 303ppi and 300×112 pixels.
Here's a look..
That inner folding screen has some neat tricks, one of which is "Flex mode". This lets you watch YouTube on the top half of the open screen while you do something else on the bottom half. Samsung also showed how a selfie shot is taken, with the preview image and resulting shot appearing on the top part of the screen whilst camera and navigation controls appeat towards the bottom. The result is two 4″ screens which let you multi-task.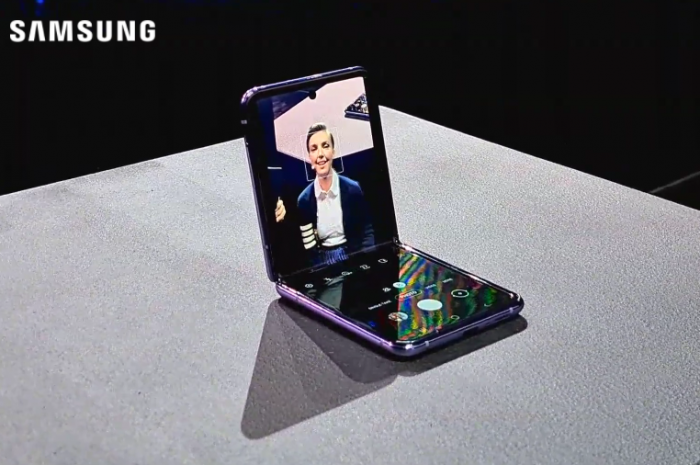 Talking about the folding system, Samsung were keen to point to their new hinge mechanis, which prevents dust and other particles getting in thanks to a layer of fibre. They conveniently call this a "fibre shield". 🙂
Available from February 14th it's $1,380 (that works out at £1,064 but – if it does arrive here – it'll be £1,199). Samsung tell us that it'll be available in "limited quantities" in Mirror Purple and Mirror Black in selected markets. Those markets seem to only include the US and Korea at the minute, but there'll be a Mirror Gold version added to the list and hopefully Europe will be getting in on the fun.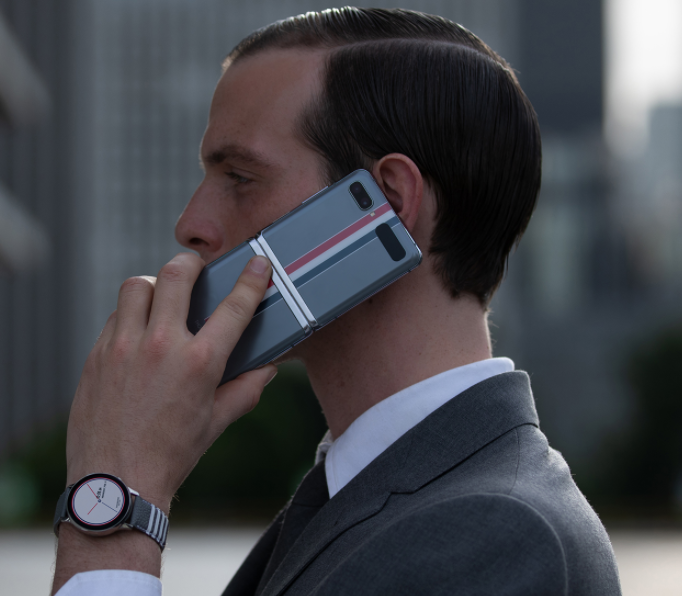 As expected, there's a rather beautiful Thom Brown version. He made an appearance on video. It's a limited edition and you'll see more in the next few weeks on that one, but you can head to this press page for more information on it.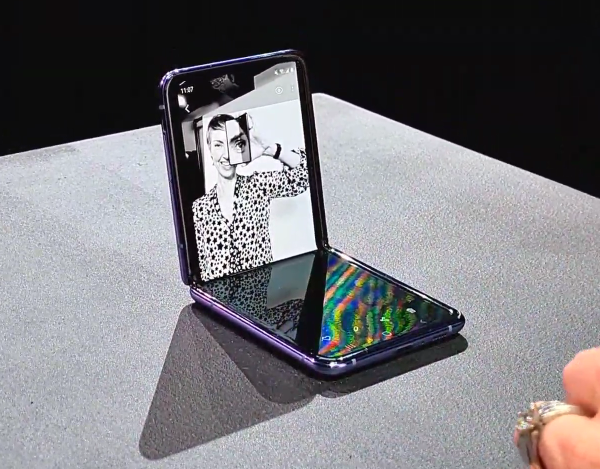 The device measures in at 73.6 x 87.4 x 17.3mm when folded, and lengthens to 167.3mm when unfolded, with a 7.2mm thickness. It weighs in at 183g and has a 10 megapixel selfie camera (f2.4).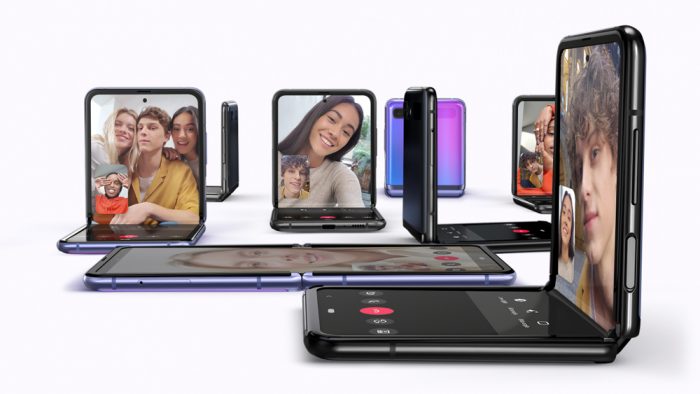 Around back there's a read dual shooter arrangement – this comprises of a 12 megapixel wide-angle "SuperSpeed" Dual Pixel AF OIS system with an 8x digital zoom and HDR10+ recording.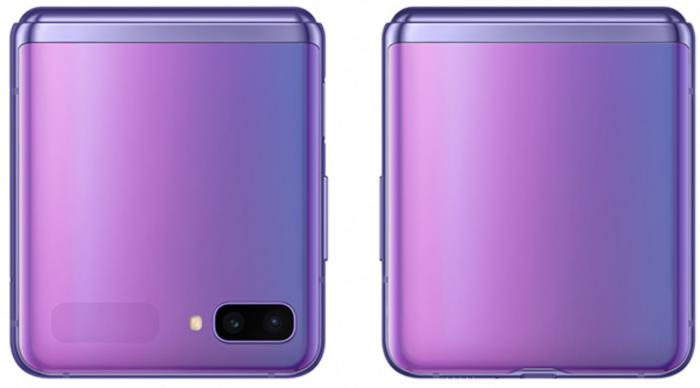 Powered by a 64-bit Octa-Core CPU, it'll tick along at up to 2.95GHz. There's 256GB of internal storage, 8GB RAM and a 3,300 mAh battery.
It has dual-band WiFi, Bluetooth 5.0, GPS and Android 10. No 5G that we can see on this device though.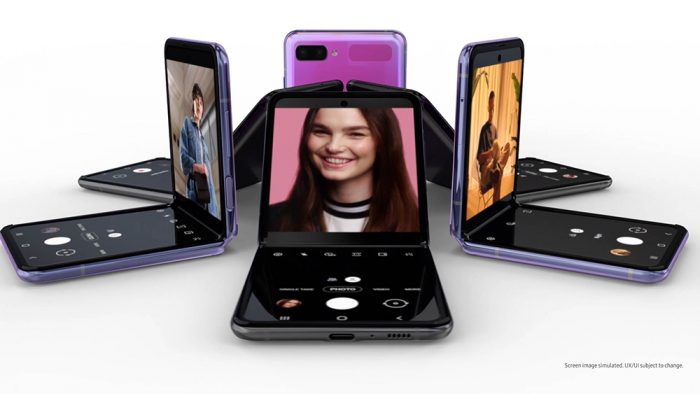 The Flip also gets a capacitive fingerprint sensor on the side plus NFC.
This is a phone with a foldable glass display – a phone that fits in your pocket but doubles in real estate when you unfold it. The selfie camera is central to the screen and the hinge has had a lot of work put into it. This means that you can position it at any angle – just like a laptop screen.
Even if the Galaxy Z Flip is closed, you never miss a call or a reminder thanks to that small cover display. It'll show you the information you need just when you need it – without opening the phone.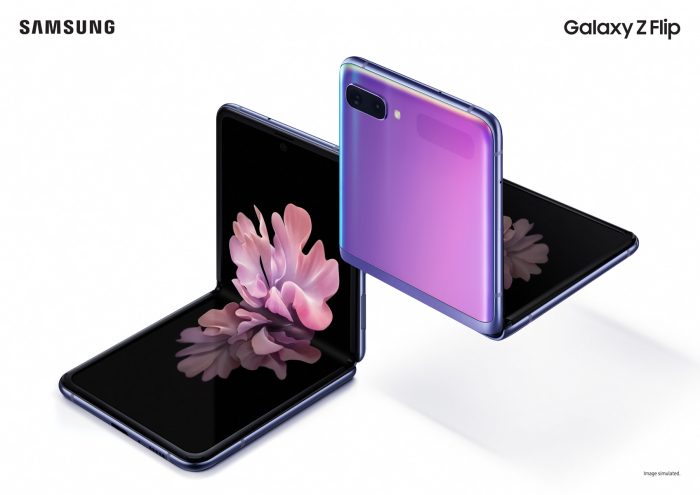 Let's just hope we get to see it on this side of the Atlantic, because as yet we've not had any UK networks putting their hands up.
Get all the details on the Samsung press release.
Update – OK, I was wrong (thankfully!) EE have announced that the Galaxy Z Flip will be available to buy from them this Friday. No pricing as yet.